There are a lot of 'tops' associated with the Federal Republic of Nigeria. It is the top oil producer in Africa; among the top five exporters of LNG and contains the top natural gas reserves on the African continent. It has the top population and the top youthful population; half being under the age of 25. It is among the top 10 most populous nations on the planet and has the top gross domestic product on the African continent.
As well as being a newly emerging economy, Nigeria is a newly emerged democracy. Nigeria's history dates back many centuries but its modern history begins after the colonial era. At the beginning of the First World War the country was united as a 'protectorate' under British colonial rule. The nation was jointly governed by the British and local leaders for many decades, gradually leading up to independence in 1960 when it formally declared itself an independent federation. However, long simmering rivalries created decades of instability and civil war. At the end of this a long and difficult path towards democracy, Nigeria formed a new constitution in 1999 which eventually led to its first fully free and fair elections in 2011. The giant of Africa had finally and firmly planted its feet on new but solid political ground.
Population 177.476 Sub Saharan Africa 974.3153 18.2155%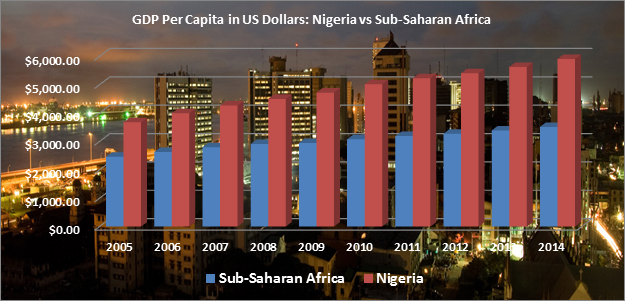 Data from the World Bank
With political stability, Nigeria could now pursue a path which would make it one of the leading African economies. The new democracy couldn't have emerged at a better time: oil was in high demand and supplies were low. During the period starting from the great recession of 2008, petroleum prices gained, peaking in July of 2008 at over $145.00 per barrel; it would remain near $100 for several years. Unfortunately, prices at those levels made it profitable to bring new supplies on the market wherever oil may be found. For one example, the 'fracking method' used in the United States produced so much domestic supply it led to the repeal of a 40 year old law prohibiting petroleum exporting. Other oil producing nations began pumping crude to meet the demands of an insatiable Chinese economy. As the boom faded, oil prices began to decline and to this day still may have not yet found a bottom.
The simultaneous occurrence of the newly emerged democracy and petro-state resulted in an economic foundation too heavily reliant on oil. Crude petroleum accounts for 79% of total exports, petroleum gas at 11% of total and refined at 3.2% of total. That accounts for over 93% of total Nigerian exports! To complicate matters, according the U.S. Energy Information Agency, reserve estimates have been difficult to determine for many reasons including a decrease in the level of exploration, a delay in new legislation regulating Nigeria's domestic industry (the Nigerian Petroleum Industry Bill) and an increasing concern over domestic security.
The security concerns are a top issue. Without the same extensive military resources as the advanced economies, it's difficult to protect the population, pursue insurgents and, at the same time, defend all of Nigeria's oil producing regions against armed groups. Further, new infrastructure projects, like pipelines, are often illegally tapped creating an extensive black-market for petroleum products. Piracy, kidnapping, tanker hijackings and even attacks on offshore platforms are not uncommon. It's only fair to say that the government may have the will to act but lacks the necessary resources to do so.
Nigerian Exports dominated by Crude Petroleum at 79%, Petroleum Gas at 11% and Refined Petroleum at 3.2%, over 93% of Nigerian exports are petroleum products led by crude oil.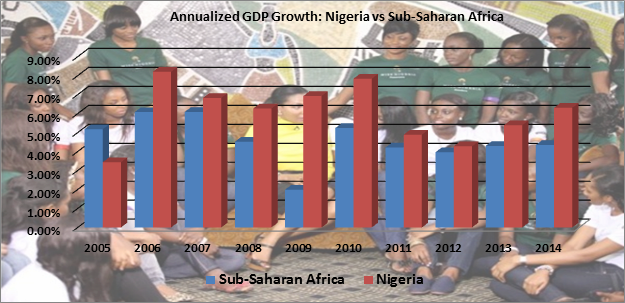 Data from the World Bank
Nigeria has only recently surpassed South Africa as the continent's leading economy. Unfortunately, Nigeria seems to have duplicated one of the same errors that slowed down South Africa's economy: a lack of infrastructure investment to meet the demands of a growing economy. For example, a large portion of Nigerian natural gas is wasted. It's simply burnt off as flare gas. Over 428 Billion cubic feet, 15% of its gross production is flared off; this accounts for 10% of global total. Part of the reason is due to the security issue; as mentioned it would be risky to run gas pipelines through unsecured territory. However, the necessary petroleum infrastructure upgrades needed to support the petroleum industry and in general this emerging economy are remiss, creating waste and inefficiency.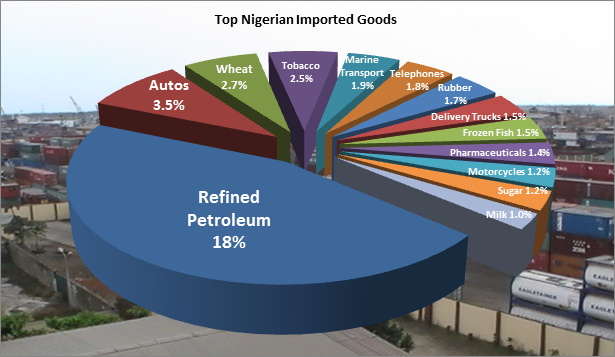 Data from UN Comtrade Labs and OED
The electrical grid cannot meet the nation's domestic needs, let alone that of new industry. To be fair, the government has been recently making efforts to correct this issue, but results have been slow in coming. In 2013 the government sold nearly ever generating and distribution asset to private industrial owners. However, the lack of natural gas pipeline infrastructure, makes it expensive to generate electricity from natural gas fueled plants. Abundant natural gas, from the wellhead has no efficient venue to reach electrical generating facilities. Hence, as mentioned above, the well gas is wasted and fuel for generating stations must come from other sources. If this type of inefficiency can be corrected, it would literally add points to GDP growth and potentially attracted needed foreign capital investment. Lastly, Nigeria has underutilized hydroelectric capacity. This needed upgrade is also in the planning stage. As it stands now, Nigeria has among the lowest per capita electric distribution, globally.
These are a mere few of the obstacles the Nigerian economy faces. On one hand it has security risks, the limitations of a petro-economy and collapsing commodity prices; on the other Nigeria has a young population, the potential to become a cosmopolitan nation with major cities and a new democracy, very determined to earn a place in the 21st century global economy.
Still, one must wonder how Nigeria had become a leading emerging market economy in the first place. The answer will demonstrate the extraordinary potential the Nigerian economy has, even without petroleum. Nigeria's private sector has created globally respected companies, in spite of everything.
That said the question the retail investor must ask is whether this is the right time and place to risk capital? One way to do so is through the Global X MSCI Nigeria ETF (NYSEARCA:NGE). The fund is relatively new listed in April of 2013 and to be fair this was well before oil prices collapsed. The fund has over $16.766 million in net assets, 2.8 million outstanding ETF shares and a surprisingly high 3 month average volume of over 85,000 ETF shares per day. The Gross expenses are 0.925%, rather high; however the fund is waiving the necessary portion of those expenses to maintain a 0.68% net expense ratio. The fund has an annual yield is 4.39%. Is this attractive yield sustainable and is it worth the risk? The average annualized ETF returns are not good, but again, this may be due to the fund's inception coinciding with the unexpected sharp decline in oil prices. The fund is concise having only 24 holdings and these 24 companies are key in determining the quality of the yield and the invested capital. Hence it's worth looking at some of the major holdings, individually.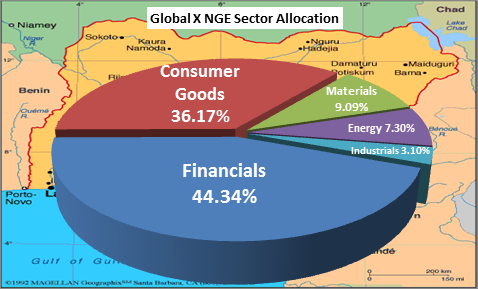 Data from Global X
The largest portion of the fund is allocated towards the financial sector and the heaviest weighted holding is Guaranty Trust Bank (OTCPK: GUARL). This top Africa international financial services company engages in corporate, commercial, retail and investment banking. GTBank serves Nigeria, Cote d'Ivory, Gambia, Ghana, Kenya, Liberia, Rwanda, Serra Leone, Uganda as well as having offices in the U.K. It's important to observe that the bank is covering a large portion of the area once colonized by the French, and those countries still have close ties with France. The bank has a combined total of over 10,000 employees in its service areas.
The second largest financial weighting is allocated to Zenith Bank Plc. (LG: ZENITHB). Zenith is also international: in Africa, Europe and Asia in addition to offices in the U.K. and the People's Republic of China. It covers much the same area as GTBank. Zenith is focused on digital and mobile banking and claims to have 'blazed the trail' deploying its own digital infrastructure.
Third top bank in the list is EcoBank Transnational Inc (LG: ETI), also known as 'The Pan African Bank'. Ecobank lives up to its name by servicing 36 African nations; more than any other bank servicing African nations, in the world. The Group also has offices in Paris, Beijing, Dubai, Johannesburg, London and Luanda.
The above three examples should dispel any beliefs that this emerging market nation can't compete internationally against global bank rivals. Further, the investor should also keep in mind of the potential for financial sector growth as each emerging market obstacle is surmounted. Furthermore, this strongest sector of the fund is far removed from the energy sector.
However, there are extremes: There are some much smaller banks with market caps of well under $500 million U.S. Dollars. So along with the global, international and pan-African banks, may be found the equivalent of a neighborhood Savings & Loan.
Financials 40.32%

Exchange: Symbol

Fund Weight

Market Cap

(in USD Billions)

P/E

Yield

Payout Ratio

Debt/Equity

Guaranty Trust Bank

OTCPK: GUARL

10.24%

$2.481

4.44

10.43%

47.07%

70.84%

Zenith Bank Plc

LG:ZENITHB

7.89%

$2.170

3.87

1.83%

47.07%

76.38%

EcoBank Transnational Inc

LG: ETI

4.72%

$1.283

5.63

0.00%

0.00%

62.85%

Access Bank Plc

OTCPK: ACSBL

3.89%

$0.602

1.79

14.56%

32.30%

79.71%

FBN Holdings Plc*

LG: FBNH

3.70%

$0.727

1.69

2.49%

4.22%

71.25%

Stanbic IBTC Holdings Plc

LG: IBTC

3.65%

$0.687

7.97

7.72%

40.97%

84.62%

United Bank for Africa Plc

OTCPK: UBKZF

3.41%

$0.522

1.68

8.77%

7.01%

76.60%

Diamond Bank Plc

OTCPK: DIBPL

1.78%

$0.218

2.53

5.38%

9.13%

51.00%

FCMB Group Plc

LG: FCMB

1.04%

$0.099

0.94

25.25%

22.37%

80.24%

Averages

4.48%

$1.08

3.39

8.49%

23.35%

72.61%
Data From Reuters Africa, Reuters USA, Yahoo!, Google and company websites
The consumer goods sector is mainly comprised of the Nigerian operations of well-known global brands like Nestles, Guinness and Unilever. Nigerian Breweries Plc. (LG: NB) produces beer, non-alcohol drinks and soft drinks for international markets in the U.K., Netherlands, U.S., Asia and Middle East as well as Africa. This is one of the more established companies in Africa, incorporated in 1946. Through M&A, it now distributes globally recognized brands such as Star, Heineken and Goldberg among others. The important point here is that this small brewery has persisted through the most difficult period of Nigeria's modern history, worked with outside investors and partners to become a major beverage producer and distributor.
Consumer Goods 38.47%

Exchange: Symbol

Fund Weight

Market Cap

(in USD Billions)

P/E

Yield

Payout Ratio

Debt/Equity

Nigerian Breweries Plc

LG: NB

17.23%

$4.004

20.06

4.70%

87.50%

14.49%

Nestle Nigeria Plc

LG: NESTLE

9.33%

$2.962

25.94

3.72%

121.20%

90.02%

Guinness Nigeria Plc

LG: GUINNES

4.93%

$0.845

25.11

2.88%

61.82%

42.80%

Unilever Nigeria Plc

LG: UNILEVE

4.30%

$0.993

138.71

0.30%

15.68%

224.32%

UAC of Nigeria Plc

LG: UACN

2.68%

$0.194

8.84

8.75%

40.54%

63.40%

Averages

7.69%

$1.80

43.73

4.07%

65.35%

87.01%
Data From Reuters Africa, Reuters USA, Yahoo!, Google and company websites
UAC of Nigeria (LG: UACN) primary business is in prepared consumer retail foods, however the company is widely diversified and prides itself in its corporate social responsibility to Nigeria. Aside from pre-packaged foods the company operates restaurants, logistic services, manufactures animal feeds, and house paints. Most importantly, the company takes active part in promoting and financing education on all levels as well as internships for students and graduates. UAC sets itself as an example of what a large Nigerian corporation aspires to be and like Nigerian Breweries, demonstrates the potential of Nigerian private industry.
Materials 9.23%

Exchange: Symbol

Fund Weight

Market Cap

(in USD Billions)

P/E

Yield

Payout Ratio

Debt/Equity

LaFarge Africa Plc

LG: WAPCO

4.87%

$1.840

11.57

4.50%

48.38%

8.12%

Dangote Cement Plc

LG: DANGCEM

4.36%

$10.935

11.88

4.72%

63.64%

41.27%

Averages

4.62%

$6.39

11.725

4.61%

56.01%

24.695%
Data From Reuters Africa, Reuters USA, Yahoo!, Google and company websites
It isn't only in the consumer sector which takes interest in corporate responsibility. LaFarge Africa (LG: WAPCO) is a subsidiary of Switzerland's Lafargeholcim Ltd, a global building materials company. LaFarge Africa is primarily a cement manufacturer, distributing primarily in Africa under five brand names. The company's objective is for 'sustained economic growth through social progress', environmental responsibility and respect for local communities. Dangote Cement (LG: DANGCEM) is also a pan African distributer of building materials with operations in 9 countries with plans to expand in Sierra Leone, Liberia and Ghana.
Energy 7.30%

Exchange: Symbol

Fund Weight

Market Cap

(in USD Billions)

P/E

Yield

Payout Ratio

Debt/Equity

Forte Oil Plc

LG: FO

5.92%

$1.861

105.19

0.88%

136.51%

329.95%

Oando Plc

1.38%

$1.215

NMF

0.00%

0.00%

55.96%

Averages

3.65%

$1.583

52.595

0.44%

68.255%

224.45%
Data From Reuters Africa, Reuters USA, Yahoo!, Google and company websites
Clearly, the energy sector is the weak link of Nigeria's economic sectors and to be fair, current energy sector pricing is global issue, not just a local one. Forte Oil (LG: FO) is a leading company in the petroleum downstream market, providing fuels and lubricants. Oando Plc engages along the entire supply chain from upstream exploration, wholesale and retail distribution as well as energy trading. It seems though that it isn't just a matter of global over production. What will make Nigeria's petroleum industry become a major global player is better government regulation and the means to enforce them, better corporate structure and governance, the reinvestment of revenues to build out infrastructure and most importantly domestic stability.
Industrials 4.66%

Exchange: Symbol

Fund Weight

Market Cap

(in USD Billions)

P/E

Yield

Payout Ratio

Debt/Equity

Flour Mills Nigeria Plc

NG: FLOURMI

2.62%

$0.241

1.67

11.55%

61.20%

223.41%

Transnational Corp of Nigeria

NG:TRANSCO

2.04%

$0.235

NMF

5.00%

NMF*

84.55

Averages

2.33%

$0.238

0.835

8.275%

30.60%

153.98%
Data From Reuters Africa, Reuters USA, Yahoo!, Google and company websites
Flour Mills Nigeria (NG: FLOURMI), as its name suggests, is an agricultural industrial, producing flour, grain based products, cooking oils and refined sugar for the consumer market. The company also manufactures upstream agricultural products such as livestock feed and fertilizers, as well as agricultural packaging products. The company is further diversified by having cement production and real estate investments. However, when it comes to diversification, Transnational Corp of Nigeria (NG: TRANSCO) leads the pack: power generation and distribution, oil and gas exploration, industrial agricultural production, a five star 670 room Hilton, the 146 room premier Calabar, the Ikoyi Hilton in Lagos, the Abuja Hilton and a second proposed Hilton in Lagos.
At this point it's worth mentioning a common theme found throughout the individual company websites: there is a real concern for the environment, society and what may be generally described as an anti-corruption campaign. Sustainability and good corporate citizenship is taken seriously. Further the Nigerian corporate structure goes well beyond a mere replication of European influenced culture. Rather, the large corporations take pride in creating a corporate culture that is uniquely and independently African and then one which is determinedly Nigerian. It seems that there's a genuine desire and determined effort to create a continental leading emerging market economy. Most importantly, the government isn't looked to for support; the private sector reaches out, finding investors and partners both at home and abroad. What is obviously and critically lacking is foreign capital investment, and this may be a result of the high level of security risk. That lack of foreign capital investment can't be emphasized enough.
The security issue may be viewed this way: Nigeria is combating the same insurgencies as are Europe and the United States. However, Nigeria's insurgency is within its borders and the military resources needed to enforce Nigerian sovereignty are far, far more limited. Western nations with close ties lend military support and offer financial aid, but until the nation has complete stability within its borders and the confidence of all its citizens, foreign capital will be slow in coming. On the optimistic side, when that day comes, Nigeria will be far and away the continent's leading emerging market. It has demonstrated this by the successes in the private sector under the most difficult circumstances.
Generally, the fund, as well as the MSCI index, has had poor returns; down considerably since its April 2013 inception date. It recently traded at $5.74 per ETF share. That's just above the $5.00 marginable security threshold. It has paid three annual dividends since 2013 inception totaling $0.64; the fund ETF price originally traded in the $15 to $16 range. Hence, this fund is more suited for investors with ample risk capital and a lot of patience. However, any retail investor should not dismiss this fund out of hand; bookmark it. The fund has several world class banks and industrials, a consumer sector with an extraordinarily large consumer base and petroleum resources that will provide future revenues and investment capital for the nation. Nigeria is ready and willing to take its place on the world stage, but must overcome a few difficult hurdles until it is actually able.
Disclosure: I/we have no positions in any stocks mentioned, and no plans to initiate any positions within the next 72 hours.
I wrote this article myself, and it expresses my own opinions. I am not receiving compensation for it (other than from Seeking Alpha). I have no business relationship with any company whose stock is mentioned in this article.
Additional disclosure: CFDs, spreadbetting and FX can result in losses exceeding your initial deposit. They are not suitable for everyone, so please ensure you understand the risks. Seek independent financial advice if necessary. Nothing in this article should be considered a personal recommendation. It does not account for your personal circumstances or appetite for risk.