Welltower, Inc. (NYSE:HCN) is being pushed down near its 52-week lows, down over 9% as of midday Thursday, after a few peers released earnings and guidance Thursday morning.
Peers HCP, Inc. (NYSE:HCP), Brookdale Senior Living, Inc. (NYSE:BKD), and Medical Properties Trust, Inc. (NYSE:MPW) all reported results that were fairly strong, yet issued weaker-than-expected FY 2016 guidance. One of Welltower's largest peers, HCP, announced 2016 FFO per share guidance that was a considerable distance short of Wall Street expectations.
Welltower, one of the largest healthcare REITs, reports earnings next week on Thursday, February 18th, before the market opens. A few reasons I am considering adding to my current long position in Welltower today and before next week's earnings include:
1. Continued growth - When announcing the latest quarter's earnings, Welltower raised its fiscal-2015 guidance, expecting full-year FFO per share of $4.32 to $4.37, a 5-6% raise over $4.13 per share in 2014. HCP's 2015 adjusted FFO per share growth announced Thursday morning came in at 4%.
Below is a three-year chart of FFO per share growth for Welltower and its peers: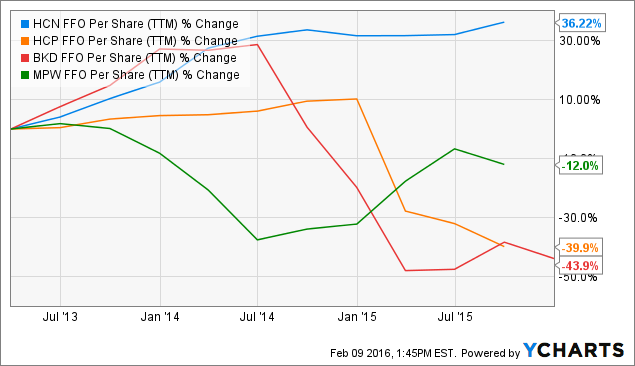 HCN FFO Per Share (TTM) data by YCharts
2. Balance sheet strength - The company is well managed and has a relatively conservative balance sheet. The chart below shows the debt-to-equity ratio of above-mentioned peers compared to Welltower: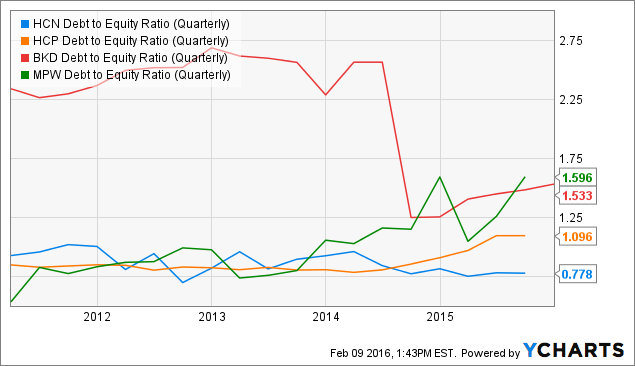 HCN Debt to Equity Ratio (Quarterly) data by YCharts
Over the last five years, HCN has kept its capitalization both conservative and steady.
3. Dividend - With today's sell-off and the company's latest dividend raise, the yield now stands at 6.25% (using Thursday afternoon's price of around $55). Reinvesting dividends at this rate should reap great rewards for long-term holders.
Conclusion
Welltower's sell-off today seems to be a bit overdone as the company itself has had no bad news. I am willing to raise my stake in this company as everything I currently see about it is fine. HCP's guidance this morning could be a warning about future growth for Welltower as well, however, the entire market has struggled to find growth as of late, and I believe the company's solid footing and dividend will put a floor on the share price.
Long-term trends for the spending in healthcare, especially with today's aging population, should ensure that long-term Welltower holders can benefit from short-sighted traders today.
Disclosure: I am/we are long HCN.
I wrote this article myself, and it expresses my own opinions. I am not receiving compensation for it (other than from Seeking Alpha). I have no business relationship with any company whose stock is mentioned in this article.