Eight months ago, the number 1 article on Seeking Alpha recommended the purchase of the VelocityShares Daily Inverse VIX short-term ETN (NASDAQ:XIV). The author characterized the ETF as the almost-perfect investment and gave emphasis on its exceptional record. I strongly disagreed on the investment thesis and wrote an article in which I was warning investors of the great risks of the ETF. My thesis is proving correct, as the ETF has lost 63% since I wrote that article.
The good
The above ETF seeks to replicate, net of expenses, the inverse of the daily performance of the S&P 500 VIX Short-Term Futures index. To put it more simply, every day, the ETF replicates the inverse of the daily performance of the volatility index, which is widely known as VIX. When the market is relatively calm, just like most of the time throughout this almost 7-year bull market, VIX has a pronounced contango structure (the prompt futures are much cheaper than the distant futures), which is a great positive for the above ETF. More specifically, XIV has to roll over its futures contracts every month, i.e., it has to close (buy) the prompt month and open new positions (sell) in the next month. Therefore, it greatly profits from the contango structure of VIX.
During calm periods of the market, the boost from contango can rise up to 5%-10% per month, which is undoubtedly exceptional. This is the main reason for the exceptional performance of the ETF from its inception at the end of 2010 till last summer. To be sure, XIV almost tripled while S&P 500 appreciated 46% (without dividends) during that period.
The bad
Unfortunately for investors, things are never that easy. More specifically, the above ETF suffers from a negative bias, which is much more subtle than the positive feature mentioned above. More specifically, in order to accurately match the inverse performance of VIX, the above ETF has to increase its positions when it appreciates and reduce its positions when it falls. To make a long story short, XIV is obliged to buy high and sell low every day in order to meet its defined goal. This negative bias "eats" some of the profits during good times and causes great losses during rough times. Even worse, the resultant losses can last for very long periods.
To be sure, when S&P plunged 11% during a rough week towards the end of last August, XIV plunged 46%, from 48.45 to 26.10, during that week! Even worse, while S&P retrieved all its losses within the next two months, XIV recovered less than 1/3 of its losses, as it managed to bounce only up to 32.70. Therefore, about 2/3 of its losses turned out to be permanent. Moreover, after the temporary rebound of S&P and XIV, they have both entered another stormy period in the last 3 months and again the underperformance of XIV is pronounced. More specifically, while S&P has lost 13% since its temporary peak on November 2nd, XIV has lost almost 50% since that day, as it has plunged from 32.70 to 16.85.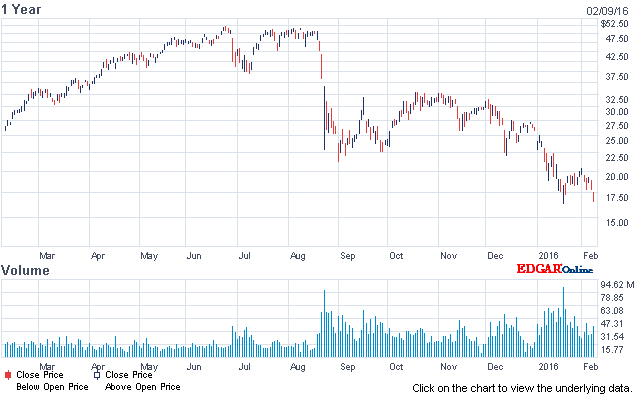 All in all, XIV has lost 65% of its value since late August, while S&P has lost just 13% during that period. Unfortunately for the holders of XIV, as long as the volatility persists in the markets, XIV will continue to be eroded due to its above-mentioned negative bias, even if S&P does not fall much further. Even worse, during rough periods, VIX futures switch from contango to backwardation and hence the above-mentioned boost from structure disappears and becomes another negative for XIV.
The ugly
Some investors may not know this, but the issuer of XIV explicitly warns investors that the ETF can go to zero on a single day (!) with extreme volatility. Therefore, the ETF holders should not use it as a long-term part of their portfolio, as suggested in the article mentioned in the beginning, but only as a hedging instrument on a small scale. It is only a certainty that XIV would have gone towards zero during the Great Recession in 2008 if it existed back then. To be sure, it plunged 71% in the summer of 2011, when the market experienced a correction of just 16%. Therefore, it cannot be overemphasized that investors should never view this ETF as a long-term investment.
Conclusion
While XIV exhibited exceptional performance during the first 6 years of this bull market, it has incurred excessive losses since last summer. This should serve as a reminder to investors that they should not accept any investing recommendation without performing their due diligence, no matter how enticing such a recommendation may be. Investors who insist on betting on the inverse performance of VIX may want to study another ETF, the VelocityShares Daily Inverse VIX Medium-Term ETN (NASDAQ:ZIV), but this will be the subject of a future article.
Disclosure: I/we have no positions in any stocks mentioned, and no plans to initiate any positions within the next 72 hours.
I wrote this article myself, and it expresses my own opinions. I am not receiving compensation for it (other than from Seeking Alpha). I have no business relationship with any company whose stock is mentioned in this article.