The volatility in crude oil prices claimed its first big oil dividend for 2016 on Thursday last week, with ConocoPhillips (NYSE:COP) announcing that it will cut the dividend by 66%. In doing so, ConocoPhillips has effectively admitted that it expects the weak oil pricing environment to continue throughout the year, and its cost and capital reductions won't be able to mitigate the decline.
As a result of this move, ConocoPhillips' fat dividend yield has taken a massive cut. However, investors don't seem to be taking this move in the right spirit, as the stock fell almost 7% on Friday after the move was announced. But, in my opinion, ConocoPhillips has made the right move and it is doing the correct thing by slashing the dividend. Let's see why.
Why a dividend cut was necessary
In 2015, ConocoPhillips took a lot of additional debt despite the oil downturn, which led to a substantial increase in the interest expense. For instance, last year, ConocoPhillips' interest expenses stood at $920 million, up from $648 million in the year-ago quarter. This signifies an increase of almost 42% in interest expenses.
This increase in interest expense was driven by the issuance of almost $2.4 billion in new debt in 2015, as compared to the issuance of just $980 million in debt in the preceding year. All in all, ConocoPhillips' debt-to-capital ratio went up to 38% in 2015 as compared to 30% in 2014. Along with the increase in debt, the massive drop in oil prices last year had a substantial impact on the company's operating cash flow.
In fact, as a result of the decline in oil prices, ConocoPhillips' operating cash flow for 2015 went down to $7.6 billion from $16.6 billion in the prior-year period as the company swung to a loss. Moreover, ConocoPhillips had to bear significant impairment charges, which led to an increment in the company's cash burn during 2015.
This year, ConocoPhillips forecasts that the oil pricing environment will worsen. As shown in the following chart, average oil pricing of $30 a barrel has been witnessed so far in 2016 as compared to $45 a barrel last year: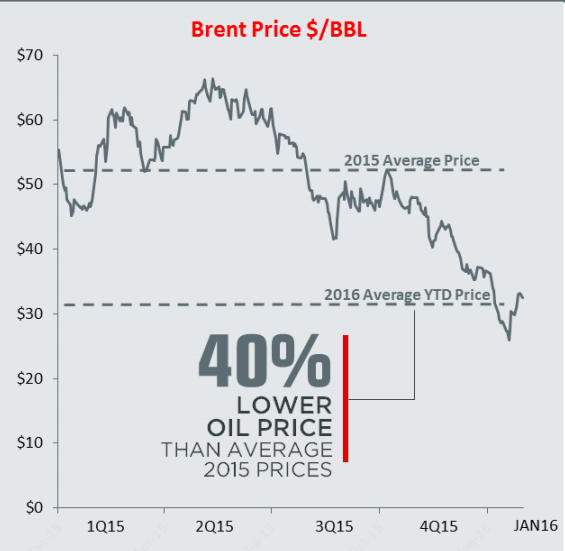 Source: ConocoPhillips
Hence, ConocoPhillips has taken a preemptive measure by reducing the dividend, because if oil prices remain at levels at which they currently are, the company will be burning a lot of cash once again this year. As a result of the dividend cut, along with the reduction in operating costs, ConocoPhillips will be able to improve its net cash flow by about $4.4 billion this year.
At the same time, it is likely that the company will not need to take on additional debt this year, while it doesn't have any near-term debt maturities. As a result, ConocoPhillips will be able to buy time and will be better-positioned to wait out the weakness in oil pricing. Also, ConocoPhillips will be able to free up enough cash to invest in key areas to lower its cost of production, while also giving investors more certainty about the current dividend level.
In fact, I believe that after the recent drop in ConocoPhillips' share price, the stock has become a good bet on the back of its conservative capital moves and cost reductions. Let me tell you why.
Lower breakeven levels are a tailwind
Driven by the reduction in the dividend, ConocoPhillips can now match its sources and uses of cash more effectively. This is because the company will now be able to direct more capital toward assets that carry lower breakeven points, which will allow it to maintain almost flat production despite lower operating and capital costs.
As shown in the chart below, ConocoPhillips' capital and operating cost reductions in 2016 will amount to $4.7 billion, but despite this cut, the company will be able to maintain consistency in production as compared to last year.

Source: ConocoPhillips
This indicates that ConocoPhillips will enjoy better capital efficiency this year, while at the same time, a lower rate of dividend means that it does not need to take on additional debt or increase production to sustain the same. Thus, ConocoPhillips has engineered its dividend reduction in a way that it can sustain the same even in a weak oil pricing environment.
Moreover, a reduction in costs and consistency in production indicates that ConocoPhillips will be able to take advantage of its industry-leading supply costs. As shown in the chart given below, ConocoPhillips has one of the lowest cost profiles in the entire industry:

Source: ConocoPhillips
Conclusion
All in all, ConocoPhillips has made the right move by cutting its dividend. The oil market has been very volatile this year and prices have remained consistently around the $30/barrel mark. So, the company's decision of slashing the dividend and reducing other costs despite having one of the lowest supply costs in the industry is a wise move that will allow it to counter the weakness in the end market. Also, ConocoPhillips can now maintain a relatively certain dividend yield of 2.83%, which is good enough in a low oil pricing environment.
Disclosure: I/we have no positions in any stocks mentioned, and no plans to initiate any positions within the next 72 hours.
I wrote this article myself, and it expresses my own opinions. I am not receiving compensation for it (other than from Seeking Alpha). I have no business relationship with any company whose stock is mentioned in this article.