Chipotle Mexican Grill, Inc (NYSE:CMG) is a highly successful fast-casual fresh Mexican food chain which is facing the challenge of continuing to provide customers with high quality non-GMO foods but also reducing the risk of food-borne illness. Investors should be patient with the stock and wait until the April to June time frame to accumulate shares.
"When we pick up one end of the stick, we pick up the other."
- Stephen R Covey
Thus far, Chipotle's management has handled this situation well with great transparency and have pledged full cooperation with investigators into two E. Coli outbreaks in the last quarter of 2015.
Leading up to the recent outbreak, Chipotle was experiencing a slowdown in same-store sales growth. Keep in mind, comparable restaurant sales were increasing, just at a slower rate, and new store openings were large contributors to revenue. Below snapshot is per the latest annual report filed on February 5th, 2016.

Click to enlarge
The challenge of "Food with Integrity" is remaining dedicated to customers with fresh food while also maintaining a high level of trust and food safety. For example, in 2015, the company reached its goal of eliminating genetically modified organisms (GMOs) in the ingredients in its food. However, additional risks are inherited from things such as fresh produce versus frozen.
Before the outbreak guidance from the third quarter ended September 30, 2015 included 150 new store openings which substantially contributed to revenue growth and an increase from previous guidance of 220 to 235 stores in 2016. Thus far, management has not commented on trimming back store openings in 2016 but I expect them to. With all of the investment and focus on food safety and winning customers back into its existing stores, a cut back seems appropriate. I put the low end of the range at 220 new stores in 2016 but would not be surprised to see a number closer to 200. The other interesting thing to note, which I view positively for shareholders, is that with only a few exceptions, Chipotle does not franchise any of its stores. If Chipotle hits the forecasted 220 new store openings in 2016, it will operate roughly 2,230 stores by year-end.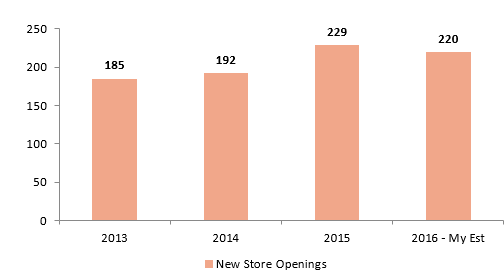 The Outbreak:
The large initial outbreak was detected in Washington and Oregon in October 2015 after interviewing ill people and finding a root cause to trace to Chipotle Mexican Grill locations. Results showed people were infected with Shiga toxin-producing Escherichia coil O26 (STEC O26). A total of 55 people were infected from 11 states. The median age of ill people were female age 21. Also, 21 out of the group had an illness which led to hospitalization (38%). There was another smaller outbreak in November of 2015 with one person being hospitalized. The latest reported incident was on December 1, 2015, and on February 1st, 2016, the CDC announced that the E. Coli outbreak is over.
A single ingredient was not identified to be the root cause of the outbreak; however, Chipotle believes the targets to include the produce. In the 2013 annual report, Chipotle cited that its risk of food-borne illness would be higher than competitors due to it providing fresh produce versus frozen.
The Solution:
The company has been discussing a centralized location for chopping tomatoes, lettuce, and blanching onions to improve food safety, bringing food-borne illness risk to "near zero." On February 8th, 2016, Chipotle closed all of its US restaurants to bring employees in to a meeting where food safety changes could be discussed openly and the staff would be able to ask questions.
This is a positive sign for shareholders and customers (not mutually exclusive) because it shows that the company is taking food safety seriously and is taking measures to reduce the risks going forward. The best case scenario is that Chipotle is able to significantly improve food safety, add value to customers with the highest quality ingredients, and all with a quick return of its core customer base.
Recent Trends:
While comparable restaurant sales squeaked out a 0.2% increase versus 2014 (thanks to menu price increases), even with such a terrible fourth quarter, the numbers are carrying into 2016 in continued downward near-term trend. In recent trends, this has significantly impaired results with comparable restaurant sales down 14.6% in Q4 of 2015 and down 36% in the month of January 2016. Management expects February numbers to improve due to the closed investigation of the E. Coli incident mentioned above; however, how quickly the customers return is yet to be seen. Management has stressed the further impact to the financials to include increased marketing and promotional spending until June 2016 which includes free and discounted food promotions.
As a matter of fact, I received a message today from a friend saying that if I like Chipotle I could get a free burrito. She said, "Text 888-222 'RAINCHECK' and you can get a free burrito." I messaged the company and do plan on going in to get a free burrito - I am hopeful to see a swarm of customers. From my calculation, my risk of getting E. Coli from eating at Chipotle has been and always will be nearly 0% (just like my odds of winning the lottery). However, I understand the justification for why customers react to such news.
The cost of the sickness in Q4 of 2015 was approximately $16 million; however, many additional costs will be incurred, including food safety procedures which make up an estimated 2% of revenue when fully implemented. Due to the hike in operating costs and marketing efforts, the company expects to break even in Q1 of 2016. Many lawsuits have been filed related to the incident and more are expected to be filed.
Conclusion and Recommendation:
At the end of the day, food-borne illness in the restaurant industry will never be eliminated completely. Whenever you go out to eat, you are running the risk of getting a food-borne illness. The question is how does management respond to it and take a proactive approach to reducing the risk of future outbreaks. The management team has handled this well and Chipotle's sound business will return in the latter half of 2016. Therefore, I recommend everyone collect their free burrito as they wait to buy with confidence when near-term trends are confirmed to have reversed.
Disclosure: I/we have no positions in any stocks mentioned, and no plans to initiate any positions within the next 72 hours.
I wrote this article myself, and it expresses my own opinions. I am not receiving compensation for it (other than from Seeking Alpha). I have no business relationship with any company whose stock is mentioned in this article.