As part of our core investment approach, we reduce our likelihood of making mistakes by looking only at investments that have made it into the portfolios of the world's very best investors. These investors are the best in the world precisely because they make very few mistakes.
We believe this is much like walking through a mine-field after it has been swept of explosive devices. There may be a few mines left, but it is exponentially safer than it was before.
Warren Buffett's investing is based on a similar core belief. His first rule of investing is "don't lose money."
His second rule of investing?
"Don't forget rule number one."
Buffett buys very few stocks. When he buys one you can be sure he has done so believing that there is very little chance of losing money.
On December 10th Buffett revealed the acquisition of 2 million shares (8% of the total outstanding) of Seritage Growth Properties (NYSE:SRG) for his personal portfolio.
Seritage was formed on June 3, 2015. It was created specifically to purchase real estate assets from and provide a cash infusion to the long-struggling retailer Sears Holdings (NASDAQ:SHLD).
As a result of the transaction, Seritage obtained a real estate portfolio that contains 235 wholly-owned properties and 31 joint venture properties. In total these consist of approximately 42 million square feet of building space.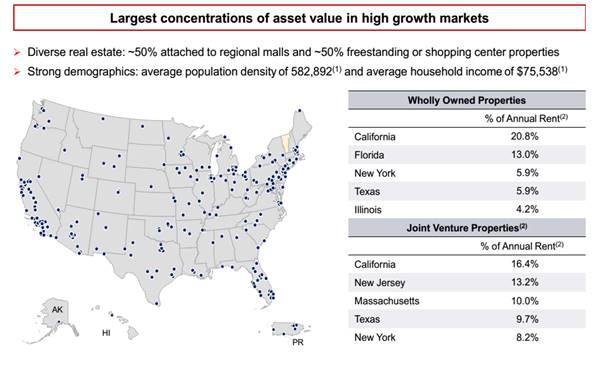 Source: Seritage Growth Properties December 2015 Presentation
Almost all of those properties (224 or 91% of the square footage) are leased to Sears or K-Mart, which is owned by Sears. We will show you why that is the key to the investment opportunity here in just a second.
Yes, Buffett Does Real Estate Too
First you need to understand that Warren Buffett isn't just good at investing in equities, he has had some serious real estate success as well.
In his 2014 Berkshire Hathaway letter to shareholders, Buffett provided some color on a past real estate success. This past success looks very similar to what we believe that Buffett sees in Seritage today.
In the early 90s, Buffett was alerted to an opportunity to participate in the purchase of a foreclosed property situated in an appealing neighborhood near New York University.
At this time in the early 90s, a commercial real estate bubble had just popped and the sector was suffering from a vacuum of capital. This would be just the sort of environment where we'd expect a value investor like Buffett to be hunting.
His reasoning for buying the property was typical Buffett -- breathtakingly simple.
Current operating cash flow from the property (rent less operating expenses) at the time created a cash flow yield of about 10%. That alone could make for a decent real estate investment, but this opportunity was better than that.
Buffett doesn't get too excited about decent opportunities.
This particular property had been mismanaged. The largest tenant (20% of the square footage) had a sweetheart long-term rental agreement for $5 per square foot, while all the other tenants had average rents of $70 per square foot.
Buffett noted that when he purchased the property, the sweetheart rental agreement would expire in 9 years, at which time there would big increase in rental revenue and cash flow.
Until then Buffett would do just fine for the first nine years with the 10% cash flow yield that that the property offered. After year nine, he would do a lot better.
It worked out swimmingly for Buffett. He now gets an annual 35% distribution on his initial investment and has pulled 150% of that initial investment out of the property through refinancings.
He now has a negative amount money invested in the property and still receives a big distribution.
Sears Today, Gone Tomorrow
So how is the Seritage opportunity today similar to the Buffett case study from the early 90s?
Seritage currently rents nearly all of its property to Sears. That is going to change.
As part of the lease contracts with Sears and K-mart, Seritage has the right to recapture 50% or 21 million square feet of that space, which can be re-leased to other tenants.
As time passes Sears and K-mart are going to represent a smaller percentage of Seritage's square footage. That is really good, because Sears and K-mart have lease agreements that are well under market.
As Seritage reclaims square footage from Sears and brings in new tenants, lease revenue and cash flows are going to increase.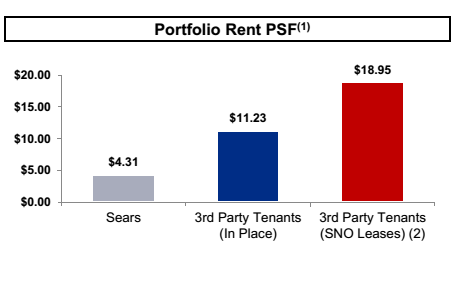 Source: Seritage December 2015 Investor Presentation
Sears currently averages $4.31 per square foot of rent paid to Seritage. Current non-Sears tenants pay a lot more than that at $11.23 per square foot. But even those are below-market rents.
The going market rate for new non-Sears tenants that Seritage has been contracting with is $18.95.
As Seritage pulls the property from Sears and K-mart, it can lease it out to new tenants at nearly four times as much.
Only 9% of Seritage's square footage is leased non-Sears tenants, but these tenants provide 22% of Seritage's annual rent.
The long-term objective would be to get Sears and K-mart down to 50% of the total square footage. That would significantly change the revenues and cash flows of this business.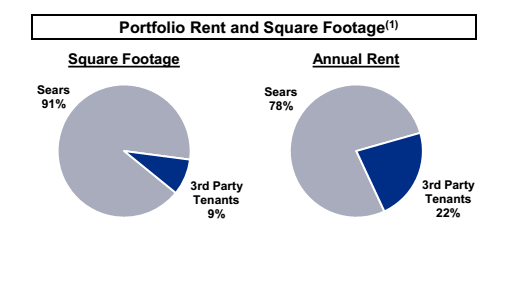 Source: Seritage December 2015 Investor Presentation
This Isn't Going To Happen Overnight
Like with any Buffett investment, this one is long-term in nature.
The ramp-up in rent and cash flow here is going to be a gradual process.
That is how Buffett's real estate investment next to New York University worked, and we believe it will work well here too.
We believe Buffett's Seritage entry price is somewhere around $35 per share. The shares spiked on the news of Buffett's purchase, but they have been drifting back down ever since.
Given the long-term nature of this opportunity there stands a very good chance that the market will give anyone interested an entry price closer to where Buffett got in.
Disclosure: I/we have no positions in any stocks mentioned, and no plans to initiate any positions within the next 72 hours.
I wrote this article myself, and it expresses my own opinions. I am not receiving compensation for it (other than from Seeking Alpha). I have no business relationship with any company whose stock is mentioned in this article.