For Chesapeake Energy (NYSE:CHK), 2016 is turning out to be no different from how it had performed on the stock market in the last couple of years. Ever since the decline in oil & gas prices began, Chesapeake shares have been tumbling, and it looks like 2016 will be the worst year of the lot, as CHK is already down over 31%. In my opinion, it will be good for investors to stay away from Chesapeake Energy, as a turnaround is not coming - and there are a few reasons why I think so.
In a precarious situation
At present, the company has around $11.6 billion in debt, which is more than five times its market capitalization, while a current ratio of just 0.79 indicates that a liquidity crisis for Chesapeake Energy cannot be ruled out. This is especially because the company has to contend with a number of debt maturities that are expected to mature in the coming years, as shown below:

Click to enlarge
(Source: 10-K)
The chart above illustrates Chesapeake's debt position at the end of 2014, as reported by the company in its last-released annual report. I'm taking this as a reference case, because the company's current debt of $11.6 billion is quite close to the debt position it had at the end of 2014. Now, Chesapeake's interest burden of around $3.5 billion (excluding the interest on the maturity of the debt in less than 1 year) is quite high, as the company has generated less than $14 billion in revenue in the past year.
This means a fourth of its revenue in the past year has gone toward repaying its debt. Looking ahead, I'm pretty much sure Chesapeake's revenue will continue declining, as the NYMEX natural gas price has dropped below $2/MMBtu on the back of tremendous oversupply in the industry. For instance, working inventories of natural gas at the beginning of 2016 were at 3,643 Bcf, up 17% from the prior-year level and 15% higher than the five-year average.
As a result of warmer-than-anticipated weather, the drawdown of natural gas will take a hit, due to which prices are coming down. This will hurt Chesapeake's revenue performance, which will eventually hurt the cash flow. Moreover, Chesapeake tried to swap its bonds at the end of December with senior secured second-lien bonds, but low participation rates indicated that investors are not confident of a turnaround. As a result, the company ended up increasing its interest burden and still faces a number of maturities going into the next couple of years: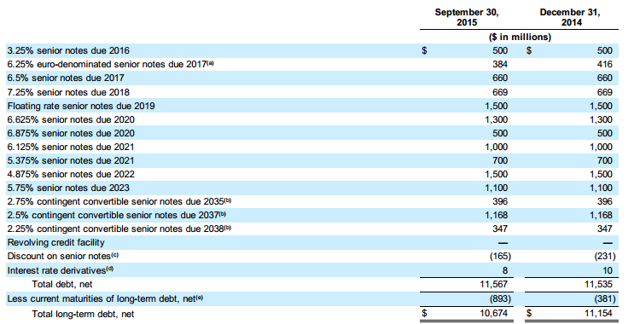 Click to enlarge
(Source: 10-Q)
As seen above, in 2016 and 2017 combined, Chesapeake has just over $1.5 billion in debt maturities to satisfy, apart from a heavy interest burden. Now, the company has generated operating cash flow of $1.9 billion in the past year, while its cash position stands at $1.76 billion. However, its operating cash flow is declining at a rapid pace, and by the time the company reports its fourth-quarter results later this month, the figure would have shrunk further.
I'm saying this because at the end of the third quarter, Chesapeake's operating cash flow had dropped to $476 million from $1.29 billion in the year-ago quarter, as the average realized price of natural gas declined 45% year over year. This trend of declining natural gas prices continued in the final quarter of the year as well, with the Henry Hub averaging lower than the third quarter, as shown in the chart below: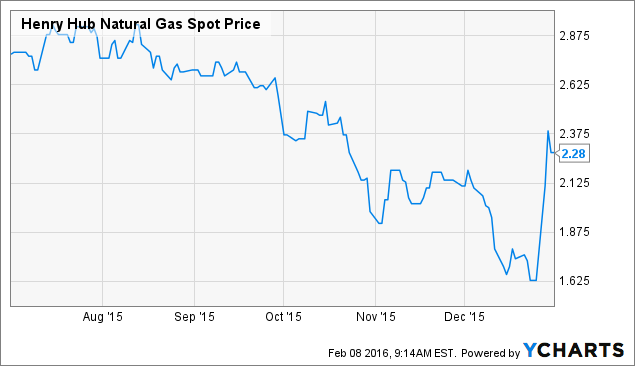 Henry Hub Natural Gas Spot Price data by YCharts
As a result, Chesapeake's cash flow performance will take a hit when it releases its next set of results. Moreover, going into 2016, it will continue burning cash as natural gas prices might remain under pressure this year due to high oversupply and low inventory drawdown. Thus, the company will find it difficult to service its debt going forward, especially with so many maturities coming up, along with a high interest expense. In fact, I won't be surprised if Chesapeake actually defaults on some of its debt, as Moody's opines.
What should investors do?
Chesapeake has seen its balance sheet almost decimated since the beginning of 2015. The company has been burning its operating cash flow at a rapid rate, while its leverage has increased alarmingly at the same time. As a result, its interest coverage, which was healthy a couple of years ago, has dropped off a cliff and is deep into negative territory due to the precipitous fall in earnings before interest and taxes.
The following chart clearly indicates that the fall in oil & gas prices started spoiling Chesapeake's balance sheet from 2015 onwards.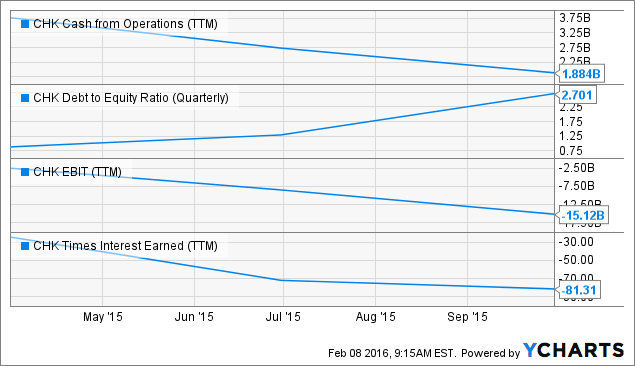 CHK Cash from Operations (TTM) data by YCharts
Now, the chances of a comeback for Chesapeake look remote given the weakness in pricing and its huge debt. The fact that the company's balance sheet is in a precarious situation is the biggest problem it faces. So, it will be a good idea to avoid Chesapeake Energy, since a recovery is difficult given the situation it is in.
Disclosure: I/we have no positions in any stocks mentioned, and no plans to initiate any positions within the next 72 hours.
I wrote this article myself, and it expresses my own opinions. I am not receiving compensation for it (other than from Seeking Alpha). I have no business relationship with any company whose stock is mentioned in this article.