Oil dividend payers are on the high wire trying to balance their positions to keep them from falling off. The wire's elevation is how difficult it is to stay up with low oil prices. The length of the wire is how long oil prices remain at current or lower levels.
Citing data from Standard & Poor's, last year's number of dividend reductions far surpassed 2008, according to the Bespoke Investment group. A combination of weak commodity prices, sluggish growth, reduced corporate profits, and a tightening of liquidity all contribute to the carnage in the oil sector.

ConocoPhillips (NYSE:COP) Falls Off
ConocoPhillips slashed its dividend by 66% showing that the highest priority for an oil company isn't safe from falling to the effects of low crude.
For long-term investors, the take-away is this hasn't happened in the last 25 years. Capex for 2016 was trimmed by 17% and capital spending was reduced from $10.1 billion in 2015 to $6.4 billion for this year.
ConocoPhillips' Q4 revenues declined Y/Y, bringing in $6.77 billion compared to $11.85 billion in 2014. A net loss of $3.45 billion was devastating in comparison to last year's net loss of $39 million.
Without a downstream business to benefit from cheap oil, the upstream component significantly hurt cash flow as noted in the graphic below.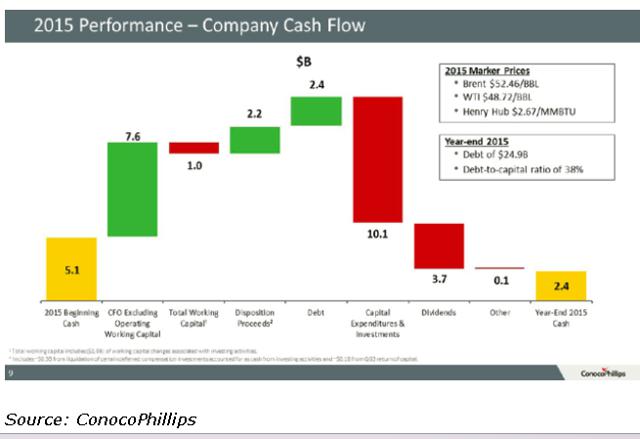 Click to enlarge
Conoco's move emphasizes a crude reality (pun intended); there is no such thing as safe dividends in the energy sector right now. CEO Ryan Lance said "while we don't know how far commodity prices will fall, or the duration of the downturn, we believe it's prudent to plan for lower prices for a longer period of time." This begs the question, how safe are other dividend payers from falling off the high wire?
Oil Dividend Payers Struggle

Chevron (NYSE:CVX) reported diluted fourth quarter earnings of $4.6 million. To put this in perspective, compare this to 2014 fourth quarter earnings of $19.2 billion. Sales and operating revenues were $28 billion compared to $42 billion in 2014. This is the bottom line that CVX has to manage to stay up on the wire. Meanwhile, Chevron is aggressively engaged in global actions to reduce capex and decrease the company's size while still attempting to complete the large buildout it began years ago.
Recent actions include a second wave of 4000 layoffs planned for this year. Additionally, capital spending cuts totaling more than $9 billion have been announced. But there are serious concerns about the company's ability to sustain its large attractive dividend of $4.28 with a yield of 5.05%. A problem is that as long as the company is losing money, its dividend is likely to be funded by debt. This will require maintaining a perilous balance.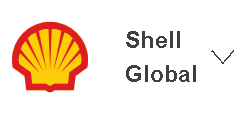 Royal Dutch Shell's (NYSE:RDS.A) fourth quarter earnings tumbled 44 percent. Adjusted profits dropped from $3.2 billion to $1.8 billion from a year earlier. Earnings declines were preceded by RDS.A closing a deal for a $52.4 billion takeover of the BG Group (OTCQX:BRGYY) to boost future competitive performance.
On the plus side, the Shell BG merger increases reserves by 25% and output by 20%, making Shell a well-positioned producer of LNG. Shell is now the largest public oil producer second only to Exxon Mobil (NYSE:XOM).
It is clear that the company needs to shed 10,000 positions across both companies to sustain its financial standing.
A nagging question mark is its ability to meet a $12 billion dividend payment of 8.4%. On the plus side, BG is profitable and should improve the bottom line. Furthermore, it is noteworthy that Shell has maintained a consecutive 40-year record of dividend payment with the firm's commitment to maintain it in 2016. Keep your eye on the high wire balancing act.

British Petroleum (NYSE:BP) reported a Q4 loss of $2.2 billion compared with a loss of $969 million a year ago. Gross earnings tumbled to $5.2 billion compared with an $8.1 billion profit in 2014. The company said it will cut costs by further eliminating 3000 jobs by the end of 2017.
BP is facing a worse situation than analysts' poor expectations. Though a 60% slide in underlying profits was expected in Q4, it declined more than 90%. This has resulted in an announced management shake-up, shuffling executives as part of a reorganization plan.
The company is in the throes of a massive $3.5 billion restructuring program to counter the crash in oil prices. Additionally, it is saddled with $20 billion in fines to resolve an oil spill in the Gulf of Mexico. On the positive side, it sports an impressive dividend yield of 7.2%, which helps it to maintain share value in the current climate.
But will it maintain the dividend if oil prices continue to decline and extreme cash flow remains under pressure? It appears that the company will allow its credit rating to suffer by incurring greater debt to protect its dividend. Keep a close watch on the high wire as BP continues the balancing act.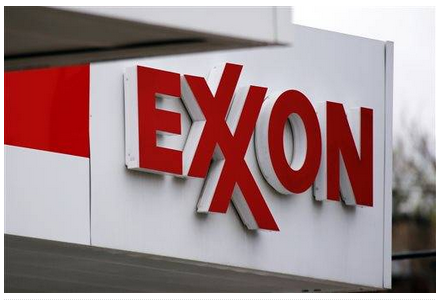 Exxon's fourth-quarter earnings declined from $6.6 billion a year ago to $2.4 billion on revenues of $59.81 billion. This represented a 31% decline from last year's revenues of $87.28 billion. Downstream earnings partly offset the effects of low oil prices in the upstream component.
The effects of cheap oil produced a 58% plunge in Exxon's Q4 earnings producing 67 cents a share down from $1.56 a share a year ago.
Exxon declared an annualized dividend of $2.92 which equals a yield of 3.8%. The yield is moderate compared to high flyers and is likely to remain stable through 2016. Jeff Woodbury, Exxon's head of investor relations told analysts, "we have built this business to ensure that it is durable in a low price environment." Right now, Exxon looks solid up on the high wire.
Disclosure: I/we have no positions in any stocks mentioned, and no plans to initiate any positions within the next 72 hours.
I wrote this article myself, and it expresses my own opinions. I am not receiving compensation for it (other than from Seeking Alpha). I have no business relationship with any company whose stock is mentioned in this article.