Cisco Systems (NASDAQ:CSCO) announces 2Q16 earnings Wednesday, 2/10, after the market closes. We like CSCO heading into those earnings as an attractive valuation, and cash-heavy balance sheet coupled with beatable estimates gives us conviction in post-earnings share price appreciation. While our bullish stance is tempered by an influx of low-cost, white-label equipment cutting into gross margins, we do believe the company is large enough, reputable enough, and diversified enough to warrant a richer valuation than the market is awarding it.
There exists a very real threat of white-label equipment. As cloud computing giants like Microsoft (NASDAQ:MSFT) and Amazon (NASDAQ:AMZN) turn toward low-cost, white-label equipment, CSCO's hardware business comes at-risk because MSFT and AMZN's cloud service growth implies CSCO's hardware customer churn. MSFT and AMZN both reported strong cloud growth MRQ.
As a growing number of organizations transition to the cloud, CSCO will need to adapt its offerings to maintain a dominant market share. We think the company is doing that through aggressively driving its own cloud business, making huge investments in the IoT space, and pushing what we see as a high-growth sports stadium connectivity initiative.
Briefly, we believe CSCO's recent $1.4 billion purchase of Jasper Technologies positions the company well to generate recurring IoT revenues. The number of IoT devices in the world is rapidly growing, and this will create a significant influx of data that will need to be managed. The Jasper acquisition gives CSCO a leg-up in providing software solutions to analyze that data, and this will supplement its hardware business, so growth should be "synergized."
We also are bullish on the company's sports stadium connectivity initiative as we feel that there is increasing demand for fans to be connected at sports venues. We see this as a high-growth space with significant revenue potential (could extend beyond just sports venues to all venues). The Denver Broncos success story gives us faith that CSCO has the capability to set up similar infrastructures in various venues across the world.
In sum, we feel that CSCO is large enough, reputable enough and diversified enough to comfortably repress the threat of low-cost competition. While switching does represent the largest revenue source for CSCO, the company derives its revenue from several different areas, and this speaks to the 24x7 IT support the company gives its customers. It also is innovating in several high-growth spaces which should provide strong recurring revenue streams.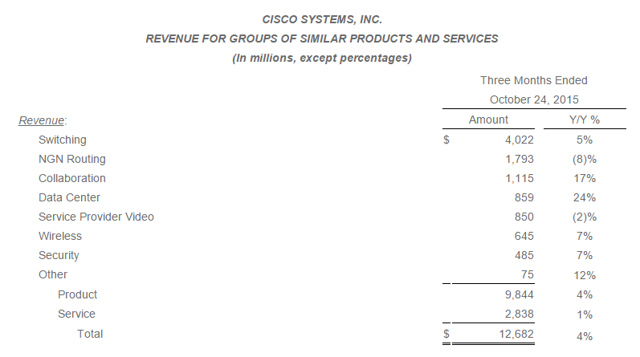 Click to enlarge
On a macro level, we are not terribly worried about the IT spending landscape globally. Global IT spending dropped 6% in 2015 and is forecast to grow less than a percent this year. Investors and analysts are concerned that emerging market weakness is and will continue to hurt overall demand for technology.
Corporate earnings over the past few weeks paint a mixed picture of some good and some bad in global IT spending. Tableau Software (NYSE:DATA) and Cognizant Technology Solutions (NASDAQ:CTSH) gave weak revenue forecasts last week while Microsoft reported strong results, led by particularly strong results in its commercial cloud business. CSCO's earnings will give more insight into how emerging market weakness is affecting global IT spending, but we are bullish on MSFT's strong cloud growth. We believe it is likely the company saw likewise strong growth in its cloud business this quarter.
We are mostly attracted by the stock's valuation. The company sports a market cap around $115 billion with net cash of $34.5 billion. This gives the company an enterprise value of around $80.5 billion. This EV is on an LTM free cash flow of $11.6 billion, so the stock is trading right around a 7x EV/FCF multiple. Free cash flow also grew 13.5% Y/Y in 1Q16, so that LTM figure of $11.6 billion will likely grow to $12 to $13 billion this year.
Fundamentally, with CSCO, we have a stock with roughly 30% of its market cap covered in net cash and the remaining 70% accounted for in the next 5-7 years' worth of free cash flow. Granted, a majority of that net cash is sitting overseas, so it is subject to repatriation taxes and should be discounted. Even if we halve CSCO's $59.1 billion in cash and investments, that still gives us net cash of around $5 billion, so the EV becomes $110 billion. The company should be able to cover that in cumulative FCF over the next 7-10 years.
Assuming this business operates into perpetuity (which we believe it will given its current infrastructure and scale), buying here at a 7x EV/FCF multiple seems like a risk-averse move with significant downside protection and significant upside potential. We believe concerns over white-label equipment and stalling global IT spend are already heavily baked into the valuation, and with a 3.7% dividend yield, we are comforted by being paid to wait until the company's growth in cloud, IoT, and venue system connectivity accelerates.
Disclosure: I am/we are long CSCO.
I wrote this article myself, and it expresses my own opinions. I am not receiving compensation for it (other than from Seeking Alpha). I have no business relationship with any company whose stock is mentioned in this article.