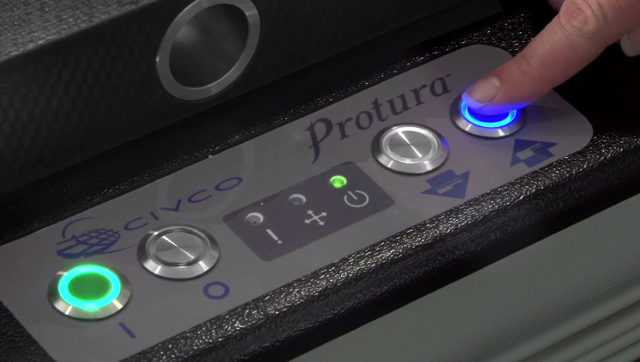 Roper Technologies (NYSE:ROP) is one of those industrial conglomerates that often gets overlooked. This includes by me. Generally, I find such conglomerates attractive: General Electric (NYSE:GE), 3M (NYSE:MMM), Honeywell (NYSE:HON), United Technologies (NYSE:UTX), and Dover Corporation (NYSE:DOV) are all pretty much perpetual members of my watch-list.
The diverse industrial products of these "eternal watch-listers" seem undiminished in almost any financial weather. But to-date, Roper has not been one of them.
However, I'm not entirely sure this is fair. With CAGR share price appreciation of over 16% since 2011 and being just two years short of Dividend Aristocrat status, something good is clearly occurring here.
So, let's take a deeper look as this conglomerate while comparing it to its peers mentioned above.
A Diverse Industrial Conglomerate
There's no doubt that Roper is a diverse industrial conglomerate. I spent a long time (nearly a day, if I am honest, courtesy of some poor weather) pottering around and investigating the various products the company produces through its subsidiaries.
Here's a little snapshot for you. Its subsidiary CIVCO Medical Solutions produces items like patient positioning systems. DAP Tech produces rugged mobile devices like tablets and phones. Verathon produces medical items, including airway management and bladder measurement devices. SoftWriters is a leading software package for long-term care pharmacies. Cornell, Hansen, Roper Pumps and other subsidiaries make a variety of pumps and valves for innumerable industries. Aderant is a leading software provider to the legal profession. RF IDeas is a leader in employee smartcard technology. The list goes on.
Roper divides these varied businesses into four main segments. The revenues from these different segments are pretty evenly spread: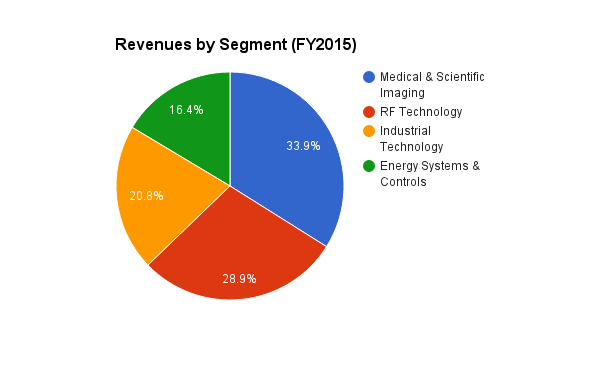 Obviously, in the current environment, the energy systems and controls segment has seen revenues pressured. Nonetheless, strong growth from the medical and scientific imaging and RF tech segments have allowed the company to power through this and still produce revenue growth: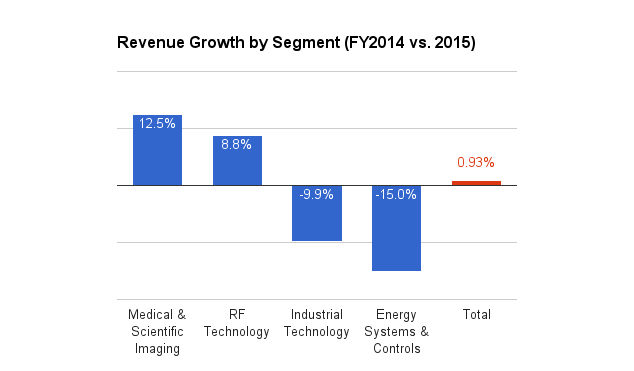 Roper still managed to put together revenue growth despite significant declines in two of its segments. I'd suggest that Roper may also be a "safer" play on future improvements in the energy markets. Any uplift in that market would see Roper benefit nicely. In contrast, the downside of this exposure is softened by the strength of its two biggest segments.
Attractive Acquisition Strategy
This diverse revenue composition is the result of a long-standing aggressive acquisition strategy. What's more, the company is continuing its strategy at present. In April 2015, Roper's CEO, Brian Jellison, stated that:
Our strategy remains consistent: niche-focused, asset-light business with leading-edge technologies led by terrific operating leaders that create significant free cash flow to enable further investments for growth.
Just taking 2015, the company has invested over $1.8 billion in this way:
Date
Company
Value (Million)
Dec 2015
Aderant
$675
Oct 2015
CliniSys
$261
Sep 2015
RF IDeas
$277
Atlantic Health
Feb 2015
Data Innovations
$450
SoftWriters
Jan 2015
Strata Decision Technology
$140
This is not something new either. Since 2012 (excluding 2015), it has spent over $2.7 billion:
Date
Company
Value (Million)
Aug 2014
Strategic Healthcare Programs
$303
Aug 2014
Innovative Product Achievements
Jul 2014
Foodlink
Date
Company
Value (Million)
Apr 2013
Managed Health Care Associates
$1,000
Date
Company
Value (Million)
Aug 2012
Sunquest
$1,415
Considering that at the end of FY2015 the company had an enterprise value of around $21 billion, this is a significant amount of fresh investment in a short space of time.
So far, this strategy has served the business well, and I see no reason why this should not continue to be the case in the future. The fact that it focuses in on niche businesses with high cash flow capabilities and then uses that cash flow to fund further growth through acquisitions as well as organically is very attractive and, so far, very effective.
Revenue Growth
The effect of these revenue-accretive acquisitions and attractive organic revenue-growing underlying businesses is, of course, fairly obvious.
Revenue has grown at an annualized rate of about 5% since 2011. This is impressive compared to the generally fairly flat revenue growth of its peers: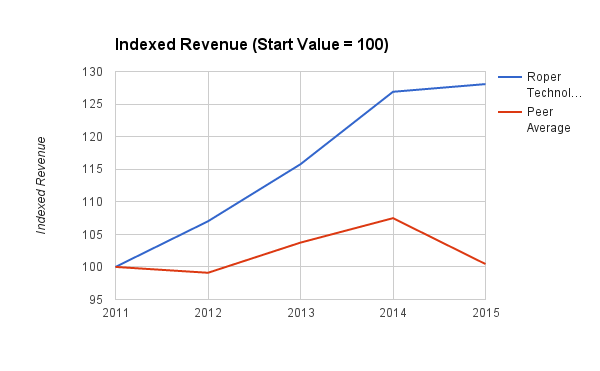 Analysts expect to see revenue continue to grow at a CAGR of about 6.2% over the next two years, even in light of the likely continuing headwinds to the company's energy business. Such is the strength of its increasingly dominant medical and scientific imaging and RF segments.
Margins Expansion
As noted earlier, Roper's strategy explicitly targets high-margin businesses. It is of little surprise, therefore, to find that the company has high margins compared to its peers.
What impresses, though, is how it has managed to considerably improve its margins over a prolonged period of time: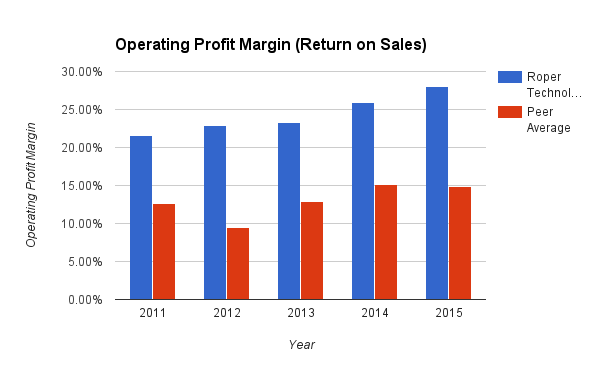 Indeed, Roper's margins are considerably ahead of almost all of its peers. Only 3M comes close, with margins in 2015 at 22.5% compared to the 27.9% of Roper.
With further high-margin acquisitions in 2015, I expect to see these margins continue to expand modestly in the future. Such consistent progress suggests the business is operating very well indeed.
Cash Flow
Another part of Roper's strategy highlighted earlier was a focus on cash flows. This focus has paid off handsomely for the business. Since 2011, it has consistently increased its cash flow at a rapid pace:
| | | | |
| --- | --- | --- | --- |
| | OCF | CapEx | FCF |
| 2011 | $602 | $41 | $561 |
| 2012 | $678 | $38 | $640 |
| 2013 | $803 | $43 | $760 |
| 2014 | $840 | $38 | $802 |
| 2015 | $929 | $36 | $893 |
Nor does Roper expect this to slow. According to its Q4 results, the company expects to see OCF of about $1000 million in 2016, a little over 7.5% ahead of 2015 cash flows.
However, this tells only a small part of its cash flow story.
Efficient Cash Generation
Roper's cash generating machine is not only growing, but also highly efficient. Taking a look at its CROIC (cash return on invested capital) gives us a good indication of this.
The CROIC (that is, FCF divided by the sum of its debt and equity) tells us how much FCF the company generates from all capital invested in the business.
A CROIC of 10% means that for every $100 invested in the business, it produces $10 in FCF. The higher the CROIC, the more cash the business has to reinvest and see return similar levels of cash in the future.
In Roper's case, it has maintained impressively high CROIC levels: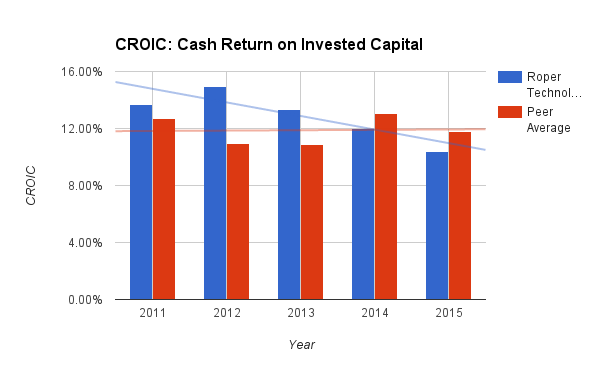 CROIC has been declining modestly in recent years, as continued acquisitions drive up both debt and equity, while the cash flow benefits from those acquisitions take a while to feed through to results. Indeed, debt has grown at a CAGR of 19% since 2011 and equity by 14%. In contrast, FCF has grown at a slower 9.7%.
Nonetheless, the fact that in 2015 it could acquire businesses for over $1.8 billion and yet retain a CROIC above 10% is very impressive indeed. For me, anything above 10% is a highly attractive CROIC.
In Roper's case, the high levels of efficient cash generation bodes well as the company continues to act on its strategy of using excess cash flow (of which there is much) to invest in organically growing the business as well as acquiring new high-margin and highly cash-generative ones.
Debt
So surely, this aggressive acquisition strategy must have some downside? Perhaps, as a result, it is highly leveraged? This would make sense. However, you would be wrong.
Certainly, the company has seen its debt-to-equity ratio grow in recent years. However, it has not done so unduly. Indeed, Roper remains a lightly indebted company in contrast to its peers: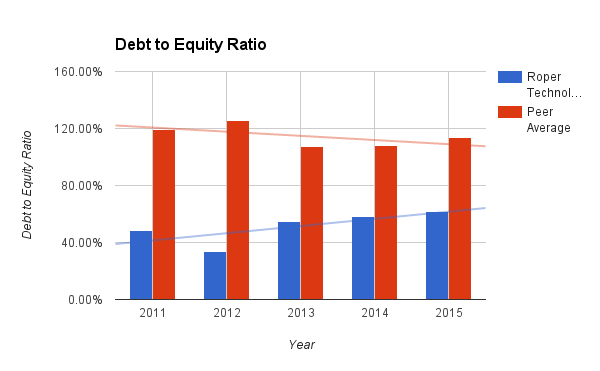 More satisfying still is that its FCF coverage of this debt remains comfortable and in line with its peers, again emphasizing the strength of cash generation: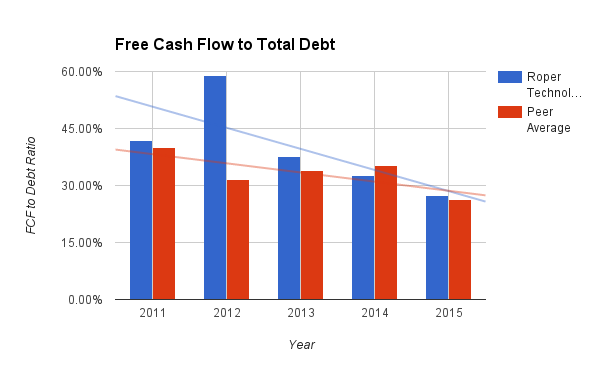 With an FCF/debt ratio of about 27% last year, Roper could (in theory) repay its entire debt in under four years just using its FCF. In reality, this would be unlikely to happen. Nonetheless, this sort of coverage is good to see, as I consider anything more than 25% a healthy coverage level.
Nonetheless, the company's aggressive acquisition past (and, no doubt, future) does mean it may offer heightened debt risk in the future. It is for this reason that, despite favorable debt and cash flow history, Roper has attracted weaker credit ratings from the main credit agencies than its peers (see here for more on how I normalize credit ratings):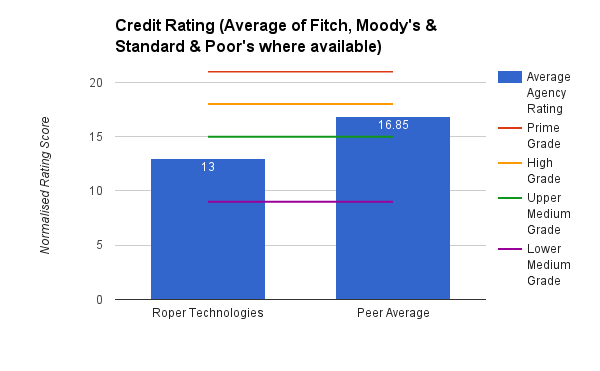 Personally, I think that unless debt grows significantly in coming years, this is not something worth being too concerned about. Right now, debt is manageable and cash flows healthy. Frequent acquisitions may make the credit agencies a little wary, but the company's record for effectively managing acquisitions both big and small suggests investors can be confident in the business going forward.
Dividend History
Its dividend-growing history also looks strong. As noted at the start of this article, Roper is just on the cusp of becoming a Dividend Aristocrat. With 23 years of dividend increases under its belt, it is only two years shy of Aristocrat status.
Of course, many others of this bunch of conglomerates also are impressive dividend performers: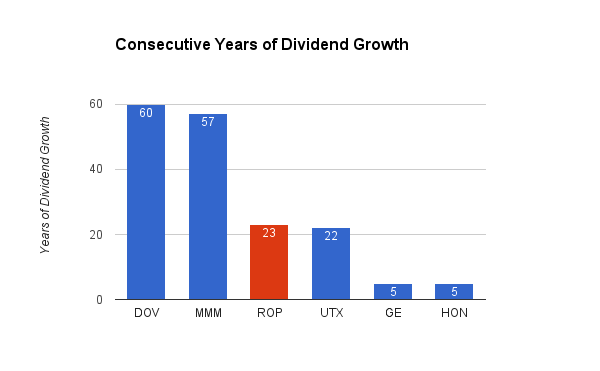 Nonetheless, considering it was only listed in 1992, Roper is right up there with the best. What's more, the company has seen its dividend increase at a far quicker rate than its peers: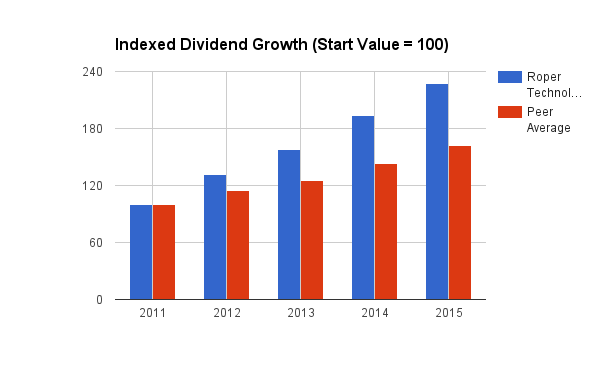 Its current dividend is 227% what it was in 2011. In contrast, its peers' dividends are about 162% more than in 2011. Considering that this is already an impressive growth rate, it really puts Roper's generously progressive dividend policy into perspective.
Dividend Yield
The company's yield does, on the face of it, come across as a little lackluster. While its peers have an average yield around the 2.75% mark, Roper's languishes (despite its rapid growth) at 0.6%: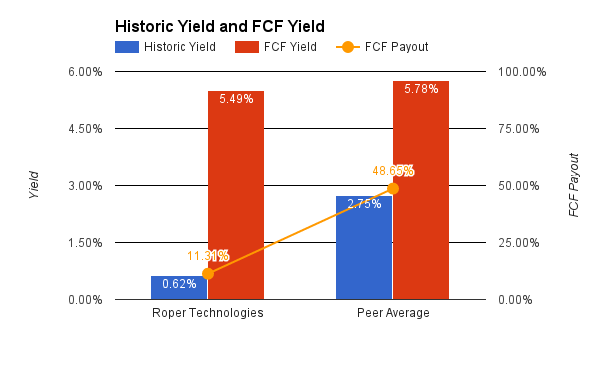 However, as you can see, Roper comes with an FCF yield which is pretty much in line with that of its peers. The company continues to pay out only a very small amount of its FCF as a dividend at present (just 11%, as opposed to its peers' 48%).
Currently, most of its FCF goes into fresh acquisitions. It is for this reason that Roper has managed to undertake such a huge acquisition strategy, while keeping debt levels in check.
Nonetheless, it has not overlooked dividends. As noted above, dividend growth has been rapid. This is anticipated to continue over the next couple of years, with 15% annual growth expected.
Impressive. But I'd be surprised if the company does not continue growing it at a rate around the 20% mark we have seen in recent years.
Assuming this is the case, we may find a yield of $1.44 by the end of 2017. This would represent a yield on cost today (at $161 per share) of about 0.9%.
This won't leave you rolling in dividend income, maybe. But the scope for this pace of growth to continue for some time is significant.
Valuation
Needless to say, to go with a low yield also is a lofty valuation. With a P/E of 24, Roper is running noticeably ahead of its peers' valuations: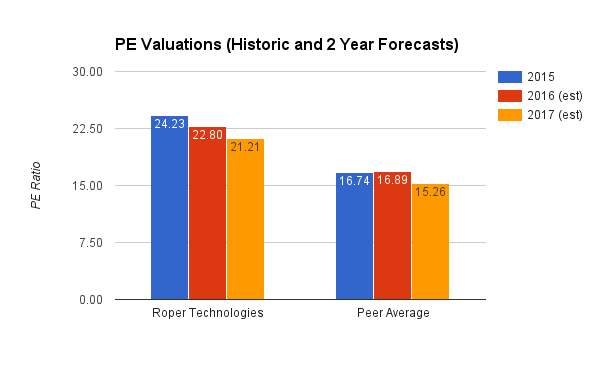 Nonetheless, the company is set to continue its solid EPS growth, which should see this come down. What's more, looked at from an EV/FCF perspective, Roper's valuation looks less extravagant: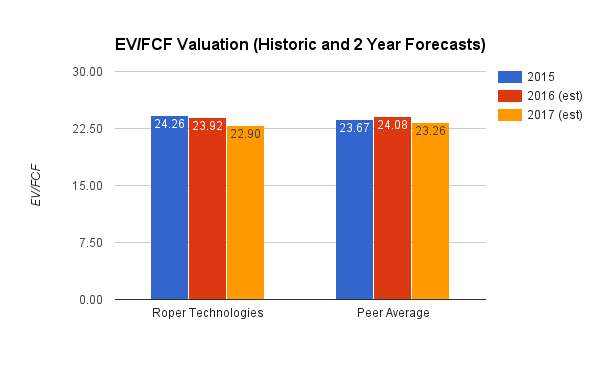 Again, this emphasizes the incredible cash generation record of Roper, as none of its peers are particularly lagging in this regard.
Fair Value
So, what do I think Roper's fair value is right now?
I judge my fair value by taking the company's historical P/E average over the last five years and multiplying it by the average from the EPS predictions for the next two years.
Over the last five years, Roper has had an average P/E of 24.8. Using this alongside the EPS predictions for the next two years gives us:
A basic fair value of $182.95
I then adjust this by the amount of cash the company has on its books. Doing so offers us:
A cash-adjusted fair value of $189.11
This is only a few dollars below the all-time share price highs for Roper ($195.93), which it hit in November 2015. It also suggests that, with the stock trading at around $161 at present, there is some scope for the share price to move upwards.
Conclusion
Should I add Roper to my watch list? I certainly think so. It is clearly a quality operation which has achieved a great deal of success through its aggressive, but focused, acquisition strategy.
Its exposure to the energy sector has tempered the love that many people have had for Roper. However, the company continues to present a compelling investment picture.
Its significant acquisition drives over the last few years look set to continue. Execution risk is, therefore, inherent in this stock. However, the business has proven itself adept in integrating these deals well into the existing company structure.
It holds attractive positions in many niche segments. This is a compelling conglomerate which looks set to continue to generously reward investors with significant dividend increases well into the future. Strong, stable cash flows and growing revenues look set to continue despite energy sector headwinds.
I'm very impressed by the business. Both its strategy and fundamentals appeal to me as a long-term investment. At its current price, the company also seems to offer decent value compared to its historical price. For those willing to be patient, Roper could prove to be a company which offers a generous share price appreciation alongside a rapidly rising dividend.
Notes: Unless otherwise stated, all graphs and tables and the calculations contained within them were created by the author. Image reproduced from CIVCO Medical Solutions.
Disclosure: I/we have no positions in any stocks mentioned, and no plans to initiate any positions within the next 72 hours.
I wrote this article myself, and it expresses my own opinions. I am not receiving compensation for it (other than from Seeking Alpha). I have no business relationship with any company whose stock is mentioned in this article.