ICICI Bank (NYSE:IBN) is one of the leading private banks in India. ICICI Bank share price has declined significantly in last six months over the concerns of growing non-performing loans. Reserve Bank of India (central bank of India) has asked all Indian banks to reevaluate their books and to make provisions to address the issue of bad loans in the Indian banking system. Though the issue of bad loans is more pronounced among state owned banks, ICICI Bank also has some exposure to these. These non-performing loans are largely concentrated in certain industries like power, steel, mining and infrastructure. FT had a good article covering this issue in October last year. RBI has taken active steps to address this issue to make sure that this does not hamper future growth of Indian economy.
ICICI Bank has quite some exposure to these industries. In line with the RBI guidance, it increased its gross non-performing loans significantly in the last quarter. Share of gross non-performing loans now stands around 4.21% at the end of December 2015. The share price of ICICI had already declined significantly over the last months in anticipation of the charges related to these loans. Stock has declined further after the results for last quarter, which were announced last Friday. Issues related to these loans have been known for some time, but it seems like that market has gone from completely ignoring it sometime back to ignoring rest of the business now. ICICI Bank was trading around 2.6 times book value around one year ago and is now trading around 1.3 times book value. To put these things in perspective, total net value of non-performing loans is around INR 100B, while market cap of ICICI Bank has declined by over INR 970B over the last year from the peak reached in January 2015.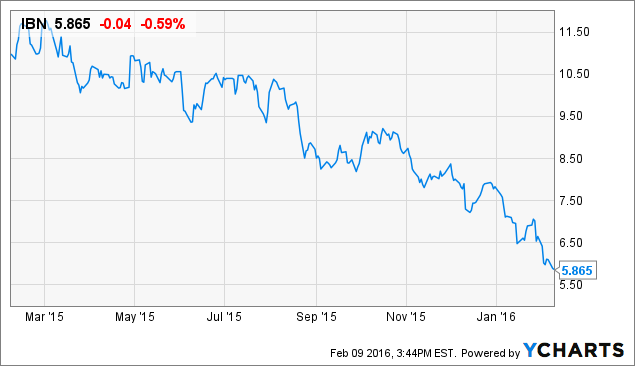 IBN data by YCharts
Given such steep decline in its price and reasonable valuation of close to 10 times earnings, it looked interesting and hence I decided to dig deep. I found that in spite of issues with these loans, overall ICICI seems to be in quite good shape. I also looked into its history as it had a tough time during last financial crisis and interestingly ICICI has improved its balance sheet and overall profile significantly since then, as detailed below.
Improving retail deposits and loans
ICICI has significantly changed its funding profile since the financial crisis. A large share of its deposits are from current and saving accounts, which are very low cost deposits. One of the key success factors in banking is access to low-cost deposits and I think with its strong position and franchise, ICICI certainly has access to this.
ICICI has also increased the share of retail loans in its book over the last years. It used to have large retail book before financial crisis, but that changed since then. In recent years, ICICI has been again focusing more on retail loans, which tend to be more profitable and less risky than corporate loans. Gross non-performing loans in retail are at around 1.94% compared to 4.21% for overall bank. With improving funding profile and loan book, ICICI improved its net-interest margin significantly over the last years. NIM has increased consistently since 2008. Though ICICI Bank has improved its net interest margin over last years, its NIM is still less than some of its competitors. With continued focus on growing low cost deposits and retail loans, it can potentially still grow these margins further in the coming years.
| | | | | | | | | | | | |
| --- | --- | --- | --- | --- | --- | --- | --- | --- | --- | --- | --- |
| | 2006 | 2007 | 2008 | 2009 | 2010 | 2011 | 2012 | 2013 | 2014 | 2015 | 9M 2015 |
| CASA ratio | 22.7 | 21.8 | 32 | 28.7 | 41.7 | 45.1 | 43.5 | 41.9 | 42.9 | 45.5 | 45.2 |
| % retail loans | 63.6 | 65.2 | 58.6 | 50.5 | 45.9 | 38.7 | 35.5 | 38.7 | 41.9 | 44.8 | 43.8 |
| NIM | 2.27 | 2.19 | 2.22 | 2.43 | 2.49 | 2.64 | 2.73 | 3.11 | 3.33 | 3.48 | 3.53 |
Source: ICICI Bank Annual Reports
Improving ROE and low leverage
ICICI has been consistently generating ROE of around 14% over the last few years. After 2008 financial crisis, bank has reduced the overall leverage and is well capitalized according to new Basel III standards. With improving NIM and return on assets, bank has been able to generate good return on equity over the last few years.
| | | | | | | | | | | | |
| --- | --- | --- | --- | --- | --- | --- | --- | --- | --- | --- | --- |
| | 2006 | 2007 | 2008 | 2009 | 2010 | 2011 | 2012 | 2013 | 2014 | 2015 | 9M 2015 |
| ROE | 16.4 | 13.4 | 11.1 | 7.7 | 7.9 | 9.6 | 11.1 | 12.9 | 13.7 | 14.3 | 14.1 |
| Capital adequacy ratio | 13.4 | 11.7 | 14.0 | 15.5 | 19.4 | 19.5 | 18.5 | 18.7 | 17.7 | 17.0 | 16.8 |
Source: ICICI Bank Annual Reports
ICICI has dominant position among private banks in India and has a solid franchise with wide deposit base. With strong outlook for Indian economy, I think ICICI can continue to generate such level of ROE as long as it manages the risk around its loan exposure in a prudent manner.
In the past, it has lent significant amount of loans to Indian corporate sector and several of these loans have not performed as expected. Though slow economic growth over the last few years and macro issues in some of these sectors (especially in power and steel industry) certainly contributed to this to some extent, ICICI could have avoided these sectors like some of its peers. ICICI management has addressed this issue in last couple of years by focusing more on retail loans and balancing the growth against profitability. Also with strong focus on cost and operations, the bank has managed to maintain good level of profitability in spite of making provisions for the bad loans.
ICICI might report lower returns over next few quarters due to these bad loans. But with its low-cost deposit profile and increased focus on retail loans, I think it will remain still very profitable. It should be able to maintain this level of return on equity once issues related to non-performing loans have been addressed. GDP growth is also expected to pick up in India and this will also help the bank to address the issue of bad loans to some extent. Indian economy has a long runway ahead and can grow at 6%-8% or even at a higher rate for many years. This will allow the bank to grow over several years and profitably, as long as it maintains its focus on securing low cost deposits and making loans in a risk-managed way.
Valuation
Banks are typically valued based on its book value, return on equity and growth potential. I think this provides a good framework for starting this exercise. ICICI Bank has been paying out around 25%-30% of its profits in dividend over the last years. With return on equity of around 14%-15% and dividend payout of 25%-30%, ICICI has grown its book value around 10% per year consistently over the last four years. With increasing return on equity, earnings per share has increased at a slightly faster rate. Assuming that ICICI can maintain its return on equity at around these levels, it can grow its book value and earnings per share at around 10%-12%. Given the long-term growth potential, if it is able to maintain its ROE around 15%, I think the market will re-rate the stock again to above 2.0 times book value. This will result in share price of above INR 400 (USD 12 per ADR at current exchange rate) over 3 years. Even if the market does not re-rate the stock, it can potentially provide gain of around 10%-15% per year over 3 years.
Though valuing banks on the basis of return on equity and book value is quite common, Warren Buffett has a slightly different opinion on this. While discussing Wells Fargo, Buffett talked about valuing banks a bit differently.
"You don't make money on tangible common equity. You make money on the funds that people give you and the difference between the cost of those funds and what you lend them out on."
ICICI Bank certainly has good access to low cost funds. If it can maintain its franchise and issue loans in a prudent way, it can grow its earnings around 10% for several years even with currently low level of leverage. Stock with double-digit growth potential over several years typically command quite a good multiple on earnings in the market. With ICICI trading at around 10-11 times earnings, this seems like a good entry point to me.
Conclusion
I think concerns around existing loan book of ICICI are quite valid, but market seems to have overreacted to this. Given its long-term growth potential, solid franchise and improving deposit and loan book, I think it could be a good time to take a position in ICICI Bank now. As long as the macro situation in India does not deteriorate, I think ICICI should be able to manage the issue of bad loans with limited financial impact.
Investors in US market also need to consider the currency issue as potential devaluation of Indian rupee against dollar will hurt the returns. Though it is quite difficult to make any forecast on this, at this moment rupee seems to be enjoying a good status among emerging markets due to weak commodity prices, especially of oil and gold. India depends on oil imports for a large share of its energy needs. Low oil prices provide quite a good support to Indian economy as well as to the rupee. Economic growth outlook for India also looks quite good with most of the analysts projecting good level of growth over next few years. Against this backdrop, I think downside risk to rupee seems quite low at the moment.
Disclosure: I am/we are long IBN.
I wrote this article myself, and it expresses my own opinions. I am not receiving compensation for it (other than from Seeking Alpha). I have no business relationship with any company whose stock is mentioned in this article.