Ubiquiti Networks (NASDAQ:UBNT) is an extremely interesting company. Its products are not the easiest to understand and I would refer you to others (such as Mingran Wang who is very knowledgeable) for more detailed product information.
For information on how the business model works, I refer you to any of the company's SEC filings where their community- and R&D-driven business model are explained in full. In short, they've cut out fat layers of corporate costs such as sales teams in order to have an engineer focused, low-cost operating model that gives Ubiquiti its ~25-30% net margins despite huge efforts in R&D. After hardware production costs and R&D, Ubiquiti adds only about 4-7% of revenues in SG&A costs which compares to competitors Cisco (NASDAQ:CSCO), Aruba (NASDAQ:ARUN) and Ruckus (NYSE:RKUS). That adds between 20-50% of revenues in SG&A costs. The model can be summarized like this (the picture is from the CEO's blog, link below):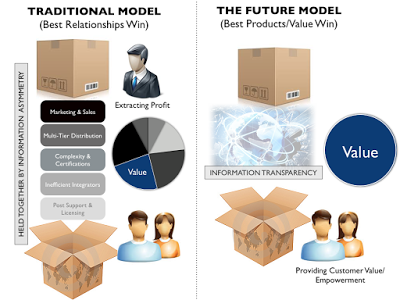 The company as of now has two disruptive business segments that both undercuts competition on pricing and quality in the lower segments: broadband that sells equipment for "the last mile" wireless broadband to WISPs as well as wireless access points, and enterprise that sells corporate network products. "As of now" is key here, because the company is R&D-driven and constantly looking to enter new markets and develop new products in niches where they can significantly undercut competition with their low-cost model. In fact, they already have a third product category, SunMax, that will soon start shipping. It is a user friendly, easy to install and energy efficient solar panel for home use. The CEO explained in the latest conference call how the analysts (and myself) have overestimated the significance of the product, since it only took the company a few hundred thousand dollars to develop it. I see SunMax as a free option in an otherwise not attractive industry that might or might not play out well. If it does play out well, the return on invested capital will probably be astronomical as it is for every Ubiquiti product. If it does not, it was probably still a good bet and the costs are already a thing of the past, so not much harm done.
This is how the company has positioned itself within the enterprise segment: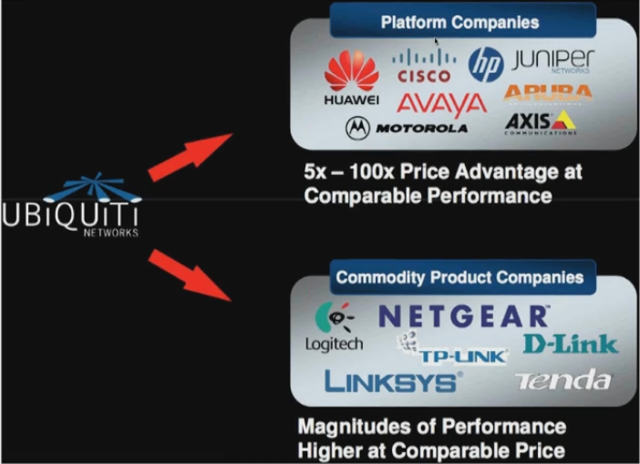 Click to enlarge
Source: company presentation
Robert Pera - an intelligent fanatic
Ubiquiti's genius CEO and key man is Robert Pera. This guy is nothing short of amazing. With more than 65% ownership of the company, he is completely ignorant of short-term fluctuations and has no problems admitting to mistakes in conference calls, as can be seen in the latest one. He takes exactly $1 in yearly compensation, and his interests are therefore perfectly aligned with the shareholders of the company.
Pera used to work for Apple (NASDAQ:AAPL), something that can be seen in the company's products since they make similar efforts to lock in their customers in a captive ecosystem and since the products have a strong focus on sexy and user friendly design. In fact, Pera explicitly stated that everything the company does should have some form of defensibility in it to prevent commoditization.
When Pera's boss at Apple wouldn't let him start making wireless networking products in-house, he quit and built Ubiquiti starting in his own apartment. What is extremely fascinating is that he built this almost $3 billion company in 10 years using no external capital save credit card debt and funds from operations. This low-cost culture with a strong focus on efficient and effective R&D is still the backbone of the company.
Robert Pera is a true "Intelligent Fanatic," a term explained by the excellent Indian finance professor and value investor Sanjay Bakshi in this presentation (link to the presentation slides at the end of the blog post).
Intelligent fanatics also are discussed by MicroCapClub founder Ian Cassel here.
Recent headwinds and problems
The company grew revenues by 71% annually between 2008 and 2014 and during the latter years under extreme profitability - net margins of 25-30% and ROE of above 50%. Since then, the company's growth - especially in the broadband segment - seems to have stopped almost completely. The dollar has strengthened and the South American markets, where WISPs are deploying cheap, wireless internet using Ubiquiti's products, are experiencing strong macro headwinds for the moment. Furthermore, Robert Pera, who oversees all recruiting in R&D (which is ~70% of the employees) himself, admits to having scaled up the staff too fast. This led to him becoming sloppy with his policy of only recruiting top talent where productivity is the highest, which led to suboptimal performance in product development (specifically/especially within AC). About a year ago, he started changing the R&D teams and today he has a whole new lineup of employees that he is far more satisfied with. Pera says in the latest conference call that current R&D efforts will help support growth when deployed in 3-5 quarters.
R&D efforts are constantly scaled up as long as Pera can find the right people, and shareholders buying in today will probably see completely new product lines in the years to come. The costs of developing these new products are not capitalized, so when valuing the company based on profits one should remember that the metric includes future growth investments.
The last quarter, which was announced on February 4th, brought some very good news: despite ramping up R&D efforts by almost 20% and buying back $50 million worth of stock, cash and cash equivalents (mostly held abroad, though) grew 28% to 500 million or 15-20% of the current market cap. Furthermore, EPS grew to 0.58 making EPS TTM (adjusted for a true one-time writedown) around 2.25. That makes EV/E roughly 12, based on a stock price of 34. Not much growth priced in at all at these levels. According to Shortsqueeze.com, about 36% of the float is shorted. This has been the case for quite a while now, so one shouldn't expect any quick returns here but it does explain some of the downward pressure on the stock price. Remember that more than 65% of the shares are in Pera's hands and aren't exchanged at all.
As the company moves forward, some anticipate it moving up the value chain in the enterprise segment to compete directly with Cisco and the other more sophisticated players that focus on big corporations. Disruption, in most cases, comes from underneath so this might well happen. But the fact is the company has always targeted mass markets and the market for wireless network products for small- and medium sized enterprises (hotels are the classic example) is much larger in terms of units, and therefore an interesting market in itself even in the long term. This is however only true if Pera's efforts to prevent commoditization are successful. The software aspects of the products should help to ensure this.
Furthermore, the company will probably move to new product areas over time, disrupting the competition by using Ubiquiti's unique low-cost operating model and creating new markets for themselves by making products available to those who previously couldn't afford them. So to me, a bet on Ubiquiti Networks and Robert Pera isn't a pure bet on wireless networking or anything like that, but a bet on the disruptive, low-cost business model that can be applied to a range of markets. In fact, Ubiquiti seems more like a typical venture capital holding than a typical listed company, except for the fact that they have quite big sales and profits already at this early stage. Supporting this hypothesis, legendary risk capitalist Bill Gurley, a partner of Benchmark Capital (1000% return after fees the last 10 years) and a former shareholder of Ubiquiti, said this about the business model when he joined the board:
What Robert has built with Ubiquiti Networks is the most radically disruptive business model I have ever seen. This represents the future of networking and stands to fundamentally upset the industry status quo. Joining the board to work shoulder-to-shoulder with him was a natural fit for us both.
So, someone that has been invested in Uber, Dropbox, eBay, Instagram, Yelp, Snapchat, Twitter, Zillow and so on still says Ubiquiti has the most disruptive business model he's ever seen.
However, there are some substantial risks. The enterprise segment or a new potential segment might require a sales force, either impacting sales negatively (in the case that they don't employ one) or adding a layer to the cost structure and eroding the business model (if they do). Pera is probably very aware of this and working to prevent it. The company has a deep dependence on their internet community, and one significant risk is a potential crisis of confidence that undermines the community's trust in Ubiquiti. That could significantly undermine product testing, improvement, design and sales. The company is also dependent on Qualcomm, since they use Qualcomm chipsets in some of their products. Ubiquiti estimates it would take six months to replace these, however such a scenario seems unlikely considering that Qualcomm's vice president and ex-CEO used to be a board member at Ubiquiti. So the companies seem to have a good relationship. Furthermore, an investment in Ubiquiti Networks bears a general and high level of technology risk and a dependency on continued innovation for the company to stay competitive.
By the way, an interesting anecdote can be heard (or read) in the latest conference call. A few years ago, the US government issued an $8 billion broadband stimulus package to expand the internet reach in distant, rural areas. Robert Pera says that he doesn't know where they went, but that if they would've been used on Ubiquiti's products the whole nation could've been connected to the internet using that sum. I'm not sure about the truthfulness of that, but it is a powerful statement that highlights the competitiveness of the company's price/quality offering. Apparently, there is some talk about another package that might stimulate demand for Ubiquiti's products.
Disclosure: I am/we are long UBNT.
I wrote this article myself, and it expresses my own opinions. I am not receiving compensation for it. I have no business relationship with any company whose stock is mentioned in this article.