This monthly series compares relative strengths of nine stock indexes by yield using projected annual dividends from $1000 invested in the ten highest yielding stocks in each index. This is one part of an ongoing effort to respond to the question, "which dividend stocks are good, bad or ugly?"
The effort also aims to heed Yale economics professor Robert Shiller's observation:
People still place too much confidence in the markets and have too strong a belief that paying attention to the gyrations in their investments will someday make them rich, and so they do not make conservative preparations for possible bad outcomes.
Charts below for each index reveal ten high yielding stocks whose prices may increase (and therefore whose dividends decrease) as candidates to be sold off once each year in order to sweep gains and reinvest the seed money into higher yielding stocks in the same index.
Two key metrics determine the yields that rank the ten dog stocks: (1) Stock price; (2) Annual dividend. Dividing the annual dividend by the price of the stock declares the percentage yield by which each dog stock is ranked. Thus the investor is able to follow, trade, and await the results from an investment in the lowest priced, highest yielding five or ten stocks in an index gathered by experts.
Previous posts in January ranked the subject indices by risk in the following order from most risk to least:
3x9 and 1x9+1 Sectors
Results for the 3x9 Sectors Index, representing four sectors: three services, two technology, three financial, two basic materials, are reported.

Also a December/January promise is kept to select one top yielding stock from each of nine business sectors along with the best yielding runner-up from any sector to be the tenth in order to perfectly diversify a top ten sector index portfolio, named 1x9+1 Sectors Index. This month two services stocks are at the top.

Notice the same five firms top both lists: Paragon Shipping (PRGN); Alon Holdings Blue Square (NYSE:BSI); Great Northern Iron (NYSE:GNI); Armour Residential REIT (NYSE:ARR); Frontier Communications (NYSE:FTR).
Thus, both indices' dividends rose and fell as prices fell and rose in opposition. The bear held sway in December/January when 3x9 Sector and 3x9+1 dividend yields popped as stock prices decreased. Come February dividends sank as bullish stock prices increased.
Russell 1000 Index Stocks
As of February 10, eight of the top ten stocks in this index by dividend yields are financial sector firms. The top three are: American Capital Agency (NASDAQ:AGNC); Hatteras Financial (NYSE:HTS); Capstead Mortgage (NYSE:CMO). Of the top thirty Russell 1000 dividend payers, just six are non-financial companies. Two services firms appear as the non financial sectors representatives in the top ten.

The bulls held sway from November and Russell dividend yields continued to drop as stock prices increased.
S&P 500 Stocks
As of February 10, four of the top ten stocks paying the biggest dividends in this index are technology firms. The remaining six include three consumer firms, one financial, one utility, and one service. Frontier Communications is tops, followed by RR Donnelley (NASDAQ:RRD), and Pitney Bowes Inc. (NYSE:PBI).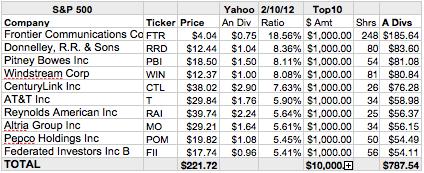 The bears have had their way since October as S&P 500 dividend yields increased as stock prices fell. This is the one kennel of dogs still moving toward the bargain basement. Once the bulls run, potential gains will shrink.
NYSE International 100 Stocks
Four of the top ten stocks paying the biggest dividends in this index for February were technology firms led by Telefonica, S.A.(NYSE:TEF) at the top by yield, followed by basic materials firm YPF Sociedad (NYSE:YPF). The other sectors represented included two financial, two healthcare, one basic materials, and YPF the one industrial.

Bulls ran through as dividends from $1k invested in the top ten moved down towards the rising aggregate total single share prices for the top ten.
NASDAQ 100 Stocks
Six of the top ten stocks paying the biggest dividends in this index were again technology firms. Vodafone (NASDAQ:VOD) was tops again at 6.93% yield. Seagate Technologies (NASDAQ:STX) was credited with a 46% dividend increase by IndexARB.com yet dropped one slot as its share price popped 59.75% from $16.40 to $26.20 in 40 days. The remaining four firms represented two business sectors with three consumer firms, plus one service outfit.

A bullish market convergence occurred. Annual dividend yields dropped as aggregate total single share prices increased.
Dow Stocks
Three technology firms paying the biggest dividends on the Dow in February were: (1) AT&T (NYSE:T); (2) Verizon (NYSE:VZ); (8) Intel (NASDAQ:INTC). As it has for the past year, T continues atop this list. The rest of the Dow dogs include three healthcare, one industrial, one consumer, and two basic materials.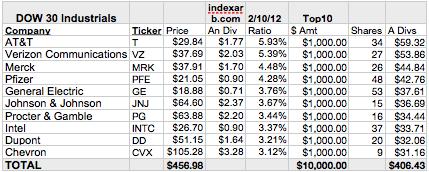 The bull market has pushed Dow aggregate single share prices of the top ten stocks by yield above the annual projected dividend total from $1000 invested in each as of February 10.
S&P 500 Aristocrats Stocks
Consumer goods firms constituted four of the top ten stocks paying the biggest dividends on the S&P 500 Aristocrats as of February 10. The leading consumer goods firm, Pitney Bowes , took over the top spot after Century Link (NYSE:CTL) left the list in January. Three newcomer aristocrats cracked the top ten: AT&T ; HCP Inc. (NYSE:HCP); Sysco Corp. (NYSE:SYY).

February shows a small discernible bearish price trend for this Aristocrats index as prices for the top ten equities veered slightly to the south. This and the S&P 500 list are the only dog lists of ten still sinking by price in February. Could that be a clue to timing trades?
JPMorgan Sovereign Stocks
These could be called "too good" stocks. They were declared to be sovereign by Thomas Lee, an equity strategist with JPMorgan, in July 2011 in a note titled, "Corporates are the New Sovereigns: 22 stocks to own around sovereign default."
The top ten stocks paying the biggest dividends of the JPMorgan Sovereigns for February include firms from six of nine business sectors: two healthcare firms; one basic materials; two industrials; two services; two consumers; one technology. Lockheed Martin (NYSE:LMT) is at the top by yield.

Dividends for these Sovereigns are sinking away from their rising share prices.
Note:
Any variation in dividend projections from identical stocks on separate lists results from the data coming from separate sources. For example JNJ projected annual dividend is listed as $2.37 at $64.60 for 3.67% yield in the 2/10/12 indexarb.com database used for the Dow 30 Index but JNJ is $2.27 at $64.60 for 3.53% yield by the 2/10/12 Yahoo Finance data used for the S&P 500 Aristocrats Index.
S&P numbers in 2012 can no longer be reported through IndexArb.com because "Standard & Poor's felt that this information infringed on their intellectual property and insisted [on] limits [to] the number of stocks to ten in the free part of [the] website but allows the full, complete listing of stocks and their dividend yields in the subscriber part of [the] website."
McGraw Hill (owner of the Standard & Poor's Lists) is no intellectual giant but enjoys the heft of its girth.
Yield Gyrations from Ninety Stocks in Nine Indices
The following graph shows annual dividends projected from $1000 invested in each of ten stocks with the top yields in nine indices (a total of 90 stock investments). The chart plots projected yields at specific purchase dates going back to October. Bull market reversals in all indices except the S&P forced yields down as recent prices increased.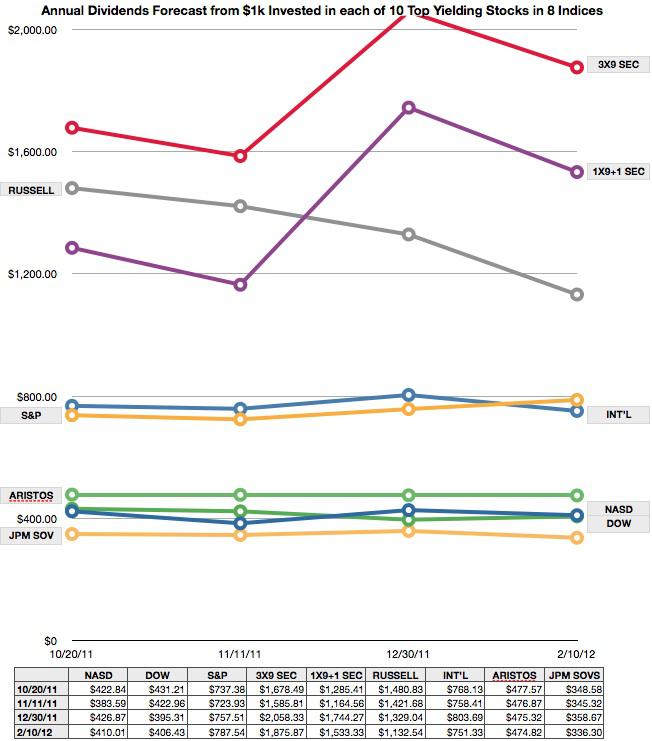 Conclusion
Projected dividend amounts from the above nine indices over the past four months begot a variety of yields. Here you can observe three "ugly" indices at the top of the graph above the $1200 axis. These may be deemed high risk to actually producing projected dividends from the component stocks. The S&P and the NYSE International indices dogs in the middle just below the $800 axis of the graph could be said to compose the "bad" portion of the nine indices based on moderate risk to delivering their projected dividends. Three "good" dogs seen just above the $400 axis o the graph include the Dow, the NASDAQ, and the Aristocrats, showing lower risk of lost dividends. The golden vector at the bottom of the graph below the $400 axis is traced by ten "too good" stocks declared to be "new sovereigns" by JPMorgan last July. These stocks pay reliable dividends at higher prices.
These nine indices and their component stocks have ongoing stories to tell. This graph and list of companies will be updated again for publication again next month
Disclaimer: This article is for informational and educational purposes only and shall not be construed to constitute investment advice. Nothing contained herein shall constitute a solicitation, recommendation or endorsement to buy or sell any security. Prices and returns on equities in this article are listed without consideration of fees, commissions, taxes, penalties, or interest payable due to purchasing, holding or selling same.