I'm sure many of you have heard me say, "the safest dividend is the one's that's just been raised."
Generally, a company that has increased its dividend continuously is deemed safe based on the forward-looking indicator of growth and total return prospects. As Josh Peters with Morningstar suggests, "for companies with meaningful yields, I take dividend increases as the loudest and clearest message that management can send."
Dividend increases are like pay hikes - a management team sends shareholders a strong message that the company is profitable and then rewards them by increasing the dividend. In addition, a dividend boost suggests the company has maintained sound discipline with predictable patterns of durability and profitability. Peters explains,
Durability implies that the firm can take a financial punch in one year and come back swinging the next.
HCP Inc. Has a History Rooted in Durability
Going back as far as 1985, HCP Inc. (NYSE:HCP) has been an extraordinary example of dividend repeatability. REITs are most appropriately valued based on the cash distributions they are capable of distributing to their stakeholders. In order to deliver an attractive level of cash distributions, a REIT must be capable of producing solid funds from operations (FFO).
As evidenced by the snapshot below HCP has managed to generate very reliable and predictable earnings with a record of increasing annual dividends for over 30 years in a row.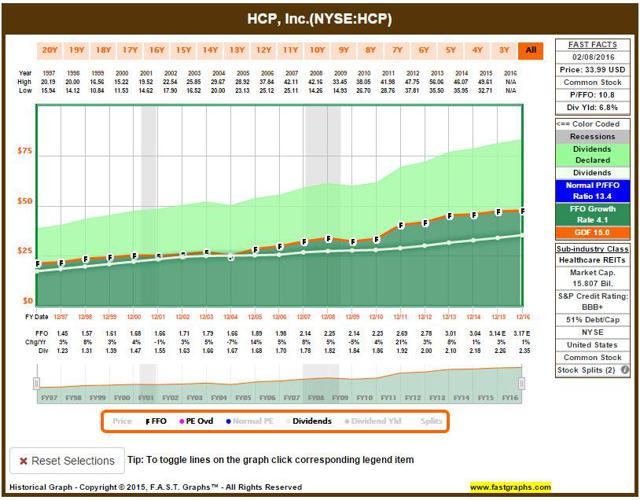 Click to enlarge
HCP is the only REIT in the S&P 500 Dividend Aristocrats Index (an S&P 500 company that has increased dividends every year for at least 25 consecutive years). Only 10% of the S&P 500 companies are in this index.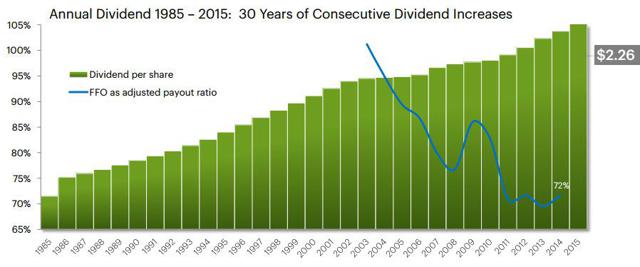 Click to enlarge
Exactly one year ago I reported that HCP was beginning to see cracks forming in its fortress,
…its largest tenant, HCR ManorCare (HCR), disclosed it was being investigated by state and federal agencies. Just a few weeks ago I wrote that "S&P had lowered the credit ratings on Genesis HealthCare and HCR Manor Care citing softer margins and tightening profitability.
I summed up the article as follows:
As noted, there is risk related to the company's exposure with skilled nursing; however, the strength of the overall enterprise provides me with comfort that the dividend is safe.
A year later, investors are questioning whether or not HCP's dividend record is at risk. I am one such investor who is beginning to question the strength of the once stalwart REIT. A few months ago I opted to downgrade HCP from a STRONG to a BUY and then to a HOLD. In addition, I have trimmed down my exposure considerably in anticipation of weaker profit margins and the unknown risks that have continued to weigh on shares of HCP.
HCP's quarterly dividends paid during 2015 aggregated $2.26 per share, which represents a 3.7% increase from 2014. On January 28, 2016, the Board of Directors declared a quarterly cash dividend of $0.575 per common share. The annualized distribution rate per share for 2016 increased 1.8% to $2.30, compared to $2.26 for 2015. The dividend will be paid on February 23, 2016 to stockholders of record as of the close of business on February 8, 2016.
While the dividend growth does provide some level of comfort, a deeper dive could uncover more meaningful insight into the reliability of the blue chip brand. In Ralph Block's book, Investing in REITs, he explained the definition of a Blue-Chip REIT:
The blue chip REITs take you safely through the ups and downs in the sector's cycles and deliver consistent, rising, long-term growth in FFO (funds from operations) and dividends. Because they are financially strong and widely respected, they will always have access to the additional equity and debt capital that fuels the engine.

They will not always provide the highest dividend yields or even, in many years, the best total returns, nor can you buy them at bargain prices - but they should provide years of double-digit returns with a high degree of safety. These are the REITs least likely to shock investors with major earnings disappointments, and will provide very satisfying returns.
The last sentence is underlined for a reason and I'll recite, "the REITs least likely to shock investors with major earnings disappointments…"
One Big Disappointment
Yesterday HCP announced Q4-15 earnings results highlighted by worsening conditions with its largest tenant, HCR ManorCare.
The post-acute/skilled nursing sector and ManorCare continued to experience a challenging operating environment in 2015, due to the ongoing change in reimbursement models which reduces rates and lowers census, the result of shorter lengths of stay. ManorCare's normalized fixed charge coverage for the 12-month period ended December 31, 2015 was 1.07x.
For the Q4-2015, ManorCare reported normalized EBITDAR of $110 million, which decreased $36 million on a year-over-year basis compared to the fourth quarter 2014, and decreased $17 million sequentially compared to the Q3-2015. The results were impacted by core operating performance weakness and unfavorable non-routine item.
The level of performance was below expectations and uncharacteristic for the fourth quarter, which has historically been strong due in large part to increased census and the annual Medicare rate increases on October 1. ManorCare ended 2015 with $125 million of cash and cash equivalents and continues to be current on its obligations under the amended master lease

Click to enlarge
In addition, ManorCare continues to defend against the DOJ civil complaint previously disclosed in April 2015. The company incurred legal and regulatory defense costs of $3 million during the fourth quarter 2015 and $9 million for the full year 2015. The outcome of the DOJ civil complaint remains uncertain, and ManorCare expects to incur additional legal and regulatory defense costs in 2016. (Kindred was already assessed $125 million by the DOJ).
As a result of ManorCare's fourth quarter performance deterioration and the related decline in its FCC, HCP placed its real estate portfolio operated by ManorCare on "Watch List" status at year end 2015, and changed its accounting treatment to recognize rental income on a cash basis beginning January 2016. As such, HCP will no longer recognize non-cash accretion income under the ManorCare DFLs.

Click to enlarge
The reduced growth outlook for the broader post-acute/SNF industry indicates challenges to the improvement in ManorCare's financial performance over the next few years.
At year-end 2015, HCP determined that it is probable that its ManorCare investments are impaired and the amount of the loss can be reasonably estimated. In the fourth quarter 2015, HCP recorded an allowance (impairment charge) for DFL losses of $817 million, reducing the carrying amount of its HCRMC DFL investments from $6.0 billion to $5.2 billion. Also HCP recorded a fourth quarter 2015 impairment charge of $19 million related to its equity investment in ManorCare OpCo.
ManorCare is HCP's largest tenant, representing 23% of gross assets and revenues for the year ended December 31, 2015.
The news today was not a big shock, as mentioned above, I had already initiated a HOLD. However, the surprise was the weaker Q4-15 SNF results that indicates weakening within the broader post-acute/skilled nursing sector. Remember that HCP completed its $6 billion acquisition of ManorCare in 2011 and the first impairment was in Q1-15 ($478 million) and yesterday HCP said that it had engaged advisors to explore all opportunities that reduce HCP's concentration (with ManorCare).
Is HCP Still A Moat-Worthy Brand?
So what are the structural advantages that protect HCP from competitors, just as physical moats protect castles from enemies?
Clearly the balance sheet is sound - Moody's affirmed HCP's Baa1 senior unsecured debt rating in December 2015. Moody's said the ratings affirmation takes into account HCP's ample size, "well diversified" portfolio that spans the health care real estate sector's five sub-segments, good liquidity and modest leverage.
The rating agency, however, cited the competitive acquisition market and HCP's high tenant concentration as among the company's key credit challenges. The stable outlook, meanwhile, is based on Moody's forecast that HCP will sustain its ample liquidity and "sound" financial metrics while continuing to pursue growth. The rating agency also expects the company to see improved lease coverage levels on the portfolio of ManorCare.
However, HCP's rent coverage keeps dropping. As noted above, ManorCare's 2016 guidance takes 1.07x coverage in Q4-15 down to 1.06x. Simply put, rents that are expected to come from in the future via rent escalations aren't being booked into FFO given uncertainties that lie ahead. In other words, HCP appears to be making no assumptions that it will be able to collect rent as a result of future rent increases.
What does HCP do now?
Two options: Asset sales or more rent cuts.
Clearly, HCP is losing its luster and the best case for protecting the fortress brand is a rebound in senior housing - meaning that ManorCare and Brookdale get stronger. However, given the ongoing DOJ turbulence and bundling and upstream payment changes I consider this "bounce back" strategy wishful thinking.
It's clear that HCP is fighting hard to maintain its enviable moat and iconic dividend record. The company could have sold assets last year but it would have then been forced to cut the dividend (boy doesn't Debra Cafaro, VTR's CEO, look smart now for spinning CCP…nice work Derba!).
So what happens if it gets worse for HCP?
The company's 2015 cash dividend of $2.26 per share represents a FAD payout ratio of 83%. The company expects full-year 2016 FFO to range from $2.74 to $2.80 per share, which reflects placing the ManorCare portfolio on a cash basis. The FAD guidance range is from $2.62 to $2.68 per share and same-store cash NOI growth is expected to increase between 1.5% and 2.5%.
Last month, HCP increased the quarterly dividend from $0.565 to $0.575 per share, marking the 31st consecutive year of dividend increases (and continuing HCP's representation in the S&P 500 Dividend Aristocrat index). The annualized dividend of $2.30 represents an increase of $0.04 per share over 2015. After taking into account the increase in the dividend, and based on the midpoint of guidance, the projected 2016 payout ratio is in the mid-80% range.
That's creeping up!
Meanwhile, as Lauralee Martin, HCP's CEO, explained on the earnings call, "HCR (ManorCare) as we pointed…is spending about $1 million a month for defense."
So is the dividend at risk? Timothy M. Schoen, HCP's CFO explains,
We give you our dividend coverage ratios in the more conservative FAD basis. The companies run up until about 2011 or 2012 into the high-90s. I mean, we could run at that level if we needed to, but we've got quite a bit of cushion.

I mentioned we've got $165 million of free cash flow after our dividend payout ratio today, so we've got quite a bit of cushion today and continue to have cushion in our dividend payout ratio.

"We have a $165 million in free cash flow today and that equates to a mid-80% payout ratio. You can run any sensitivity you want to from there, but we've got quite a bit of room and cushion in our dividend coverage on the more restrictive FAD measure.
What are the chances that HCP will cut its dividend?
In my opinion, somewhere between 1% and 20%. It's no longer 0%. There are many unknowns and that's precisely why I would not recommend HCP at this time. In other words, this is a rare time in which I'll argue that "the safest dividend is NOT the one's that's just been raised." HCP's dividend record is at risk and until the clouds blow over (not anytime soon) I would find a better place to hide in healthcare (for example, HTA, LTC, NHI, and OHI). I wrote about OHI yesterday HERE.
The bottom line: Economic moats have a life cycle and HCP's competitive advantages are under attack. While I would not count out the stalwart REIT over its higher risk SNF exposure, it's clear to see that the company is on the ropes and the management team will have to put together a tactical battle to grow the dividend while continuing to reduce exposure with its two troubled tenants.
Although I'm on the sidelines, I'll say it again, I will not count HCP out. The risks are certainly elevated but there's a strong management team in place with a highly motivated mission to keep the crown jewel dividend aristocrat record going.
The current facility-level coverage of 0.86x is a major decline from ~1x when rents were originally restructured so the risks are certainly elevated. It will take time for the moat to be repaired, but it can be done.
As Howard Marks wrote, "outstanding investors are, in my opinion, distinguished at least as much for their ability to control risk as they are for generating return." HCP has a chance to demonstrate how good or bad it manages risk and as Marks wrote, "doing it well is what separates the best from the rest."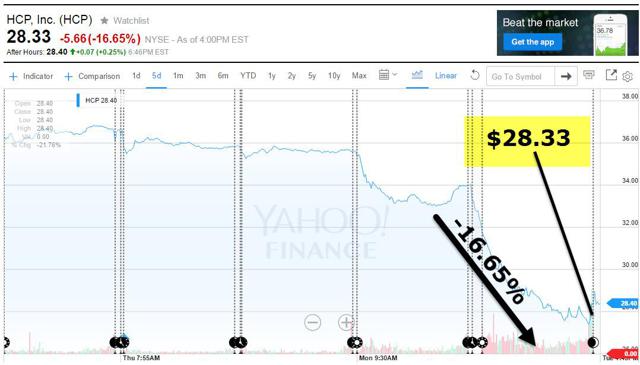 Click to enlarge
Author's Note: I'm a Wall Street writer, and that means that I am not always right with my predictions or recommendations. That also applies to my grammar. Please excuse any typos, and I assure you that I will do my best to correct any errors if they are overlooked.
Finally, this article is free, and my sole purpose for writing it is to assist with my research (I am the editor of a newsletter, Forbes Real Estate Investor), while also providing a forum for second-level thinking. If you have not followed me, please take 5 seconds and click my name above (top of the page).
The only guarantee that I will give you is that I will uncover each and every rock I can in an effort to find satisfactory investments that "upon thorough analysis promises safety of principal and satisfactory return. Operations not meeting these requirements are speculative." (Ben Graham)
Disclaimer: This article is intended to provide information to interested parties. As I have no knowledge of individual investor circumstances, goals, and/or portfolio concentration or diversification, readers are expected to complete their own due diligence before purchasing any stocks mentioned or recommended.
Sources: SNL Financial and Investor Presentation for HCP.
Disclosure: I am/we are long O, DLR, VTR, HTA , STAG, GPT, ROIC, HCN, OHI, LXP, KIM, WPC, DOC, EXR, MYCC, BX, TCO, SKT, UBA, STWD, CONE, BRX, CLDT, HST, APTS, FPI, CORR, NHI, CCP, WSR, CTRE, WPG, KRG, SNR, LADR, HCN, HCP.
I wrote this article myself, and it expresses my own opinions. I am not receiving compensation for it (other than from Seeking Alpha). I have no business relationship with any company whose stock is mentioned in this article.