Some investors are hanging fresh hopes on Federal Reserve Chair Janet Yellen's testimony before two congressional panels this week. However, be warned, the Fed chair is likely to present a carefully worded message that does not present change to formal monetary policy. She will likely discuss risks to the U.S. economy, but also note positive data. As a result, investors may be disappointed.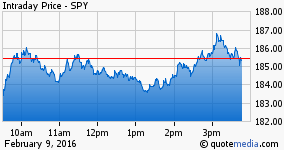 Intraday Chart of SPY at Seeking Alpha
I noted a well-known financial market pundit harping on the scheduled congressional testimony of Fed Chair Yellen before panels in the House and Senate starting tomorrow. He implied that something the Fed Chair might say could stop the latest downturn in equities. He seemed to say that it might be wise to hold off on selling and possibly look for value in stocks now based on the premise of some sort of meaningful outcome from the Fed chair's appearance. Tuesday's intraday turn for stocks seems to imply investors are hopeful for a positive impact.
The Fed Chair always presents a professional face and does her best to avoid straying from formal monetary policy. Her prepared statement to the congressional panels will likely match the latest Federal Open Market Committee (FOMC) Monetary Policy Statement, which is still fresh. She has little incentive to stray from the formal message now, as it would create question about the Fed's consistency. It would also prematurely direct market expectations about the Fed's March meeting, with far too much time and data between now and then.
However, within the last FOMC statement, the committee briefly discussed the sort of risks the market is now weighing against stocks. Specifically, the Fed stated, "The Committee is closely monitoring global economic and financial developments and is assessing their implications for the labor market and inflation, and for the balance of risks to the outlook." I anticipate Fed Chair Yellen will repeat that message perhaps verbatim. Congressional panel members are notorious for asking hard questions, and sometimes off-base ones. Look for an informed representative to ask about recession and if the Fed might reverse policy. I would expect the Chair to be diplomatic in her response.
Fed Chair Yellen also has positive data to point to, and that might seriously distress equity markets. The last Employment Situation Report showed improved unemployment and adequate enough job growth for her to keep the possibility of March tightening on the table. It's notable that average hourly earnings increased more than economists expected, which hits on the Fed's inflation mandate. GDP expectations are still solid enough for the Fed Chair to walk a fine line and avoid giving any indication of a change to plan.
It's important to recall the lessons learned by this Fed over the last few months. When the Fed indicated it would likely initiate interest rate hikes last year, it pinned itself into a corner. So that in December, when it seemed still inappropriate for the Fed to act on rates, it might have talked itself into it for the sake of keeping its word. Otherwise, it would have faced significant criticism, perhaps even more than it has this year for acting in December.
| | |
| --- | --- |
| Sector Securities | 02-09-16 |
| Vanguard Total Stock Market (NYSE: VTI) | -0.2% |
| SPDR S&P 500 (NYSE: SPY) | Unchanged |
| SPDR Dow Jones (NYSE: DIA) | -0.1% |
| PowerShares QQQ (NASDAQ: QQQ) | -0.3% |
| iShares Russell 2000 (NYSE: IWM) | -0.7% |
| iShares Nasdaq Biotechnology (NASDAQ: IBB) | Unch. |
| Energy Select Sector SPDR (NYSE: XLE) | -2.4% |
| Financial Select Sector SPDR (NYSE: XLF) | -0.2% |
| SPDR Gold Trust (NYSE: GLD) | -0.2% |
| PowerShares DB US Dollar Bullish (NYSE: UUP) | -0.7% |
| iPath S&P 500 VIX ST Futures (NYSE: VXX) | +0.9% |
Stocks recovered losses intraday Tuesday, I expect in preparation for a potential market turning impact by the Fed Chair Wednesday. However, given her professionalism and diplomacy, and the important risk of misguiding expectations so far ahead of the March meeting, I do not expect Janet Yellen to give the market the message it most needs to recover. Now, there is no telling how the business media interprets the Fed Chair's message, and the media does influence some investors and likely enough to matter. So, you'll want to keep your eye on both the message and the media's interpretation of it. I will follow the Fed Chair's testimony closely and review her prepared statements carefully for you, so I invite you to follow my financial column here at Seeking Alpha to receive that information.
Disclosure: I/we have no positions in any stocks mentioned, and no plans to initiate any positions within the next 72 hours.
I wrote this article myself, and it expresses my own opinions. I am not receiving compensation for it (other than from Seeking Alpha). I have no business relationship with any company whose stock is mentioned in this article.