The MLP carnage has spared few victims, irrespective of fundamentals. Production-oriented MLPs have had their valuations slashed. The midstream sector has not been spared either. Energy-related transportation, including pipeline operators, have faced the wrath of the market, even though their profitability is not necessarily tied to the price of the commodities being transported. Their revenues are often instead more closely tied to shipped volumes and the industry's overall commodity transportation capacity.
This can clearly be seen in the seaborne tanker segment. Even as crude plumbs new lows, in the past few months, tanker charter rates have reached levels not seen since the boom years of 2007-2008. The reason for the heightened demand for tankers is the same reason that the price of oil has collapsed: booming supply. The large volumes of oil and oil-distilled products being extracted or produced throughout the world need to be stored, shipped, and transported, straining the existing infrastructure. And yet, because of the currently depressed state, not only of the oil extraction industry but of other seaborne transportation sectors such as drybulk and containers, investors regard tankers with hesitation.
The result is that companies that are currently and consistently generating rivers of cash flow are being priced at very attractive valuations. One example is Capital Product Partners L.P. (NASDAQ:CPLP), a moderately leveraged master limited partnership ("MLP") in the seaborne transportation business that recently increased its distribution rate. At current prices, the units yield a hefty 27.41%.
Background
Capital Product Partners historically has been focused on oil-related product and chemical sea transportation, with 20 medium range tankers (out of its 34 vessels) operating in that sector. The partnership also owns and operates 4 Suezmax crude tankers. Capital Partners has, however, branched out into non-oil related transportation services. It has 1 Capesize vessel for the transportation of dry goods, and recently acquired a fleet of 9 Post Panamax container vessels.
Capital Products Partners is affiliated with Capital Maritime & Trading Corp., which serves as its sponsor, controls its general partner, and provides the technical management of its fleet. Capital Product Partners is designed as an MLP that provides incentive distribution rights (IDRs) to its general partner. However, the cash distribution threshold that would trigger the first level of these rights is $0.25 per quarter, which remains below the most recent quarterly distribution amount of $0.2385 per unit. The partnership's IDRs are further described below.
The partnership's vessels are under period charters at satisfactory rates that generate steady streams of cash in sufficient amounts to cover its cash distributions. In 2015, the partnership distributed $122.77 million in cash to its preferred and common unitholders. For that year, the partnership generated a total cash operating surplus of $129.73 million. The partnership's cash coverage ratio on its common units is currently 1.1x.
Every quarter in 2015, the partnership increased its quarterly cash distribution amount. Management's stated objective for the partnership is to increase the cash payout between 2% and 3% per year.
Healthy Cash Flows and Operating Performance
Despite the high yield on its units, Capital Product Partners is not in financial distress. The partnership is currently operating in the black, and has been doing so for some time. For the full-year 2015, the partnership earned a net income of $55.41 million. Moreover, this profitability tends to be generally stable given its long-term contractual relations. In 2014, the partnership was likewise profitable, achieving $44.01 million in net income.
This stability in earning potential has to do with the structuring of its business. As an MLP for "drop downs" from a strong sponsor, Capital Products acquires its fleet generally not on a speculative basis but with long-term charters and steady revenue streams attached.
This does not mean, on the other hand, that the partnership generates sufficient GAAP-compliant "net income" from its charters to fund its cash distributions. In 2015, for example, the partnership had a net income of $55.41 million, but distributed to its various investors and stakeholders $122.77 million in cash. Thus, as further discussed below, the partnership, in common with many other MLPs, has a built-in "funding gap."
For the fourth quarter of 2015, the partnership reported $15.4 million in net income, of which $12.23 million was attributable to its common unitholders, or $0.09 per unit. The partnership declared $0.2385 in cash distributions to its common unitholders for that quarter, or an amount not solely funded from its net income attributable to the common unitholders.
Capital Product Partners evaluates the amount of cash it can distribute to its unitholders from time to time, not according to the partnership's net income, but according to a non-GAAP metric it calls "operating surplus," which, as further discussed below, does not account for all of the costs of its business, and, in particular, for the replacement costs of its vessels.
Be that as it may, the partnership is both profitable and generates sufficient cash to cover its distributions without the need to dip into reserves, credit lines, or other sources of liquidity. This financial health arises from the strength of the partnership's charters.
Long-Term Charters at Attractive Rates
The partnership's vessels are under period charters with generally well-known counterparties of satisfactory credit. The revenue weighed average of charter length as of the most recently reported quarter was 6.4 years. The partnership has a charter coverage of 93% for 2016 and 72% for 2017.
The partnership's existing charter coverage should provide it with sufficient distributable cash flow to fund its distributions going forward. It should be noted that the bulk of the fleet projected to go off charter during 2016 and 2017 consists of tankers. In view of favorable market conditions, the partnership recently has generally been able to secure higher charter rates for its tankers as they roll off charter.
The graph below details the partnership's existing charters, counterparties, and charter rates.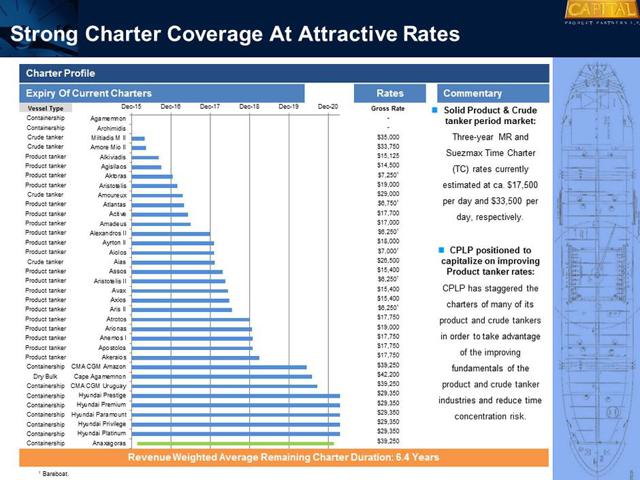 Of course, there could be defaults associated with the partnership's charters, but that is for the most part unlikely. The partnership's tanker fleet is after all for the most part chartered at or below current spot rates.
The market for tankers is currently very robust, with spot rates at high levels. In the event that any of the partnership's charterers were to default on their obligations, the affected tankers could likely be re-chartered at higher rates. Although the partnership has branched out to the depressed dry bulk and container cargo sectors, its vessels of that type are currently (or are expected soon to be) accretive to the partnership's cash flow, including a couple of idle containers that will soon enter employment.
The partnership's single drybulk vessel is chartered well into 2020 at a rate high above current spot rates.
The partnership does experience some weakness in its fleet with respect to the deployment of its container vessels. As can be seen, two of the partnership's container vessels are currently idle, which has been the case for over a year now. However, on February 3, 2016, the partnership indicated that it entered into a charter with respect to these vessels that will commence on April of 2016, albeit at a rate that is significantly inferior to the vessel's prior charter rate.
The partnership is in the process of acquiring an Eco 9000 TEU Post-Panamax container ship, which has already been chartered for a five-year period. This acquisition is fully funded from balance sheet cash and an existing credit facility, and should be accretive to the partnership's cash distribution paying capacity despite the currently adverse market conditions for container shipping.
Moderate Leverage
The coverage ratio for the partnership's distribution was 1.1x in the last quarter of 2015. The partnership's available projections indicate that in the short-to-medium term, this distribution coverage should increase, not, as the depressed price for the shares would seem to indicate, decrease. In this respect, it is important to note that Capital Product Partners is a moderately leveraged MLP.
The partnership's units are currently yielding 27.41%. This high yield normally would indicate that the market believes that a distribution cut is imminent. And yet, most recently the partnership announced that it would not suspend distributions, but in fact slightly increased them. Every single quarter in 2015, the partnership in fact slightly increased distributions. This is in line with management's program for the partnership, which targets an increase in distributions of between 2%-3% per year.
Capital Product Partners is a conservatively leveraged partnership. As of the last quarter of 2015, the partnership reported total debt of $571.6 million, compared with partners' capital of $937.82 million. The partnership's balance sheet is thus relatively strong. Net debt to capitalization ratio stood at 30.8%, and partners' capital represented 60% of total assets. Given the relative health of the tanker market, the booked value of the partnership's vessels is not deceptive, and indeed may undershoot current market values. The foregoing ratios are therefore not deceptive.
The market value of the partnership's tankers, comprising the bulk of its overall fleet, is closely related to the spot charter rates for those vessels, which is currently strong. Indeed, the partnership estimates that the market value of its tanker fleet, which comprises the bulk of its overall fleet, has increased 50% to 70% over the past two years.
The "Revolving Door" Access to Capital Markets
The business relationship between Capital Product Partners and Capital Maritime & Trading Corp. is symbiotic. Aside from operating its general partner and providing ship management services, Capital Maritime & Trading Corp. provides the partnership with "drop down" opportunities, or the possible acquisition by the partnership of vessels with long-term charters attached that provide the stable cash flows that the income-oriented investors of the partnership seek. The partnership generally avails itself of these opportunities, and thereby expands or renews its fleet, by tapping into the capital markets.
In recent years, some MLPs have been accused by investors of behaving in a "Ponzi-like" manner by regularly resorting to the capital markets to fund distributions. Now that the capital tap for MLPs has largely dried up, some of these MLPs have had to slash distributions and have seen their unit prices collapse. Capital Product Partners, however, generates sufficient cash flow out of its business, and can comfortably fund these distributions without resorting to asset stripping, high debt, or dilutive capital raises.
Like other MLPs, Capital Product Partners regularly distributes cash in excess of net income because its cash distribution practices are governed by other accounting metrics. In particular, Capital Product Partners measures its cash available for distribution in reference to its "operating surplus," which represents net income adjusted for non-cash items such as depreciation, amortization expense, and deferred revenue.
Of course, the partnership's ships age, have a finite life, and will need eventually to be replaced. Perhaps, the partnership should make reserves for their eventual replacement by reducing distributions to the extent of depreciation. The same is, of course, the case with respect to amortization expenses, as debts likewise have eventually to be paid down or refinanced.
Excluding these two items from the measure of distributable cash flow is, however, common practice in the world of MLPs. The capital markets are expected to "fill in" the funding gap created by the exclusion of these two and other items from the definition of the metric used to determine cash available for distribution.
With respect to Capital Product Partners, the question that immediately presents itself is, of course, the unfavorable condition of the capital markets in the current environment. Thus, equity raises can be prohibitively dilutive, and bank financing may be hard to come by on favorable terms at a time when banks are shrinking their portfolios of energy-related or shipping portfolios.
This lack of access to the capital markets can have a deleterious impact on MLPs, irrespective of their fundamentals and may lead them to cut cash distributions to conserve the cash that would otherwise be distributed.
As it is, Capital Product Partners relies heavily on the capital markets to meet its funding gaps. In 2015, for example, the partnership paid out $122.77 million in cash distributions to its common shareholders, while at the same time raising equity in the amount of $133.33 million. It also issued long-term debt in the amount of $115 million, even as it retired $121.3 million in old debt. Similarly, for 2014, the partnership distributed $102.80 million in cash, even as it raised $173.9 million in new equity.
This "revolving door" aspect of the partnership's financing activities means that, in the event of a capital markets crunch, there is a risk that the partnership will elect to suspend distributions rather than forego vessel acquisitions and other opportunities, or in the event the partnership cannot otherwise refinance its debts. Any such suspension, of course, would exert a steep downward pressure on the price of its common units.
Incentive Distribution Rights
To understand the value of the units, prospective investors should evaluate the IDRs associated with them. These IDRs allow Capital Maritime & Trading Corp., as the sponsor of Capital Product Partners and the entity controlling its general partner, to an increasing share of the cash distribution flows originating from Capital Product Partners, provided that certain thresholds are met. Thus, if certain basic cash distribution levels to the unitholders are achieved, an increasing portion of the cash being distributed will be made (indirectly through the general partner) to Capital Maritime & Trading Corp. and not to the common unitholders. Thus, Capital Maritime & Trading Corp. may receive cash distribution flows greatly in excess of its economic interest.
This, of course, limits the benefits to the common unitholders of the upside from Capital Product Partners' business. On the other hand, it also incentivizes Capital Maritime & Trading Corp. to cause the partnership to distribute as much cash as possible, instead of hoarding it.
The IDR schedule for Capital Product Partners, as reflected in the amended limited partnership agreement for the partnership and a voluntary waiver, is as follows.
Capital Product Partners L.P.

Incentive Distribution Rights

Quarterly Cash Distribution Thresholds

Cash Distribution Splits

Common Units

General Partner

Up to $0.25

98%

2%

More than $0.25 and up to $0.2675

85%

15%

More than $0.2675 and up to $0.2925

75%

25%

More than $0.2925

65%

35%
At current cash distribution levels, the yield on the units is generous. However, the existence of incentive distribution rights should be taken into account as it may serve to limit or diminish investors' upside from this security.
Conclusion
The units of Capital Product Partners have been, perhaps, unfairly tarred by the twin crises involving energy extraction and low oil prices, on the one hand, and seaborne transportation excluding tankers, on the other hand. The drop in the market price of the partnership's units has resulted in a high yield typically associated with companies experiencing financial distress.
However, the partnership's fundamentals remain robust. The partnership's yield is backed by steady cash streams generated by its vessels, a large portion of which are tankers operating under long-term charters. The partnership is profitable, and its leverage is moderate.
One risk that can, however, not be altogether discounted in the medium-to-short term is the partnership's cost of capital and ready access to the capital markets. Because of the turmoil afflicting the energy industry and shipping, the partnership's ready access to the capital markets could be constrained. Like many other MLPs, Capital Product Partners regularly pays out in cash each quarter more than its net income for the period. Thus, it generally needs to seek recourse to the capital markets to maintain or expand the size of its fleet, instead of relying solely on its balance sheet resources.
Should the partnership need to tap into the capital markets to finance a "drop down" from its sponsor or for any other reason, it could discover that bank financing to the extent available is expensive and offered under unfavorable terms, and that equity raises are prohibitively dilutive. Simply to avoid this possibility, the partnership could cut distributions, irrespective of its available cash flow at the time.
Disclosure: I am/we are long CPLP.
I wrote this article myself, and it expresses my own opinions. I am not receiving compensation for it (other than from Seeking Alpha). I have no business relationship with any company whose stock is mentioned in this article.