Prospect Capital Beats on Earnings: It is Time to Buy?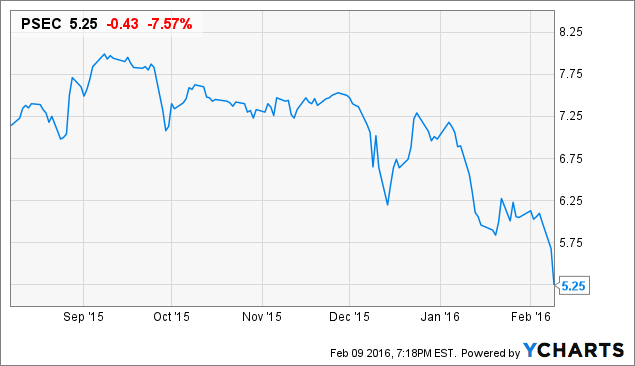 Prospect Capital (NASDAQ:PSEC) just reported its Q4 2015 financial results, and there really isn't much to dislike in my opinion. However, I'm hesitant to add to my position here for a few reasons.
Readers may remember that I first covered Prospect in a Dec. 2, 2015 article, and discussed why I felt it was a good time to buy shares. Here, I'll give a summary of the results and why I may wait before adding to my position.
Prospect Beats on Investment Income
First, for the good news: in the quarter, Prospect says its net investment income per share was $100.9 million, or $.28 share. That's a jump of $9.7 million on a dollar basis and $.02 on a per share basis compared to last quarter. The current annual yield of the company's portfolio rose 30 basis points to 13.3%, with 51.9% of its investments "first lien" debt, and 18.8% second lien.
As a business development company, Prospect is required to pay 90% of its taxable income out to investors in the form of dividends; therefore, the company's quarterly dividend per share of $.25 was fully covered by the $.28 in distributable income this quarter.
This is important to note, because Prospect is eligible to pay "spillback" dividends on the income it earns in excess of the 90% taxable income threshold. So it's possible Prospect will be paying out a special dividend of $.03 per share in the future, but investors will need to wait and see.
Anyway, Prospect's strong income means it can continue to pay a big dividend to shareholders. The company has declared monthly cash dividends of $.08333 per share for February, March and April 2016. Based on the current share price of $5.72 (as of 6:45 p.m. Tuesday), and the annual payout of $1 per share in dividends, the stock now yields 16.69%. On a $10,000 investment in PSEC,investors would earn $145.68 per share, per month, or $1,748 per year.
Again, due to Prospect's solid investment income, the company can afford this dividend (for now, at least). The stock just needs to maintain its current price for investors to earn that annual return. But that's been an issue I'll discuss below.
Prospect: The Stock Price Keeps Falling
Now, for the bad. The company's net asset value (referred to as NAV) fell $.52 to $9.65 per share, or $3.431 billion. The company blames this on "unrealized depreciation based on volatility in the capital markets rather than fundamental credit issues." I take that this way: the drop in the stock market is affecting some of Prospect's investments. On the bright side, thankfully Prospect has a very small asset concentration in the energy industry (3.2%), so it's exposure to the commodity markets is pretty low. And although NAV fell, it clearly did not result in a drop in investment income, as Prospect had its strongest quarter in a while.
On another related note: for the eighth straight year, Prospect has received authorization from its shareholders for the option to issue shares below NAV. Now, this doesn't mean the company is actually required to issue shares below NAV, nor does it mean the company actually will do it. Zero shares were issued below NAV in 2015 or so far this year. I definitely think issuing new shares here would be a terrible decision by management, and I think they realize this.
This discussion leads me to share buybacks. Prospect began buying back shares as it trades at a significant discount to NAV; it bought 4.7 million shares of its stock at $7.25 per share last year, which totaled $34.1 million. Share buybacks are a smart move by Prospect in my view, but I'd really like to see the company step up its buybacks with the stock trading at such low levels. I think it can help close the deep discount to NAV, which should drive share price gains.
Even though NAV fell this quarter, the discount to NAV is still very wide: with a share price of $5.72 and a NAV of $9.65, the stock trades at a 41% discount to NAV. This gap has never been this high from what I understand. According to a corporate presentation, the last time the discount to NAV was 35% in 2009, the share price was $7.13, but then rallied to $12.52 within one year. When the stock discount to NAV was 25% in 2011, the stock rallied 60% over the next year.
The stock looks dirt cheap here, with a P/E of 6.48, a forward P/E of 5.21, and the deep discount to NAV. However, despite the positives from the earnings report and the undervaluation of shares, I'm not planning on adding to my position right now. I think management needs to step up its share buybacks to close this huge discount to NAV. Or management needs to come up with another good solution to close the gap.
Disclosure: I am/we are long PSEC.
I wrote this article myself, and it expresses my own opinions. I am not receiving compensation for it (other than from Seeking Alpha). I have no business relationship with any company whose stock is mentioned in this article.