Seadrill Limited Partners LLC (NYSE:SDLP) was created by Seadrill Ltd (NYSE:SDRL) to "drop down" valuable, long-term drillship contracts with oil majors, and, when the oil market was robust, essentially "sell" or refinance these contracts at a premium through a master limited partnership ("MLP") structure. The steady cash flows represented by these contracts are of particular appeal to income-oriented investors. At current unit prices, Seadrill Partners yields an astounding 45.87%. The market appears not to believe that this high yield is sustainable. Is it?
Background
Seadrill Partners owns a fleet consisting of 11 tender rigs, semi-submersibles, drillships, and semi-tenders. The vessels, acquired in the course of Seadrill Ltd. drop-downs, are all gainfully employed in long-term contracts secured generally at the height of the oil price boom.
WTI Crude Oil (NYMEX) was recently priced at US$30.18 per barrel. At current oil prices, deep sea drilling and exploration is generally unprofitable. According to Rystad Reports, the break-even oil price for shallow water projects is around US$71 per barrel. Deepwater and ultra-deepwater projects on the other hand need oil prices to be around US$77 and US$64 per barrel, respectively, just to cover their costs. Accordingly, the entire oil drillship industry has witnessed a seismic recalibration of asset values. This has had a disastrous impact on the equity prices of both Seadrill Partners and its parent company.
The stratospheric distribution yield offered by Seadrill Partners indicates a company believed by many investors to be in financial distress. This high yield is the result of the collapse of the price of the company's units. From their peak on August 25, 2014, unit prices have lost 93.8% of their value, sliding from $35.10 to $2.18 per unit. This descent has been more or less in tandem with the downward drift of the price of oil.
Although Seadrill Partners has a solid contractual backlog, there is growing concern that drilling vessels falling off contract will be unable to find gainful employment. The company now has a compressed price-to-book value of 0.26, reflecting concerns about the lower market value for the company's vessels (and the discrepancy between this value and the value at which those assets are booked by the company) and its debt load.
And yet, Seadrill Partners has not altogether suspended its distributions. On December 18, 2015, the company announced that it would slash its distributions 56% - instead of suspending them altogether - from US$0.5675 to US$0.25 per quarter per share.
At this reduced payout level, the units yield a whopping 45.87% at the units' current market price. Unless this reduced payout is unsustainable, the company's units would appear to be a bargain.
Rivers of Short- and Medium-Term Projected Cash Flows
For the third quarter of 2015, Seadrill Partners generated US$84.5 million in distributable cash flow attributable to its common unitholders. This is a stunning amount of free cash flow for a company whose current market capitalization is only US$192.76 million. The company's annualized distributable cash flow of US$341.6 million exceeds this market capitalization. In other words, if the company were to distribute all of its projected 2016 distributable cash flow, unitholders purchasing their units at current prices would receive cash in an amount equal to their initial investment in under a year.
The company has, however, indicated that given current market conditions, it will not distribute all the cash that could otherwise be distributed. The move is expected to save the company approximately US$250 million in cash per year. A significant portion of this cash will be deployed towards capital expenses as well as reserves and debt servicing.
Prior to slashing its distributions in half, the company reported a comfortable distribution coverage ratio of 1.54x. The coverage ratio going forward, until the company's long-term contracts begin to lapse and barring unexpected operational issues, should be slightly over double that amount. This is a very high coverage ratio for an MLP.
A Solid Contractual Backlog
The company's free cash flow arises from a backlog of contracts valued at $4.7 billion, with a remaining average duration of approximately 2.8 years. These contracts are generally with oil majors with strong credit ratings. Although there may well be cancellations on these contracts, which would trigger expensive fees, penalties, and possible litigation, defaults over an outright inability to pay are unlikely.
The company's backlog as of the third quarter of 2015 was as follows: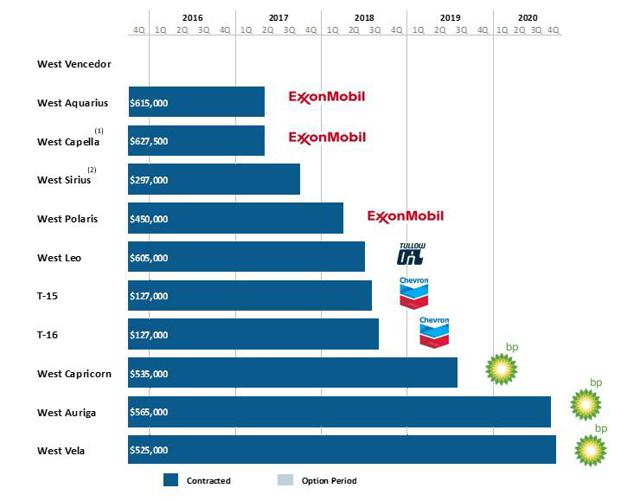 Click to enlarge
As can be seen, the company's vessels generally will begin to go off contract beginning in the first quarter of 2017. Two drillships are committed to BP (NYSE:BP) well into 2020. In addition, the company recently announced contract extensions until mid-2019 for T-15 and T-16 (but at a lower daily rate). The backlog should allow the company to bide time and weather the current doldrums in the oil market.
Assuming, however, that oil prices do not significantly recover, and the vessels cannot be rehired at satisfactory day rates, when is the earliest time that Seadrill Partners can be expected to get into financial trouble? To answer that question, we must examine the company's debt load.
Large but Manageable Debt Load
Perhaps management is wise in hoarding distributable cash in an effort to deleverage Seadrill Partners. After all, not all of the company's unitholders came in at current per unit price levels. Seadrill Partners is lumbering under a large debt load. Its aggregate debts stood at US$4.65 billion as of the last reported quarter.
The total debt to equity ratio stood at 2.31, which normally would indicate moderate leverage and stable financial health. However, the US$2.01 billion in equity underlying this ratio may be deceptive, as it assumes that the company's drillships have more or less retained the value at which they are being booked. This is not the case. These ships are worth a fraction of what their value would be in a better pricing environment for crude.
The company's "real" debt burden is therefore high. However, unless oil prices persist in their spectacular collapse, triggering contractual defaults, Seadrill Partners should have no problem weathering 2016 and the better part of 2017. The company's most recently reported net debt over adjusted EBITDA stood at a comfortable 3.4:1.
The company's drillships largely will begin to roll off their current contracts in 2017. If oil prices have not regained their robustness by then, Seadrill Partners could have trouble finding work for its drillships at satisfactory dayrates, leading to the possible cold stacking of some of the units.
Assuming that the company's drillships cannot be rechartered as they roll off contract, the company's EBITDA should continuously decline beginning in 2017. The company will, however, likely generate enough cash flow through 2018 and possibly 2019 to service its debts, based on its existing contractual backlog alone.
The price point of oil in the middle to late 2017 and beyond is, of course, at this point completely unknown. The drop in oil prices that has persisted in recent months continues to have a negative impact on rig counts across the globe. This should eventually result in lower production volumes. If low prices, however, were to persist at current levels for prolonged periods, Seadrill Partners would face a likely insolvency.
Cross-default Provisions
There is, however, a possibly more immediate risk to Seadrill Partners than the price of oil in mid-2017 and beyond. Seadrill Partners has cross-default provisions with the debt of its more speculative parent company, Seadrill Ltd.
Seadrill Ltd. in turn has various cross-default arrangements with other affiliated companies under the Seadrill family umbrella, including troubled North Atlantic Drilling Ltd (NYSE:NADL), an owner and operator of high specification drillships with a high debt burden and facing reduced demand for its harsh drilling environment drillships, and Sevan Drilling ASA. Some of the cross-default liabilities relate to instruments owned by Ship Finance International Limited (NYSE:SFL), a financing vehicle which, like Seadrill Partners and Seadrill Ltd., is ultimately controlled by Norwegian billionaire John Fredriksen.
If a cross-default were triggered, the creditors of Seadrill Partners could theoretically demand that its debt obligations would be immediately due and payable, and, if not paid, could exercise their rights against the company and the underlying collateral - even if Seadrill Ltd. cured its own default. In practice, it is not altogether certain that the creditors of Seadrill Partners would fully avail themselves of their rights under the cross-default provisions. These creditors would nonetheless be likely to require the company to strengthen their position as creditors, by among others boosting the company's cash balances and completely suspending distributions.
Cash Hoard and Debt Refinancing
Like many MLPs, Seadrill Partners distributes cash in excess of the company's net income. Instead, the company relies on "distributable cash flow" as a non-GAAP metric to measure the cash available for distribution. This metric starts with net income, but adds to it certain items.
Thus, for the third quarter of 2015, Seadrill Partners reported net income of US$35.4 million, and operating income of US$209.4 million. The difference between these two numbers is explained by certain financial costs, including interest expenses and a US$68.5 million non-cash loss on derivatives. For the same period, the company reported "distributable cash flow" of US$85.4 million.
To arrive at the measure of distributable cash flow, the company adds not only such non-cash items such as mark-to-market costs of its derivative-based hedging instruments, but costs that will eventually entail cash expenses, just not in that particular accounting period. Most notably, of course, are costs related to depreciation (i.e., asset replacement) and amortization (i.e., pay down of debt principal).
Assets, of course, need to be replaced and debts need to be repaid. In the absence of balance sheet cash to do so, MLPs simply tap the capital markets. In periods of financial strain, this easy access may not be readily available. Debt issuances may be expensive, debt refinancing may be difficult, and equity raises may be prohibitively dilutive.
In recently cutting its distribution, Seadrill Partners indicated that US$200 million of its US$250 million in anticipated annual cash savings would be deployed towards maintenance and capital expense reserves.
It is unlikely, however, that, given current market conditions, Seadrill Partners would be in a position to finance a "drop down" from Seadrill Ltd. and thereby rejuvenate its fleet. Seadrill Ltd. is moreover currently probably not seeing a lot of drillships with newly acquired, lucrative long-term contracts that it could simply "farm out" or "drop down" into an MLP.
Going forward, a more pressing need for the company's cash hoard is debt refinance. Unless the market for crude considerably improves in the coming months, we can expect a further cut in distributions (or a complete suspension) as the company hoards cash to refinance its debts, simply because it would otherwise be "priced out" of the capital markets.
Conclusion
At current unit prices, Seadrill Partners presents an attractive investment opportunity, which should, however, only be availed of by investors with a relatively high appetite for risk. The company should receive over the next few months a stream of distributable cash flow of a sufficient magnitude to match, on a per unit basis, the entire investment amount of an investor investing at current unit prices.
The company recently reduced distributions by more than half. Even at this reduced level, the yield on the units is very high simply because the price of the units has collapsed. On the basis of the company's contractual backlog, distribution coverage remains high. Barring extraordinary circumstances, Seadrill Partners should generate sufficient cash to meet its obligations well into 2019.
However, the company does carry a high debt load, which will eventually need to be refinanced. Although the company is not in immediate danger of insolvency, it may yet be compelled to further cut back on distributions and hoard cash to meet its debt-related obligations unless the price of crude significantly improves, simply because it may otherwise lack a ready access to the capital markets.
The cross-default provisions that Seadrill Partners currently has with Seadrill Ltd. and its related entities is also a concern, but the concern in that respect may again be not that prospective creditors may seek aggressively to avail themselves of their protections under those provisions and bring all prevailing obligations immediately into maturity, which would be as much catastrophic to Seadrill Partners as to them, but that, once again, the company will be forced to cut distributions to hoard cash and improve those creditors' positions.
Disclosure: I am/we are long SDLP, SDRL.
I wrote this article myself, and it expresses my own opinions. I am not receiving compensation for it (other than from Seeking Alpha). I have no business relationship with any company whose stock is mentioned in this article.