Business development companies have taken a brutal beating this year. Among the BDCs clobbered the most was yet again Prospect Capital Corporation (NASDAQ:PSEC), which has its fair share of supporters, and investors that wouldn't want to touch the company with a ten foot pole. The energy price crisis, which has extended into 2016, has been widely responsible for the dismal performance of high-yield income stocks.
Prospect Capital, a high-beta stock, stood out of the crowd in 2016, but not in a good way: The company's stock has crashed ~25% (!) in the first few weeks of the new year. Concerns over high-yield debt defaults in the energy sector have been the main cause for the sell-off in business development companies in 2016.
That sell-off, though, has gotten WAY out of hand.
Prospect Capital's stock slumped more than 7% on Tuesday, falling to a new 52-week low of $5.21 before staging a strong after-market rally on the back of its Q2-16 financial results.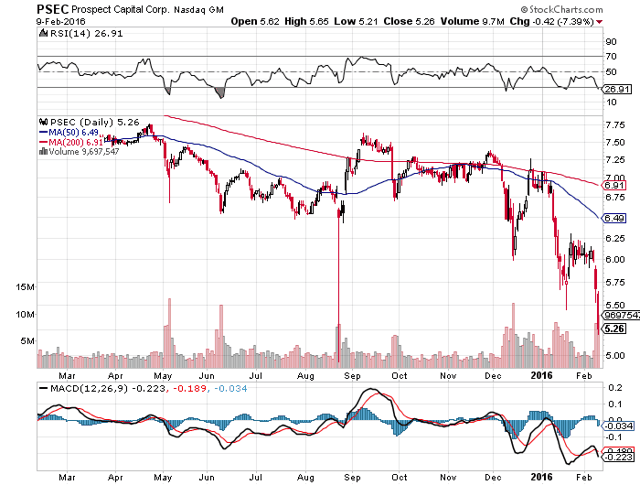 Click to enlarge
Source: StockCharts.com
Robust NII, but lower Net Asset Value
For the second fiscal quarter of 2016 Prospect Capital reported net investment income of $100.9 million, or $0.28/share compared to $91.3 million, or $0.26/share, in the year ago quarter. Prospect Capital's net investment income, or NII, and distributable income were both $0.28/share for Q2-16. Hence, Prospect Capital handsomely covered its cumulative dividend payout of $0.25/share in the last quarter.
Expectedly, Prospect Capital declared three more monthly dividends for February, March, and April with the dividend amount being unchanged at $0.08333/share. Based on Prospect Capital's unchanged distribution, PSEC now has a yield of 17.45%.
On the negative side, the market turbulence with respect to energy investments has had an adverse impact on not only Prospect Capital, but on other business development companies as well. In the case of Prospect Capital, though, the company's Net Asset Value slumped 5.1%, or $0.52/share, from $10.17/share in the September quarter to $9.65/share at the end of the December quarter thanks to unrealized depreciation charges.
This breakdown shows that unrealized depreciation on investments chopped $0.54/share off Prospect Capital's Net Asset Value in the second quarter.

Click to enlarge
Source: Prospect Capital Earnings Release
Prospect Capital commented on the net asset value decline in its earnings release:
Our net asset value ("NAV") on December 31, 2015 stood at $9.65 per share, a decrease of $0.52 in comparison to the value of $10.17 at September 30, 2015, primarily due to unrealized depreciation based on volatility in the capital markets rather than fundamental credit issues. We estimate approximately 74% of the unrealized write-down we experienced this quarter related to macro changes in the capital markets as opposed to specific portfolio credit issues, approximately 18% related to energy-related companies in the portfolio and the remaining 8% related to specific non-energy individual credit matters.
While Prospect Capital does have some exposure to the energy industry, that exposure is quite limited at 3.2%. All considered, Prospect Capital had an "OK" quarter given the headwinds in the energy sector.
Your Takeaway
Besides the decline in Net Asset Value on the back of market stress and unrealized depreciation, Prospect Capital's Q2-16 results were not that bad. The company continued to cover its dividend payout by a good margin, and also used the opportunity to declare a stable dividend for the next three months.
Prospect Capital's stock has been clobbered a little too much as far as I am concerned. Based on Prospect Capital's new Net Asset Value of $9.65/share, PSEC now sells for just 59 cents on the dollar and a 17%+ dividend yield.
Disclosure: I am/we are long PSEC.
I wrote this article myself, and it expresses my own opinions. I am not receiving compensation for it (other than from Seeking Alpha). I have no business relationship with any company whose stock is mentioned in this article.