National Oilwell Varco (NYSE:NOV) has been one of the biggest casualties of oil's collapse. The company has recently released poor quarterly results that set the stage for an aggressive selling which took the shares down 11% last week.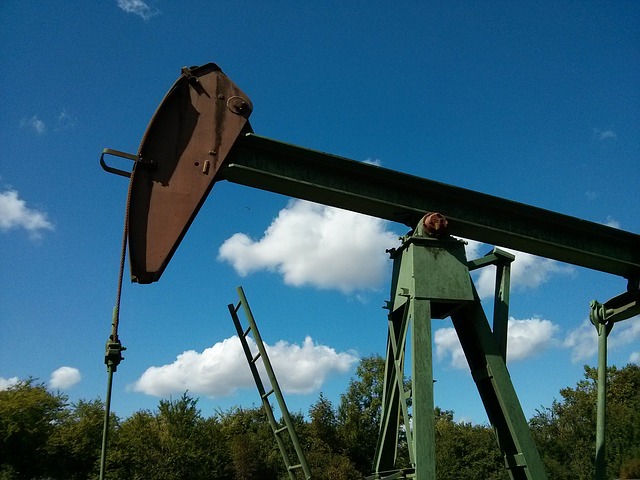 National Oilwell Varco reported 17.7% year-over-year drop in total revenues to $2.72 billion, with across the board drop in each segment. The company booked $1.8 billion of one-off charges in the fourth quarter, which were mainly $1.6 billion of write-downs of goodwill and other intangible assets. Thanks to these one-time charges, the company swung from a net profit $595 million to a loss of $1.52 billion. But excluding certain items, National Oilwell Varco reported a profit of $85 million, or $0.23 per share, which was down 86.4% from last year. The company ended up missing analysts' consensus estimate of a profit of $0.44 per share from revenues of $3.04 billion, according to data compiled by Zacks Investment Research.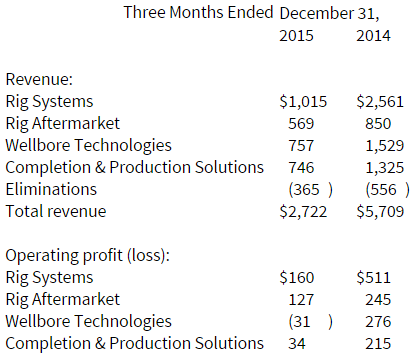 Image: Official Press Release
But the mere drop in revenue and earnings doesn't begin to show the impact of cheap oil prices on National Oilwell Varco. The Rig Systems division, its largest segment, has been hit harder than the company expected. In the third quarter, National Oilwell Varco predicted 10% sequential drop in unit's fourth quarter revenues. The actual sequential decline was far greater at 32%.
New orders have been drying up rapidly. For Rig Systems, National Oilwell Varco received just $89 million of new orders in the fourth quarter as the company did not receive any new rig order. The fourth quarter orders were composed entirely of minor pieces of capital equipment. The book to bill ratio has fallen to alarming level of just 10%. On top of this, National Oilwell Varco has to deal with order cancellations, which has further damaged the backlog.
In the fourth quarter, National Oilwell Varco announced the anticipated write-down of backlog related to Brazil, removing $1.196 billion which has reduced the Brazil-related backlog to $1.75 billion. And even the existing backlog is not secure. During the conference call, the company's management said that the situation in the country "remains uncertain and continues to evolve, owing to the failure of our shipyard customer to secure long-term financing for these projects." Total backlog for rig systems has fallen 24% from the third quarter and 52% from the same quarter last year to $6.1 billion. And it doesn't look like it will climb anytime soon, owing to persistent weakness in oil prices.
Analysts and industry experts are not expecting a turnaround anytime soon. Morgan Stanley has recently warned that oil prices may remain range bound over the next twelve months. Marc Edwards, the CEO of offshore driller Diamond Offshore (NYSE:DO) has also said that the tough times could go well beyond 2017. National Oilwell Varco is also not optimistic.
National Oilwell Varco is not expecting any meaningful change in rig systems book to bill ratio in Q1-2016 as compared to the previous quarter and has refrained from giving any specific long term guidance due to lack of visibility. But it did say that weak energy prices will continue to hit the order book "for the foreseeable future" and that large equipment orders will "remain low." The company further said that it is not expecting any recovery in 2016. Moreover, as oil and gas producers face shrinking hedge books and onshore and offshore drillers face expiration on contracts, the business environment for equipment suppliers like National Oilwell Varco could get even tougher.
National Oilwell Varco's backlog, therefore, might continue to shrink, taking the company's stock even lower. The only silver lining here is that National Oilwell Varco has one of the strongest balance sheets, with a net debt to capitalization ratio of just 11.2%, one of the best in the sector. The company also has solid liquidity consisting of $2.1 billion cash and $3.6 billion available under the revolving credit facility. The company is in a position to not only withstand the tough environment, but also capitalize on the bearish sentiment by buying a major oilfield services company on the cheap. It can even buy Weatherford International (NYSE:WFT), the world's fourth largest oilfield services company which is struggling in the downturn and is currently valued at just $5.4 billion.
Disclosure: I/we have no positions in any stocks mentioned, and no plans to initiate any positions within the next 72 hours.
I wrote this article myself, and it expresses my own opinions. I am not receiving compensation for it (other than from Seeking Alpha). I have no business relationship with any company whose stock is mentioned in this article.