IAC/InterActiveCorp (NASDAQ:IAC) has recently spun-off it Match Group (NASDAQ:MTCH) subsidiary (while still keeping 85% of its ownership). IAC also announced disappointing Q4 2015 earnings this past week, and withdrew its dividend (to make way for more investments and acquisitions).
The earnings pressure is happening because of several factors, including:
A slowdown in growth on account of currency pressures.
A drop in ARPPU in its Match businesses on account of the shift in mix from higher ARPU businesses to (as of yet) lower ARPU businesses like Tinder.
A significant impact in revenues and EBITDA of the Publishing and Applications segments, due to changes implemented by Google (and early on, Microsoft).
The issues affecting the publishing and applications remained troublesome and likely to still hit IAC for a few quarters more. I had said as much in my article titled "Why Doesn't Tinder Kindle InterActiveCorp'S Fire?". At the time "Search & Applications" still commanded 2/3rds of IAC's EBITDA and 4/5ths of its operating earnings.
Looking Forward
In the meantime, IAC has spun-off the Match Group, but kept 85% of it. Also, there were some shifts on which entities kept most of the cash and debt. As a result, this is how things look now: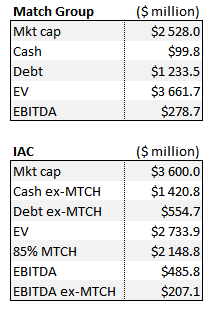 As we can see, IAC's enterprise value adding its market cap to its net debt comes to around $2.7 billion (ignoring consolidated cash and debt that's at MTCH), whereas the 85% of MTCH it holds has a market value of $2.15 billion. We could say that all of IAC's businesses ex-MTCH are thus worth $585.1 million. Given that they produce $207.1 million in EBITDA, we could say that they're going for just 2.8x EBITDA, which is quite cheap.
Most of IAC's well-known businesses are in the Match Group, and while some of the businesses ex-MTCH ultimately seem like dogs in very competitive marketplaces (Video, Publishing, Apps), there is an exception. There's a remaining business which is as promising as Tinder. That's the HomeAdvisor property.
HomeAdvisor
HomeAdvisor it actually IAC's fastest-growing segment, growing 27% year-on-year during Q4 2015. These 27% are misleading though, as the international segment was affected by currency and restructuring moves. Instead, we should focus on the 57% year-on-year growth in its domestic market, with EBITDA also up 57%. At these rates, HomeAdvisor will compound quickly into a large segment.
HomeAdvisor is a potential leader in the home-improvement market with displays strong network effects, brought by the presence of providers, and resulting reviews by customers. Providers will flock to where the customers are, and the customers will flock to where the best and cheapest providers are.
This is a segment where both sides see clear value - the advertising is targeted, and the consumers are action-oriented and coming in to spend. It's easy to project that this particular segment will grow to be orders of magnitude larger and run at a large EBITDA margin as some kind of 3P market like Amazon.com's.
Two possible competitors would be:
Angie's List (NASDAQ:ANGI) - which IAC has been trying to buy out. ANGI has made the error of going with a subscription model in a market where it doesn't make much sense to subscribe since many projects are one-off. Still, given the demand for such services, ANGI managed to grow a sizeable business even while asking money from both providers and customers. This is a testament to the segment's interesting profitability.
Yelp (NYSE:YELP), though it offers less functionality in this segment. The value is not just in the reviews, but also in the ability to compare several potential suppliers and asking those for budgets on projects. Still, with YELP being down so much I wouldn't be surprised if IAC tried to buy it as well.
The Match Group
For now, the Match Group is struggling with possible cannibalization due to it being much cheaper to use Tinder than some of its other alternative (subscription-based) properties. However, Tinder also presents good sustainable advantages because of the network effects it creates. People go where people are, and Tinder is where they are. Tinder also promises to extend the market beyond its previous dating website's customer base.
Over time, it is my belief that IAC will find a way to significantly monetize Tinder, basically by building a couple of features which will increase the chance of a hook-up for paying customers into its freemium model. There are myriad ways to increase that chance, so Tinder just needs to select a few of them and make them be paid. Customers will come and p(l)ay.
Valuation
Within a lumbering web giant with nearly no growth, we have two fast growing and promising businesses, Tinder and HomeAdvisor. This lumbering giant now goes for a 8x EV/EBITDA valuation, which is pretty reasonable for its overall attractiveness.
However, if we accept the market valuation for MTCH (which also doesn't look that expensive at 13.1x EV/EBITDA), then IAC ex-MTCH goes for just 2.8x EV/EBITDA and still includes HomeAdvisor.
Conclusion
I like both MTCH on account of Tinder's potential, and especially IAC on account of its extremely low valuation (as long as MTCH holds itself together) and the inclusion of HomeAdvisor, all in a package which costs just 2.8x EBITDA (ex-MTCH).
A final note. It's hard to establish the best timing to take a plunge on these equities. Usually, after a negative surprise stocks have a higher likelihood to underperform for a couple of months.
Disclosure: I/we have no positions in any stocks mentioned, but may initiate a long position in IAC over the next 72 hours.
I wrote this article myself, and it expresses my own opinions. I am not receiving compensation for it (other than from Seeking Alpha). I have no business relationship with any company whose stock is mentioned in this article.