Anadarko Petroleum (NYSE:APC), one of the largest oil producers, has become the latest energy company to slash dividends. On Tuesday, the company declared $0.05 per share quarterly dividend, down from $0.27 per share previously.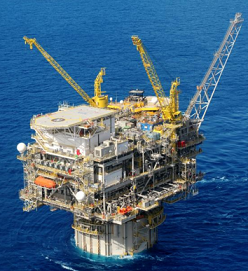 Heidelberg Spar at the US Gulf of Mexico. Image Copyright ©Anadarko Petroleum
The Woodlands, Texas-based Anadarko has been struggling with growing losses and plunging cash flows. While this is also true for virtually every oil producer, it's particularly bad for Anadarko Petroleum since it hasn't been one of the better positioned companies to handle the downturn in the first place, thanks to a weak balance sheet.
Last week, Anadarko released its fourth quarter results in which the company's sales volume fell 8.8% from a year earlier to 779,000 boe per day as it scaled back drilling activity in response to cheap oil prices. The average sales price for oil, gas and NGL fell 44.6%, 39.9% and 40.9% respectively. Excluding certain items, Anadarko swung from a profit of $0.37 per share in Q4-2014 to a loss of $0.57 per share.
Meanwhile, Anadarko said fourth quarter discretionary cash flow from operations clocked in at $810 million, down from $2.4 billion last year. Although the company also managed to reduce capital expenditure by 39.5% to $1.31 billion, including capital spending related to its midstream MLP Western Gas Partners (NYSE:WES), the fall in cash flows was significantly greater. As a result, the company was not able to fully fund the capital expenditure and ended up with negative free cash flows of $503 million. This compares against a positive balance of $233 million in the year-ago period. For the full year, Anadarko posted negative free cash flows of $1.23 billion as opposed to positive $138 million in 2014.
The cash flow shortfall is putting additional pressure on Anadarko's weak balance sheet. As a reminder, the company had a net debt ratio of nearly 45% at the end of the third quarter. Back then, the company's balance sheet was more levered as compared to most of its peers, including Occidental Petroleum (NYSE:OXY), Hess Corp. (NYSE:HES), EOG Resources (NYSE:EOG), ConocoPhillips (NYSE:COP) and Apache (NYSE:APA). The tough pricing environment in the fourth quarter pushed Anadarko's debt ratio even higher to 49% on Dec. 2015.
And there could be more pain in store for Anadarko. Crude oil has been hovering in the high-$20s to mid-$30s a barrel range since the start of the year, close to multi-year lows. A number of industry veterans, including Clay Williams, the head of oilfield equipment manufacturer National Oilwell Varco (NYSE:NOV), believe that the business environment could get worse this year. Anadarko's Chief Executive Al Walker said that "it could take well into 2016 before markets would stabilize on a sustained basis." In this environment, Anadarko might continue to post additional losses and cash flow deficits as its financial health deteriorates, unless it took drastic steps to curtail the cash outflow. And that's exactly what it has done.
Anadarko has taken the right decision to significantly slash dividends, following in the footsteps of other energy companies such as Kinder Morgan (NYSE:KMI), ConocoPhillips, Noble Energy (NYSE:NBL), Marathon Oil (NYSE:MRO) and Eni SpA (NYSE:E). For Anadarko, the dividend cut will lead to $450 million annual reduction in cash outflows. The company's forward yield has now fallen from 2.8%, which was higher than peer average of 2.7%, to 0.52%. The news came after the company warned about its intention to slash payouts during the fourth quarter conference call last week.
But it is also worth noting that Anadarko has never been a high dividend paying stock. Although Anadarko has never cut dividends in its history, it hasn't exactly been like some of the other energy companies, such as Kinder Morgan and ConocoPhillips, which promised above-average yields and held payouts as sacrosanct. Rather, historically, Anadarko has offered a below-average yield of less than 2%.
Anadarko has also planned to reduce its capital expenditure by 50% from 2015 to $2.8 billion by reducing investments on US onshore properties. Add dividends to the equation and Anadarko is looking at cash outflow of around less than $3 billion for 2016. This shows a drop of nearly 55% from last year, according to my rough estimate. Clearly the company is hunkering down as it braces for a tough oil price environment. But it's not out of the woods yet.
The company plans to fund next year's budget from $2.2 billion of discretionary cash flows and more than $1 billion of asset sales that are currently in advance stages. We'll know exactly how the company plans to achieve these targets in this challenging environment when it hosts an investor conference call on March 1 in which the company will lay out its "definitive 2016 capital plans and expectations." But investors should take comfort in the fact that Anadarko has strong liquidity, with $939 million of cash reserves, $900 million due from tax issues related to Tronox settlement and up to $5 billion available through two revolving credit facilities.
Disclosure: I/we have no positions in any stocks mentioned, and no plans to initiate any positions within the next 72 hours.
I wrote this article myself, and it expresses my own opinions. I am not receiving compensation for it (other than from Seeking Alpha). I have no business relationship with any company whose stock is mentioned in this article.