Introduction
In a November article, I argued Agrium Inc.'s (NYSE:AGU) free cash flow would only increase from the current financial year on, as the company's major investments have now been completed (after an expensive Q4). The market didn't seem to be convinced, and Agrium's share price lost approximately 10%. As the company has now released its Q4 results as well as an outlook for 2016, I think this is a good moment to revisit my previous expectations.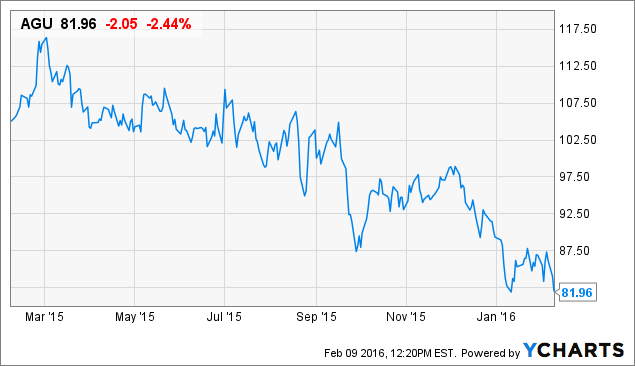 AGU data by YCharts
The Q4 results were pretty good despite the low net free cash flow
Agrium claims its fourth quarter was a strong one, but one should never take a company's word for it, so I decided to put my Sherlock Holmes hat on and dove into the company's financial statements.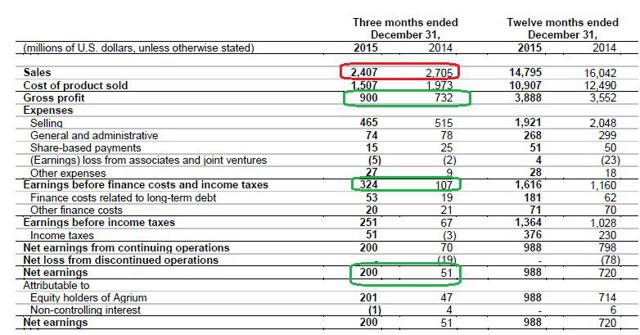 Click to enlarge
(Source: Agrium Financial Statements)
In the fourth quarter of 2015, it saw total revenue fall by approximately 11%, and whereas this would be a financial disaster for the majority of the larger companies out there, Agrium benefited from a much lower operating cost, and despite the 11% revenue reduction, its gross profit actually increased by 23% to $900M. And there was more good news, as the SG&A expenses were also reduced, and the impact on the bottom line was huge. Really huge.
The operating income more than threefolded, whilst the net income almost quadrupled to $200M. So, okay yes, I now understand why Agrium claimed its fourth quarter was strong, because the bottom line is looking pretty good. But of course, this doesn't necessarily mean the company also generated a meaningful free cash flow, as the capex bill was expected to be pretty high in the fourth quarter.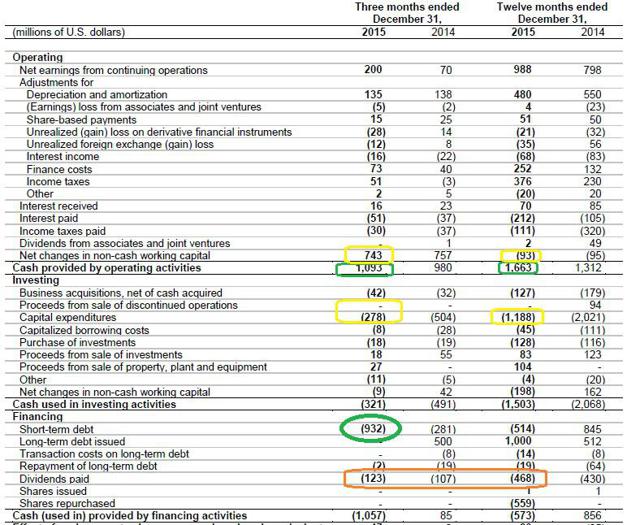 Click to enlarge
(Source: Agrium Financial Statements)
And indeed, the Q4 capex was still relatively high at $278M, but fortunately, Agrium's operating cash flow was quite good, with a headline operating cash flow of $1.1B, but almost 75% of the operating cash flow was caused by the company having been able to unlock the value of its working capital as it converted some of its inventory into cash. If you'd exclude these changes in its working capital position, the adjusted operating cash flow would have been $350M, and even though that's indeed substantially lower, it would still have been sufficient to cover the capital expenditures. You should also note the conversion of working capital into hard cash has been used entirely to start repaying the debt, as Agrium repaid $932M of short-term debt in the final quarter.
2016 will be a year for shareholder rewards and debt reduction
Okay, good, Q4 2015 was good, but what does this mean for the current financial year? Will Agrium become the rockstar of the markets (again)?
The full-year operating cash flow was approximately $1.75B, and I would expect this to remain relatively stable, as the lower commodity prices will very likely be offset by increased capacity. But okay, let's now consider the OpCF does decrease by 6% to $1.65B as a base-case assumption.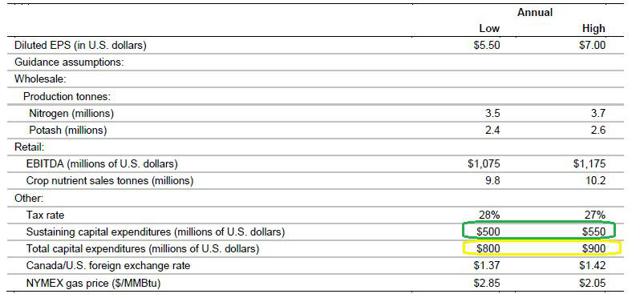 Click to enlarge
(Source: Press Release)
Agrium has also provided us with an outlook for its 2016 capex plans, as the company plans to spend $525M on sustaining capex in 2016 and an additional $325M in growth capex (which includes the completion of the expansion of the Borger urea plant). The sustaining free cash flow will be roughly $1.1B in 2016, and after deducting the expansion capex, approximately $800M can be used for other purposes.
Assuming the company keeps its dividend stable, this would result in an additional outflow of $450M (although I do expect the dividend payments to increase towards $500M), allowing $350M to be spent on either share repurchases and repaying its debt. Although the share price is quite low, I'd prefer Agrium to spend the "excess" cash on reducing its net debt. Approximately $930M of debt will be due within the next 12 months, and completely eliminating this debt would be a great step in the right direction, considering this would save the company approximately $9M per year in interest expense.
A second step should then focus on reducing its long-term debt, as the average cost of the long-term debt is in excess of 5%. So, for every $300M in debt Agrium will be able to repay, its annual interest bill will fall by $15M, allowing the cash flow to increase, and will perhaps increase the dividend by a few cents per quarter.
Investment thesis
I was unsure about Agrium's outlook for 2016, but I'm pretty happy with what I see, and a good performance in the fourth quarter will be the basis for what will be a pretty decent 2016. The era of heavy capital spending is over, and the total capex (sustaining + growth) will fall by approximately $350M in the current financial year. This should provide a nice extra boost to the free cash flows, and I'm not worried at all about Agrium being able to meet its commitments.
There will be plenty of cash flow to cover all the capital expenditures and the dividend, and the "leftovers" could subsequently be used to reduce the company's short-term and long-term debt. It's also encouraging to read Agrium expects the urea prices to increase on the back of a strong NorthAm demand and lower exports from China, so perhaps we will be in for a positive surprise this year!
Disclosure: I am/we are long AGU.
I wrote this article myself, and it expresses my own opinions. I am not receiving compensation for it (other than from Seeking Alpha). I have no business relationship with any company whose stock is mentioned in this article.