Quarterly Market Review
At the beginning of the fourth quarter, an optimistic outlook for commodity prices and accommodative monetary policy of major central banks drove global equity markets higher. As the period progressed, renewed concerns over China's growth trajectory emerged amid economic data that came in below consensus expectations. This helped push commodity prices to new lows and undermine investor sentiment, which weighed on equities.
Much of the weakness seen in commodities during the fourth quarter can be attributed to a renewed slide in energy prices, oil in particular. Crude oil prices fell by over 20% during the period, bringing the overall decline since mid-2014 to nearly 70%. Interestingly, throughout 2015, oil and stock prices were largely correlated, moving nearly in lockstep with each other.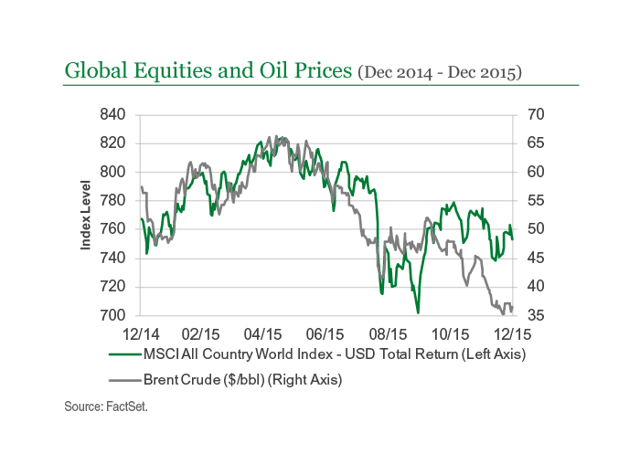 Click to enlarge
Meanwhile, the European Central Bank (ECB) extended its quantitative easing program by six months until at least March 2017. The range of securities eligible for purchase was also expanded to include local and regional debt. Investors, however, expressed disappointment at the scale of additional policy support. The euro surged to a one-month high and European stocks tumbled, further pressuring global equities.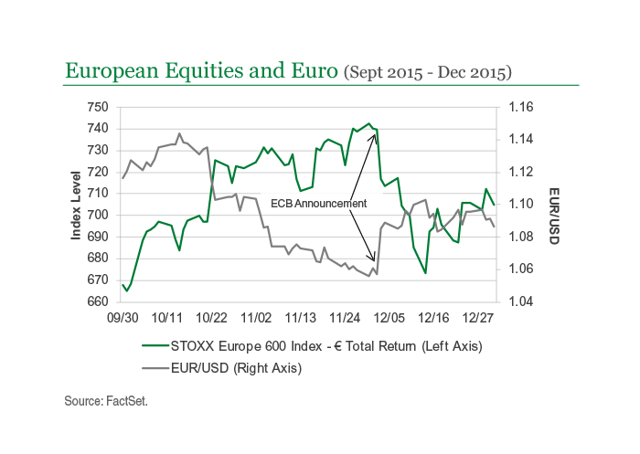 Click to enlarge
In the U.S., Federal Reserve policymakers opted to raise the target range for the federal funds rate by 25 basis points to 0.25% to 0.5%. This was the first such increase in nearly a decade, reflecting the Fed's expectation that the U.S. economy will continue to grow at a slow pace and labor markets will continue to strengthen. The increase and accompanying policy statement remove one source of uncertainty for investors who now have a clearer view into Fed policy over the coming years.
By the end of the fourth quarter, global equities were markedly higher on both a U.S. dollar and local currency basis. This was largely the result of a strong October when the prospect of additional central bank stimulus fueled strong gains in stocks. Developed markets notably outperformed emerging markets, as the price declines in oil and other commodities along with U.S. dollar strength and emerging market currency weakness pressured emerging market returns.
Performance in fixed income markets during the fourth quarter was challenged by the combination of higher interest rates and wider credit spreads. Global bond yields moved higher during the period, driven by rising yields across developed markets, whereas emerging market yields ended lower. Global fixed income markets (as measured by the Bank of America Merrill Lynch Global Broad Market Index) were essentially flat on a local currency basis, but experienced slightly negative absolute returns on a U.S. dollar basis. Given negative real yields throughout the developed world, and in some cases negative nominal yields, we continue to favor shorter-to-intermediate duration fixed income securities as we seek to mitigate price loss as the interest rate environment develops.
Manning & Napier Market Insights
Developed Europe
Market reaction to ongoing developments in ECB and other global central bank policies makes it clear that policymakers' actions will continue to be a major driver of global equity markets. Regarding Europe specifically, we expect policy to remain supportive and potentially become incrementally more so. Positively, the data in aggregate show that the ECB's actions are having an impact on bank lending, as low borrowing rates for banks are leading to an increase in overall lending activity. The latest euro area bank lending survey showed that credit standards have continued to loosen and that the demand for credit from both businesses and consumers has continued to increase, broadly speaking.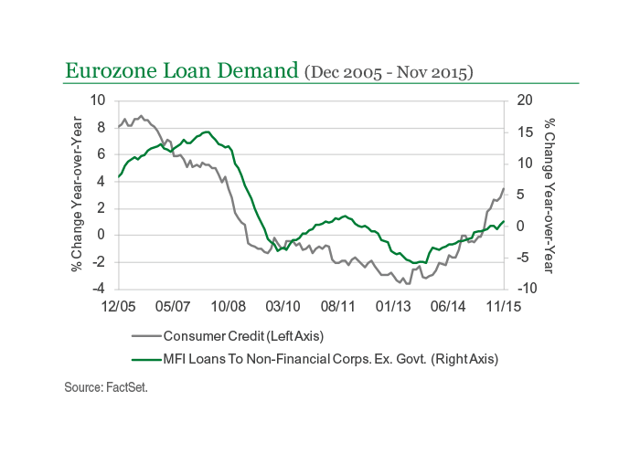 Click to enlarge
The survey data support our outlook for moderately stronger growth in the eurozone. At a more granular level, the increased demand for credit from small and medium-sized enterprises was reassuring, as these businesses make up a very large portion of the region's economy. The data from Spain and Italy were also particularly positive, and we are encouraged by the convergence in interest rates being seen between countries in the core and the periphery.
From a risk perspective, there has been increasing chatter about whether or not the European Union (EU) can ultimately stay together. We believe that over the long term, there are very real threats to the region remaining unified, so it is not surprising to us that this issue has been garnering more attention. More specifically, a looming vote on Britain's EU membership, the threat to the continued free movement of people between countries resulting from the migrant crisis and the recent terrorist attack in Paris, problems with the sharing of information crucial to national security, and German Chancellor Angela Merkel's eroding support are all weighing on the region.
It is important to note that the quantitative easing mechanism makes a break up less dangerous than it could have been to financial markets, as central banks have purchased their own sovereign bonds. However, the hit to sentiment would likely be significant. In all, the risk is no longer an explosion in yields, a hard default, or a banking implosion. Rather, it is that politicians run on a platform to leave the union and go it alone. In our view, the forces pulling at regional integration are increasing, not decreasing. Despite these concerns, we remain constructive on Europe given generally favorable employment and income trends and steady - albeit unspectacular - growth in the consumer and services sectors of the various geographies.
Emerging Markets
Emerging market countries today are struggling to find a new growth model. Pockets of growth do exist, but growth rates are below historical averages and are expected to remain so. In the past, emerging economies have benefitted from seismic events including China's ascension to the World Trade Organization, the massive leveraging of the U.S. consumer, and large fiscal stimulus from China as it built out its fixed asset infrastructure.
Moving forward, emerging markets will need to adapt to the reality that China's infrastructure investment needs will be structurally lower. This will require developing nations to pursue structural reforms that allow them to climb the value-added ladder, improve their own internal investment environments, stimulate productivity booms, and create more self-sustaining consumption and services based economies.
On the other hand, we could see other developments in an effort to create growth, such as Keynesian-style direct monetization of government debt, fiscal stimulus (i.e., China could stimulate their consumer or the U.S. could stimulate through infrastructure spend), competitive devaluations to support exports, or a combination thereof.
A key point is that growth and investment performance across emerging markets will be varied between markets moving forward. Therefore, emerging market equities cannot be bought and sold indiscriminately. Rather, it is a country-by-country story as opportunities are far from uniform. Countries that are highly dependent on exports to China - such as Malaysia, Taiwan, and South Korea - will remain significantly challenged. Some countries will pursue the needed reforms to adapt to the new global reality, and others will be stuck in the past.
Today, we view Mexico, India, and Indonesia as the emerging market countries that offer the best opportunities from an investment perspective. We are encouraged by reform efforts in Mexico and the country's potential to benefit from higher labor costs in China and a relatively healthy U.S. economy. Our positive outlook for India is supported by progress in government reform efforts and leading economic indicators that are accelerating. While investors have been disappointed with the pace of "big-bang" reform in India and the inability of the central government to achieve various breakthroughs to unleash pent-up demand, we believe that things are moving in the right direction, with many smaller reforms adding up to something quite meaningful. We are particularly bullish about the opportunities for growth in the Indian consumer and power infrastructure sectors. Despite this outlook, it appears as though the broader Indian stock market is breaking down technically. Thus, a selective approach to Indian equities is warranted.
Indonesia is one of the few emerging markets where we are seeing a genuine and broad-based reform effort. Importantly, Indonesian President Joko Widodo capped the diesel subsidy and scrapped aid for gasoline in 2015, making room in the budget for government spending on productive sectors such as infrastructure, which the country is in dire need of. We have seen an improvement in the current account and budget deficit, which should be a positive for the currency.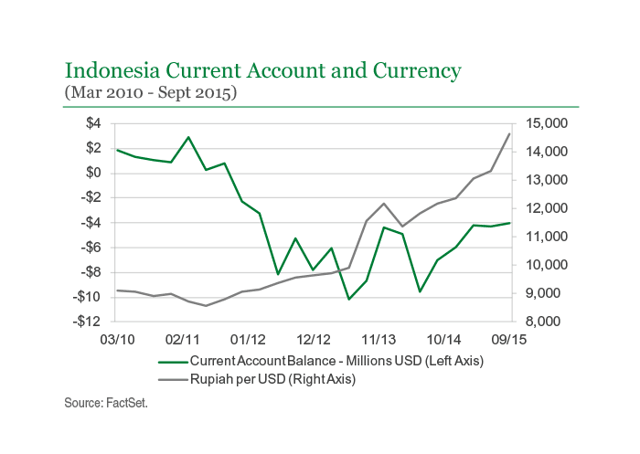 Click to enlarge
Inflation has rolled over, providing room for the central bank to support the economy. Valuations have also pulled back to more reasonable levels, offering a compelling entry point for investors. We expect lower inflation, rising incomes, and the country's demographic profile to bolster consumption over the coming years, so our preference is to target companies levered to the Indonesian consumer.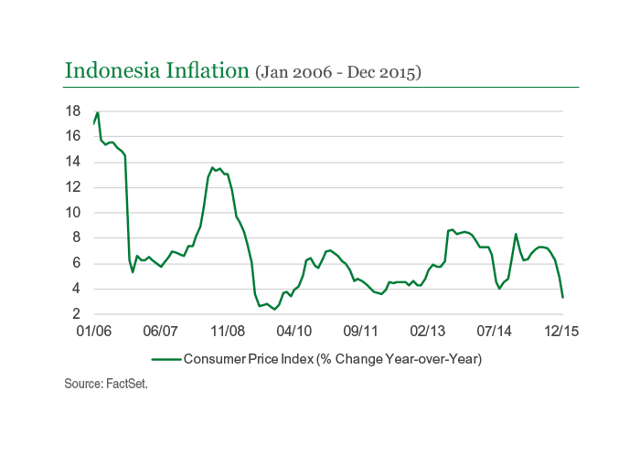 Click to enlarge
Developed Asia
Economic data released during the fourth quarter showed that Japanese capital spending was stronger than consensus expected as company profits increased. Capital spending jumped 11.2% in the third quarter on a year-over-year basis, beating consensus expectations for a modest 2.2% increase. The benefits of cheap crude prices are beginning to take hold across a broad spectrum of Japanese companies including airlines and manufacturers, which are seeing their profits buoyed and in some cases reaching record highs. Corporate profits during the third quarter increased 9% from the previous year after rising almost 24% in the April through June period.
While it is not yet clear whether the jump in capital spending was impacted by one-off items or is sustainable, it was a big surprise and may be an indication that Prime Minister Shinzo Abe's reforms are beginning to resonate with the Japanese corporate sector. As we have previously noted, we have been relatively unimpressed with Abe's "Third Arrow" structural reform efforts to date. This does not mean that the prime minister isn't attempting to pull the right levers. For example, if his efforts to generate wage increases are successful, it could be a boost for consumption. Additionally, if Abe is able to generate business investment, it would be a positive for the Japanese economy. Indeed, recent data are certainly encouraging, but we would like to see a sustained upward trend before becoming more bullish on Japan.
Until then, our investment theme for Japan centers on the currency. Given Japan's significant amount of outstanding debt, low-growth outlook, and aggressive monetary easing, we anticipate the path of least resistance is for the yen to weaken over the long-term. Although factors such as valuation and global risk-off sentiment could lead to the currency stabilizing or even strengthening in the near-term, export-oriented companies could be seeing a strengthening in their global competitive positioning simply from the yen depreciation that has already taken place. Thus, we are focused on finding Japanese exporters that have been able to increase their share of global exports.
Japan is home to a number of world-class, industry-leading companies that should benefit from the weaker currency given their ability to price their products more competitively. This should then feed into stronger top-line growth and more robust margins. With that said, many companies have moved production outside of Japan. This makes the theme less impactful to them and necessitates a selective approach to Japanese equities.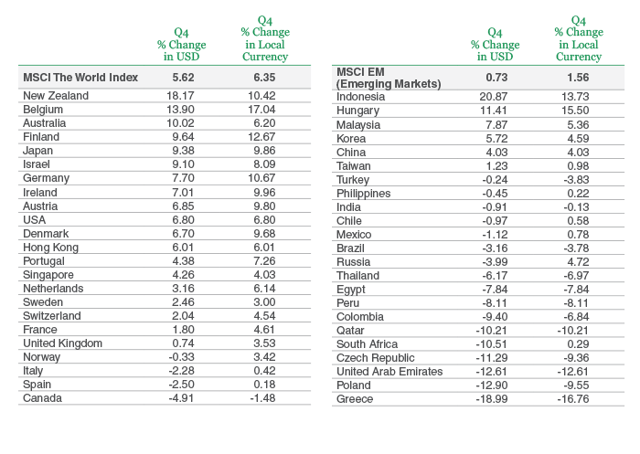 Click to enlarge
Source: FactSet. Analysis: Manning & Napier Advisors, LLC (Manning & Napier).