When I last visited regional bank Fifth Third (NASDAQ:FITB) back in July of last year, I lamented that prior progress in getting its expense base under control appeared to have come unwound. At $21 I said the stock was probably fairly valued given that I felt future earnings were already priced in. But if we fast forward to today the stock has been taken to the woodshed along with every other financial and is off by roughly a third since I last reported on it. With fourth quarter earnings out and failing to stoke buying interest in the stock, what are investors to do?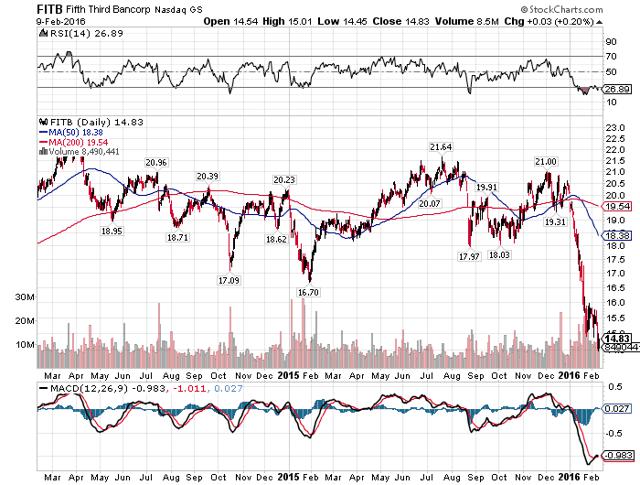 Click to enlarge
When I last looked at FITB the company was seeing flat growth numbers virtually across the board but also a very elevated level of expenses. With the fully valued stock I didn't see any catalysts to send shares higher and that is why I stayed away. Staying away obviously turned out to be the right call but every business has a price it can be bought at and perhaps FITB is there now.
Before we look at Q4, FITB still has a very valuable stake in payment processor Vantiv (NYSE:VNTV) that it is slowly selling off. These gains cloud the picture for operational earnings for FITB so when I refer to any numbers below, it is ex-Vantiv unless otherwise noted. On the bright side, the Vantiv stake is worth an enormous amount of money as even after recent sales, FITB's stake in Vantiv is worth about $1.28 billion. With a market cap of $11.62 billion, FITB's business is being valued at just over $10 billion. Is that a fair price?
FITB's Q4 looked a lot like other quarters in 2015; slightly better operating results but higher expenses. Net interest income was up 2% as NIM came in at just 2.85%, down 11bps. This was a problem after Q2 as well; NIM continues to fall for FITB and it is making it difficult for the company's top line to grow. Noninterest income was up 2% as the mortgage business flew 21% higher. We've seen this with a lot of regionals of late; the push towards generating mortgage fee income has produced some nice pops in noninterest income across the complex and FITB is certainly joining that party.
Deposits were up 4% and average loans were up 3% during the quarter, indicating that FITB de-risked a bit as measured by the loan-to-deposit ratio. In addition, it was that loan growth that was the savior for FITB's top line; the company's significantly lower NIM would have otherwise potentially derailed the top line growth in Q4. While I like seeing loan growth, NIM is still susceptible to further downside as rates have gotten worse in Q1, not better. That scares me a bit considering that FITB's expenses are so high.
Indeed, noninterest expenses were up 5% again as FITB continues to spend freely. Severance expenses and a contribution to the Fifth Third Foundation were to blame but honestly, with FITB, it is always something. This company seems unable to get its expenses under control and while the growth in costs over revenue growth was relatively muted this time around, I'd really like to see FITB exercise some discipline with respect to costs. This is the biggest source of angst I have with FITB right now as the top line is beginning to show some green shoots.
On the plus side, FITB should be able to return an enormous amount of capital this year as its capital position remains strong and it has the windfall from its Vantiv stake. The company should be able to ask for a larger-than-normal distribution in the form of both a higher dividend and a sizable buyback and that could be a driver for the stock in 2016. The stock already yields 3.5% and that number will certainly go up at CCAR time, which is rapidly approaching. The company's Vantiv windfall also puts it in a terrific position to be able to buy back a lot of stock this year and with tangible book value now $15.39 - in excess of the current share price - the stock is certainly cheap. FITB reduced its share count by 5% in 2015 and we could see more than that in 2016 since the share price is much lower than it was last year. We could easily see FITB get authorization to buy back 8% or more of the float and that is a huge driver for EPS growth.
At 9.4 times this year's earnings FITB is as cheap as it has been for a long time and if we remove the Vantiv stake, it is even cheaper at less than 9 times this year's earnings. As I mentioned, it is trading under tangible book value and for a regional, which is pretty unusual. The Vantiv windfall fueling higher buybacks will be a significant positive for the stock in 2016 and after the current turmoil passes, we should see FITB trade back up towards $20. FITB isn't as cheap as some other regionals but it is still a value here as it has the unique capital return story going for it. I like FITB here despite the fact that its expenses continue to rise; the rest of the business looks good enough to offset that.
Disclosure: I/we have no positions in any stocks mentioned, but may initiate a long position in FITB over the next 72 hours.
I wrote this article myself, and it expresses my own opinions. I am not receiving compensation for it (other than from Seeking Alpha). I have no business relationship with any company whose stock is mentioned in this article.