In the vast world of medical technology, hundreds, if not, thousands of companies compete for shares in a market worth hundreds of billions, which continues to inflate every year with the rising cost of healthcare and our growing medical demands and needs that require more assistance. Often, the microanalyzed companies are those with the massive market capitalizations with dominant prescences in the medical industry; Johnson & Johnson (NYSE:JNJ) and McKesson (NYSE:MCK), for example. However, overlooked are the smaller companies specializing in one area of the larger medical industry sector. One of note is Globus Medical, Inc. (NYSE:GMED)
Globus is a medical devices company specializing in the development and design of products that aid patients with spinal disorders.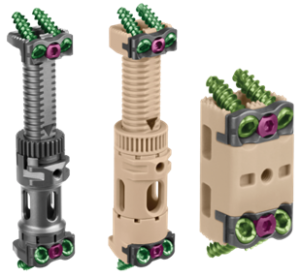 Products such as these enable spinal support and are customized to fit a patient's spine.
The pictures above are one of the many products that the company puts out. Specifically, one of their main focuses is intervertebral fusion. The products that Globus develops for intervertebral fusion are used in spine fusion surgical procedures.
This is where things start lining up for Globus. Spinal fusion procedures have actually been on a consistent rise for the past decade, and they are expected to continue to rise in the coming years. With the number of procedures on the rise, the number of spine rehabilitation devices becomes in greater demand, and Globus is one of the few companies to fill this gap. From 2000 to 2011, spinal fusion procedures rose from 210,682 to 465,070. Along with this, the total cost of these procedures in recent years has averaged to about $12.8 billion. It is expected that in the coming years, over 500,000 Americans will undergo these procedures, and spinal fusion is only one of several areas that Globus Medical's products are tailored towards.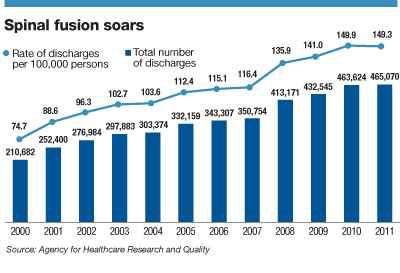 However, to have positive growth potential also requires strong company financials. Globus Medical currently has a market capitalization of only $2.1 billion in a niche market that is seeing increased demand, as mentioned before with the steady increase in spinal fusion surgeries. Financially, there are both long term and short term plays in store for Globus.
Long Term
Globus Medical's track record in the financial long run has been overall fairly strong and safe. In the past three and a half years, Globus has yielded returns of nearly 100%, almost doubling from its share price of $13.50 in 2012. It has the financials to back up its price per share growth. Since its IPO in 2012, Globus has been churning out consistently higher profit: $74 million in 2012 to $92 million in 2014. Coupled with this, beyond its IPO, revenue growth in the past 5 years has been roughly 87%. The financials of the company can be applied to the growing spinal procedures market which Globus specializes in to determine that Globus will most likely see some consistent year to year market growth for time to come.
Short Term
It's important to first analyze the earnings of Globus Medical. The past year of earnings for GMED by fiscal quarter end look like this:
December 2014:
Forecast: 0.26
EPS: 0.30
Surprise: 15.38%
March 2015:
Forecast: 0.25
EPS: 0.26
Surprise: 4%
June 2015:
Forecast: 0.25
EPS: 0.25
Surprise: Met
September 2015:
Forecast: 0.25
EPS: 0.28
Surprise: 12%
So, in the past fiscal year, Globus has met or exceeded earnings forecasts all four quarters.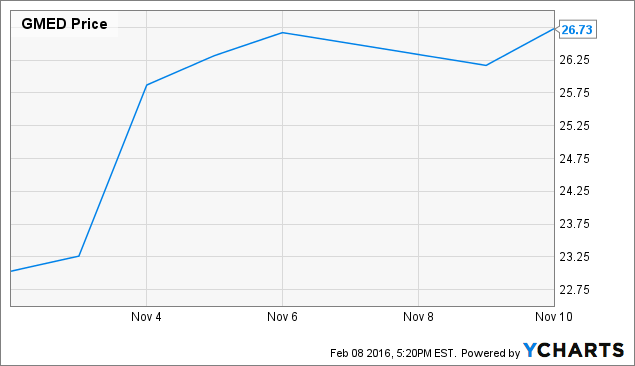 In this chart above, I've focused on Globus Medical's price per share jump after releasing its last earnings this past November. The share price jumped nearly 13% in one trading day.
Something to note is that Globus Medical's December 2015 earnings report is scheduled to release this month on February 24th after market close. With the consistent earnings track record that Globus saw in its past fiscal year, it's not a bad bet that Globus will exceed the forecast of 0.30. There are a few factors which could contribute to a nice rise this month for Globus:
Globus has shed quite a lot of fat off its share price. In the past few trading weeks, the stock is down nearly 12%. However, its RSI is pointing towards that the stock is heavily oversold.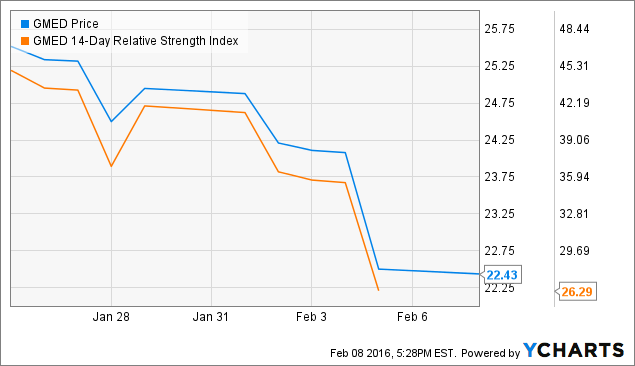 With an RSI plummeting below 30, Globus is heavily oversold, and there will be potential buying action in the coming week.
As Globus resides in oversold territory combined with its upcoming earnings report on the 24th with its historically positive earnings results, there is a very strong upside buying opportunity for a one month hold.
Keep GMED on your radar through February as there could be a significant reversal in its share price.
Disclosure: I/we have no positions in any stocks mentioned, and no plans to initiate any positions within the next 72 hours.
I wrote this article myself, and it expresses my own opinions. I am not receiving compensation for it. I have no business relationship with any company whose stock is mentioned in this article.