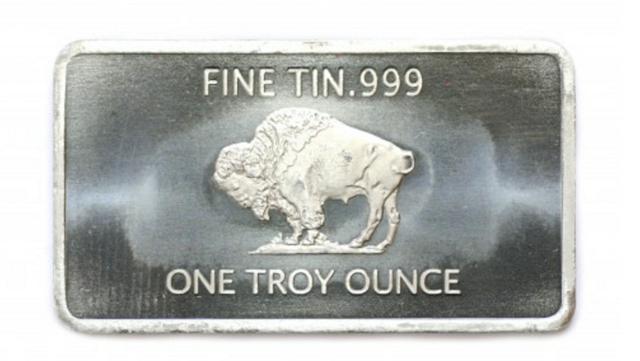 Click to enlargeSource: 1 troy ounce of 0.999 tin Buffalo Bar.
Tin prices have rallied strongly since plunging to a fresh low of $13,085 per tonne in mid-January. At $15,555 per tonne (at the time of the writing), the metal is up 6.7 percent year-to-date and 18.8 percent from its 2016 low.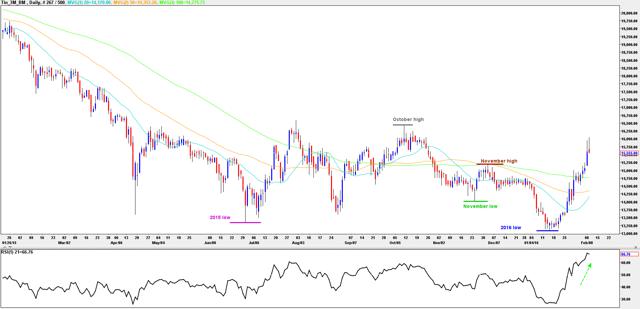 Click to enlarge
Source: NetDania.
The current strengthening in tin prices has been driven by a broad improvement across base metals following supply cut announcements and Chinese buying at the end of 2015.
Interestingly, these announcements did not result immediately in a recovery in prices, partly because the start of the year was marked by a resurgence of a risk-off environment amid fears over a hard landing in China, prompting investors to reduce exposure across risky assets, including base metals. Although these fears about the deterioration in the global economic outlook remain, they have eased somewhat, prompting investors to rebuild long positions in base metals, including tin.
Tin supply seems to have tightened recently after nine large Chinese smelters - YTC, China Tin, Chengfeng, Zili, Kaimeng, Yunxin, Jinye, Nanshan and Weitai - which produced a total of 140,000 tonnes in 2015, corresponding to 80 percent of Chinese tin output and 40 percent of global output, agreed in January to cut production by 17,000 tonnes or 12 percent in 2016 in order to tackle the steep sell-off in prices.
In the same announcement, they requested to Chinese authorities to consider a stockpile program, arguing that state stockpiling would be the best option for producers and alternatively, a private stockpiling could be considered, but the government should then subsidize interest payments in order to compensate the cost of carrying inventory. Although no official decision by the Chinese authorities has come out, market participants seem to be quite optimistic about the implementation of such a stockpile program, judging by the recent appreciation in spot prices.
In addition, Indonesian refined tin exports continue to be restrained. The country exported 5,805 tonnes of tin in December, down 44 percent from last year. In the whole 2015, exports recorded 70,150 tonnes, down from 75,925 tonnes in 2014 and 88,443 tonnes in 2013. Exports of refined tin are set to fall further this year, largely because of the current regulations, most notably the "clear and clean" (C&C) certification, and adverse market conditions.
The tightening in the supply and demand balance in the tin market is reflected in the continued drawdown of LME stocks. After falling 5,970 tonnes or 49 percent last year, they have dropped another 1,520 tonnes or 25 percent so far this year to 4,620 tonnes. Importantly, the cash-threes spread has remained in backwardation for most of 2016, which suggests important pressure from short-covering. Interestingly, the latest LME statistics corroborate the fact that some short-covering is taking place. Money managers raised their net long positions by 485 lots to 1,658 between January 22 and January 29, via short-covering of 68 lots and long accumulation of 417 lots. The speculative positioning has become clearly overstretched on the short-side, with money managers liquidating 1,680 lots or 50 percent of their long positions between October 2015 and January 2016. We therefore believe that there is plenty of room for short-covering over the next month or so.

Click to enlarge
Source: LME, FastMarkets.
The tightening supply picture is consistent with the latest International Tin Research Institute (ITRI) forecasts. Indeed, ITRI expects the global tin market to remain in a structural deficit in the near future, despite disappointing demand and ample supply. It forecasts a deficit of 6,000 tonnes in 2015 and 10,000 tonnes in 2016, driven by the slowdown in China's solder industry, and the deficit could become significantly larger following the recent supply cuts from Chinese smelters.
However, on the demand side of the equation, downside risks remain. Demand was fairly weak 2015. Growth in semiconductor shipments, an indicator of tin demand in solder alloys, which represents about 50 percent of global use, slowed remarkably last year. According to the Worldwide Semiconductor Trade Statistics (WSTS), the worldwide semiconductor market expanded at only 0.2 percent last year and is expected to grow at 1.4 percent in 2016 and 3.1 percent in 2017. In the tinplate sector, which represents about 20 percent of global use, demand is also sluggish because packaging faces increasing competition from frozen foods and aluminium and plastic packaging.
To sum up, we believe that the rally in tin prices will continue until the remainder of the first quarter of 2016, reflecting recent supply cut announcements, a tight market as evidenced by the low level of LME stocks, and more broadly improved sentiment across metals, which should therefore induce a wave of short-covering. But weakness should re-emerge later in Q2 amid a sluggish demand.
Disclosure: I/we have no positions in any stocks mentioned, and no plans to initiate any positions within the next 72 hours.
I wrote this article myself, and it expresses my own opinions. I am not receiving compensation for it (other than from Seeking Alpha). I have no business relationship with any company whose stock is mentioned in this article.