Nearly a year ago I first wrote about Avista Corp. (NYSE:AVA). In that piece I highlighted the fact that the company sported a 4% yield at the time and was targeting 4% dividend growth over the next couple of years. I also highlighted that I thought the shares were trading at a reasonably attractive level at that point. Since then the dividend has once again been increased, but the shares have become quite expensive looking.

First, the good news is that the company just followed through on its dividend growth plan. On February 5th the company announced it was raising the dividend by 3.8% This increase falls just shy of its targeted 4% increase, but it does come pretty close.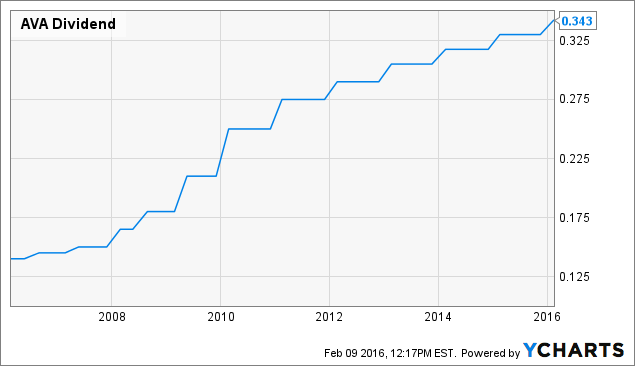 This brings Avista's annual increase streak to 14 years. All in all Avista still looks like a great dividend growth play. The trailing payout ratio is roughly 73% which is right around a target payout I look for in utilities considering these businesses are some of the most predictable in the market.
If the company is able to meet analysts expectations for the fourth quarter of 2015 this trailing payout moves down to about 70%. With earnings expected to grow 5% in 2016 the company should be in a solid position to meet its target dividend growth next year as well.
While the dividend continues to look great, the shares do not. Since I wrote that piece last March the shares are up roughly 18% (excluding dividend returns). In the last 3 months the shares are up 11% alone. This is during a time where the market as a whole has seen a considerable drop. It could be argued that people have moved to safer low beta stocks like Avista, however, I do not believe this justifies the current overvaluation.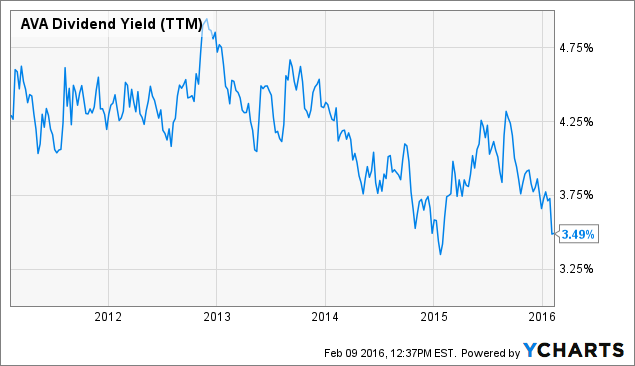 At current levels the trailing price to earnings ratio is 20.66. This is nearly a 5-year high. The yield is pushing 5-year lows as well, retreating to levels that has not been seen since 2008. This changed rapidly back then with the crash, as the yield pushed levels as high as 5.25% just a year after.
The forward P/E ratio doesn't look much better. At 18.52x forward earnings shares are trading much higher than they were valued at last March. Anywhere around 17x (about where they traded last March) I would see it as a much better value based on both history and peers.
The company's overall operations continue to look solid with the company securing some approvals on rate increases last month. While these increases specifically don't drastically grow the company it is always a positive to see the company growing its base business at whatever pace. The company will report quarter four results on February 24th which should outline more specific guidance for 2016.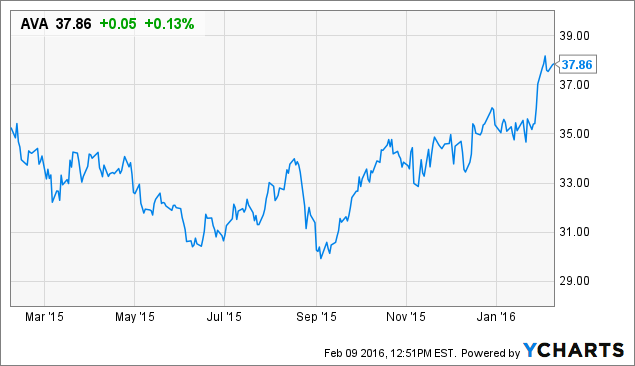 In conclusion, I am definitely not a buyer of shares at these levels. Based off historical yields and simple fundamentals the shares look pricey. However, with the company following through on its targeted dividend growth I do believe it continues to be an excellent dividend growth play. With its slow (mostly) regulated growth expected to continue this year the company should have little problem with being able to hit its dividend growth target again next year.
Disclosure: I/we have no positions in any stocks mentioned, and no plans to initiate any positions within the next 72 hours.
I wrote this article myself, and it expresses my own opinions. I am not receiving compensation for it (other than from Seeking Alpha). I have no business relationship with any company whose stock is mentioned in this article.
Additional disclosure: Always do your own research before investing.