United Technologies Corporation (NYSE:UTX) has a history of paying strong dividends and consistently growing them at a respectable rate. The company continues to perform well at a time when many other dividend aristocrats are struggling to keep up and are reducing their dividends in the face of a greatly depressed environment. For instance, ConocoPhillips (NYSE:COP) has recently lowered its dividends by 66%, after posting significant losses. Similarly, many other oil majors, including Chevron Corp (NYSE:CVX) and Exxon Mobile (NYSE:XOM) have seriously threatened dividends.
On the other hand, mining companies like Vale S.A (NYSE:VALE) and Cliff Natural Resources (NYSE:CLF) have suspended their dividends entirely, due to continuing low commodity prices. Overall, volatility in the energy sector, low commodity prices, a gloomy economic outlook, troubles in emerging markets, and the strengthening of the dollar have knocked many major dividend payers into a defensive stance, forcing them to either cut or freeze dividend payments.
In such circumstances, dividend investors are finding it hard to pick stocks that are resistant to economic and business downturns. I believe United Technologies is among the few stocks that have the potential to push back against the current slump in the macroeconomic environment. The company has strong a business model with a healthy asset portfolio. In addition, its management has adopted smart strategies to reduce the impact of environmental headwinds.
Its focus on faultless execution, structural cost reduction, innovation to drive long-term growth and disciplined capital allocations is allowing the company to generate sustainable growth. In a depressed environment, United Technologies is controlling its costs while investing in differentiated products and services. Looking at the environment and its commitment to streamlining its portfolio to core businesses, United Technologies sold Sikorsky for a price of $9 billion. This sale enhanced the company's balance sheet and allowed it to kick off its $6 billion buyback program.
The company has also simplified its organizational structure by eliminating its share in the aerospace systems and building and industrial systems layers while focusing on business units that are well positioned to deliver long-term sustainable top and bottom line growth. On the cost side, United Technologies has announced a multiyear $5 billion restructuring plan. This restructuring plan is likely to generate savings of around $900, on a run rate basis, by 2019.
The company's financial performance demonstrates that its strategies are working. Recently, it announced strong fiscal 2015 results, despite negative currency translations and macroeconomic headwinds. The company posted adjusted earnings per share of $6.30 on sales of $56 billion. Moreover, UTX is looking to generate earnings per share in the range of $6.60 on sales of $58 billion in 2016. This is a very positive outlook provided by a company positioned in the middle of a challenging environment, at a time when similar companies are falling at double digit rates.
With its consistent growth in earnings, the company's cash generating potential remains strong. This allows it to continue offering significant and consistent increases in dividends. In fiscal 2015, it generated an operating cash flow of $6.3B, while its capital requirements stood at around $2B. After capital investments, United Technologies is left with healthy free cash flows of $4.2B, with dividend payments making up only $2.1B. Because of this gap, the company's free cash flows now offer a lot of room for future dividend increases.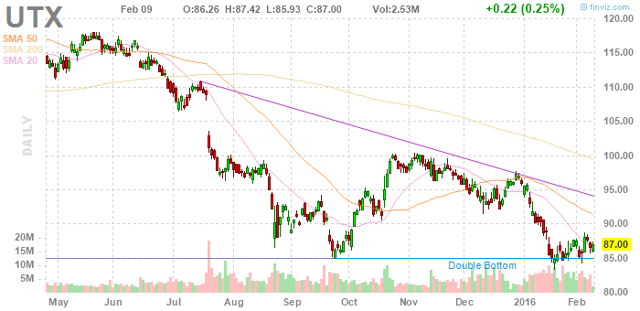 The company's share price has been under pressure for the past twelve months, but only due to external factors. Slow economic growth, falling oil prices, troubles in China and the strengthening of the dollar lowered investors' confidence in the stock market, which also impacted United Technologies' share price. In the latest trading session, the S&P 500 declined 1.4%, down to 1,853.44, its lowest level since April, 2014. Nevertheless, this dip in United Technologies' share price is presenting a buying opportunity with significant upside potential and a healthy dividend yield of 2.91%. Its stock appears undervalued, based on a price-to-earnings ratio of 13.6, while the industry average is significantly higher, near 17.1.
In Conclusion
The company also believes that its stock is undervalued; that is why it is aggressively working on buybacks. UTX is looking to repurchase around $3 billion of its stock this year, in addition to the buybacks it previously announced as part of its $6 billion accelerated share repurchase program. This aggressive buyback program will have a significant positive impact on its dividends, its earnings per share, and its share price. United Technologies has strong business fundamentals and its dividend growth is safe. I suggest dividend and defensive investors consider this stock's potential, within the context of its volatile business environment.
Disclosure: I/we have no positions in any stocks mentioned, and no plans to initiate any positions within the next 72 hours.
I wrote this article myself, and it expresses my own opinions. I am not receiving compensation for it (other than from Seeking Alpha). I have no business relationship with any company whose stock is mentioned in this article.