"Eldorado Gold is a Canadian low-cost gold producer with over 20 years of experience building and operating gold mines in Europe, Asia and South America. We are dedicated to responsible operations, the highest safety and environmental standards and working with stakeholders to enhance the communities where we operate."
The Canadian company announced its Preliminary 2015 Operational Results and 2016 Guidance.
Eldorado's year-end financial statements are scheduled to be released on March 23, 2016.
In my previous article I conducted an event study on Q3, 2015 earnings announcement which had no impact on the value of EGO because based on prior financial news the stock was already getting a "sell" rating by analysts.
According to my point of view and analysis, EGO looks to me like it's still being overvalued by the market (read my previous article on this stock), even though I would hold it in consideration of what follows.
What might happen to this gold stock if the gold price doesn't substantially increase as many investors expect?
The company's success to date is based on a low-cost strategy. Costs are also lower than the industry average. This is for sure the strength of the gold producer if it will face a period in which the price of gold may not substantially increase because of strengthening economic conditions and increasing interest rates (uncertainty), and because of slowing down economic growth in China.
The picture and table below show a summary of the Company's 2015 operating results and preliminary cash costs, operating results, cost-to-sales ratio and average grade of proven resources over the last three years before 2015. The company adopted, effective January 1, 2014, an all-in sustaining cost performance measure. I will therefore use total cash costs to be able to compare the data from one year to the next.
Picture 1.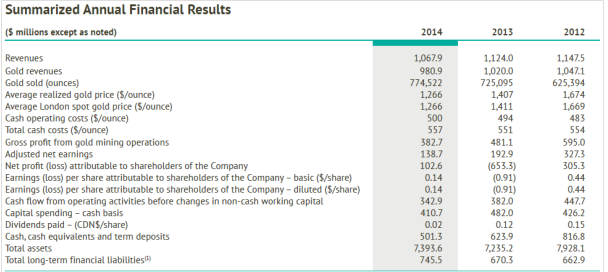 During a period of pressure on the price of gold the company was able to keep cost-to-sales and average grade of proven resources at about the same level of the years before and at the same time was able to meet or even exceed original production and cost guidance at all its operating mines.
Picture 2.

Table 1.
Eldorado Gold Corp (NYSE:USA)
(NYSE:EGO), Gold produced and sold

Year

Revenues

Costs

Cost/Rev.

Multiplier Gold profit

Average grade (proven)

2014

$981

$440

0,45

1,81

1,53

2013

$1.020

$397

0,39

1,64

1,48

2012

$1.047

$364

0,35

1,53

1,58

In Millions of USD
Compared to other gold producers, like Barrick Gold Corporation (NYSE:ABX), that have a lot of lifting to do in 2016' in reducing debt and cutting operation costs, Eldorado Gold Corporation can rely on operating cash costs that remain flat ($500 per ounce in 2014 and $494 per ounce in 2013), which may be a strong point if the price of the precious metal will not substantially increase as widely expected.
The Company's costs remained within the lower quartile of the industry average as well as those expected to be sustained in 2015.
On the contrary most of other gold producers are experiencing a constant increase in operating costs.
Mining Operations in Greece:
The most productive operating gold mines of Eldorado are in Turkey and in China: Kisladag in Turkey (100%), Efemcukuru in Turkey (100%), Tanjianshan in China (90%), White Mountain in China (95%) and Jinfeng in China (82%).
Its gold projects in Greece include Perama Hill (100%), Olympias (95%) and Skouries (95%).
Because of the inaction of the Greek government in releasing the necessary building permits, the company decided to suspend the Skourie project and lay off about 600 people.
Another 500 people are at risk of lay off at Olympias if Eldorado won't receive the permits required by the first quarter of 2016.
However the company rightly remains committed to its portfolio of Greek assets and the realizable benefits to all of the stakeholders involved, workers and the country as well.
The situation is uncertain, but I don't see a problem for the near future for gold production of the company. Of course Eldorado's shareholders hope a fast resolution of this issue between the company and the Greek government.
My final point:
In my opinion it is a good sign that the company is going to remain committed to stay present in Greece and that the company budgets about two-thirds of the total development budget for 2016 in development spending at the Olympias project. Even though the company said that it will write down the value of its assets by as much as US$1.6B, because of its issue in the mining operations in Greece.
EGO forecasts 2016 gold production of 565K-630K oz. at an all-in sustaining cash cost of $940-$980/oz. In 2015 gold production was 723,532 ounces (including production from tailings retreatment at Olympias); 2015 all-in sustaining cash costs averaged $841 per ounce; cash operating costs averaged $552 per ounce; lower than original 2015 guidance ($570-615 per ounce).
Even if the price of gold wouldn't significantly increase during 2016, although expected by many of you, I will still stay optimistic about Eldorado for two reasons:
• First, because the company has a tendency to keep costs lower than the industry average;
• Second, because I cannot imagine an agreement with the Greek government regarding Skourie and Olympia projects will not be found.
Disclosure: I/we have no positions in any stocks mentioned, and no plans to initiate any positions within the next 72 hours.
I wrote this article myself, and it expresses my own opinions. I am not receiving compensation for it (other than from Seeking Alpha). I have no business relationship with any company whose stock is mentioned in this article.