Introduction
This is part of a series of quarterly reviews that analyze the performance and portfolio characteristics of interesting equity managers running either public (mutual funds) or private pooled investment vehicles (hedge funds) that are not accessible by retail investors. We aim to provide readers:
An analysis of the manager's return and risk characteristics
An analysis of the manager's top portfolio holdings
All analysis is based on a clone portfolio of the manager's top 10 disclosed holdings, which allows readers to replicate the portfolio with ease if desired. It may not a reflection of the manager's actual investment performance. That said, we expect some clone portfolios to outperform the manager over time, due to the following factors:
No Fee Drag: An absence of management fees (base fee + performance fee in some cases). Investors can buy the stocks directly to access the manager's stock-picking skill.
Higher Concentration: Managers typically over-diversify their portfolio. Returns from best ideas are diluted by a long tail of lower quality ideas. We focus only on the Top 10 holdings.
Equal-Weighting: Managers frequently undersize their highest conviction ideas. Our clone portfolios are equally-weighted so all ideas have an impact on portfolio returns.
Manager Information
| | |
| --- | --- |
| Company Name: | SQ Advisors LLC |
| Year Established: | 2010 |
| Investment Style: | Value |
| Portfolio Manager: | Lou Simpson |
| Number of Employees: | 7 |
Lou Simpson is a well-regarded investor. He worked for Warren Buffett's Berkshire Hathaway (NYSE:BRK.A) (NYSE:BRK.B) before retiring to start his own firm. His portfolio is concentrated and invests with a very long horizon. For more details, please refer to this article.
Performance Analysis
Our SQ clone portfolio returned an annualized +15.6% over the past 3 years, versus +15.1% for the S&P 500 Index. Relative performance has been weak for the past two years.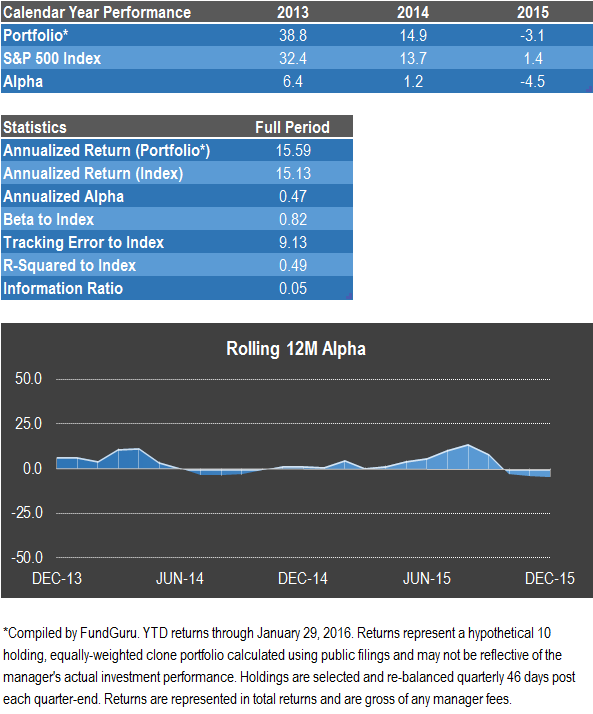 Individual Name Analysis
What has driven this underperformance? Let's take a look at the trailing 1 year performance of individual names currently in the portfolio: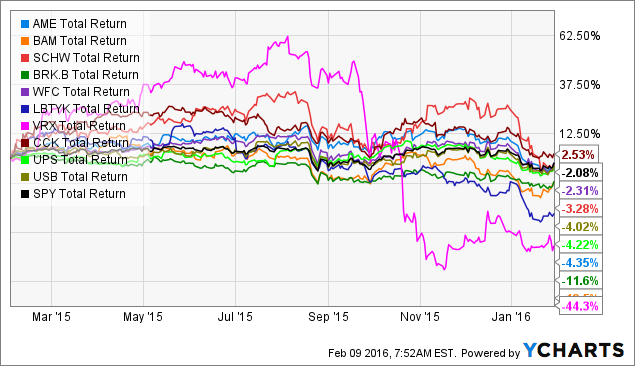 AME Total Return Price data by YCharts
All investments except Crown Holdings (NYSE:CCK) have lagged the S&P 500 in the past year. The three worst performing names are:
Valeant (NYSE:VRX)
Liberty Global (NASDAQ:LBTYK)
Brookfield Asset Management (NYSE:BAM)
Below are the top 5 worst performing names in terms of % off their 52-week high:
Valeant : 66%
Liberty Global : 43%
Charles Schwab (NYSE:SCHW): 34%
Brookfield Asset : 29%
Amtek (NYSE:AME): 22%
In terms of individual names, there is no doubt that VRX was the largest detractor to total portfolio performance. Despite the drop, the manager topped up its investment during Q4 at a price range of $69.33-$182.64*. VRX was trading at $89.65 as of yesterday's close. The company's stewardship remains uncertain as the chief architect of its strategy remain hospitalized. We like to think of VRX as a star hedge fund without its star manager. That said, the company has a cult following and it will be interesting to see if other managers upped their stake when 13-Fs are released this week.
For LBTYK, the company remains locked in talks with Vodafone over asset swaps. Its CEO, John Malone is an excellent capital allocator and is a veteran in the industry. Liberty is the world's largest cable company with operations in a dozen countries. With its scale and pricing power, its sharp drop over the year appears to be unwarranted, and could warrant further research: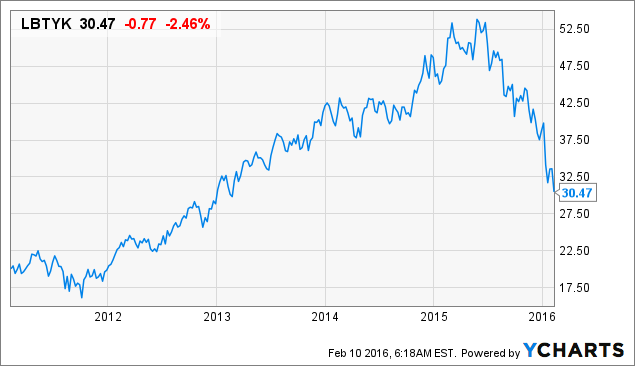 LBTYK data by YCharts
*Based on high/low price range of VRX during the quarter.
Holdings Analysis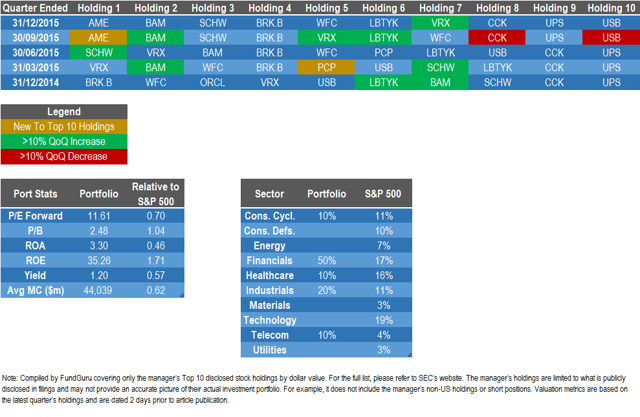 Click to enlarge
Portfolio Characteristics
This is very much a buy-and-hold portfolio with little trading. Financials currently represent 40% of the portfolio (BAM, SCHW, WFC, USB).
From a valuations perspective, the portfolio has a lower P/E and higher ROE than the S&P 500, reflective of a value orientation. The average market cap of the portfolio is roughly half of the index, although it is still very much a large cap portfolio on average.
Recent Activity
In the latest quarter, the manager has increased its position in Valeant by 38%. There are limited changes otherwise. The manager is very much buy-and-hold with little trading.
Finally, this is the performance of the top 10 holdings YTD: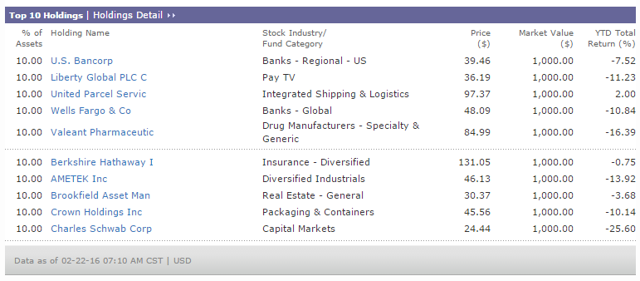 Click to enlarge
Summary Thoughts
We Liked:
Lou Simpson is an experienced investor who used to work alongside Warren Buffett
Concentrated portfolio
Buy-and-hold with limited trading
We Didn't Like:
Concentration in financials, which appears to be a long-term bet on rate normalization.
Alpha generation over the past 3 years is poor relative to peers, although this may signal better times ahead
Bottom Line
This is a high quality value portfolio with a tilt towards financials, where Simpson sees long-term value. We believe recent underperformance provides investors an attractive entry point, although a long-term view is required for the manager's thesis to pan out.
Disclosure: I am/we are long LBTYK.
I wrote this article myself, and it expresses my own opinions. I am not receiving compensation for it (other than from Seeking Alpha). I have no business relationship with any company whose stock is mentioned in this article.