I recently recommend a company that will deliver 'Buffett-like' returns in my previous article. Now, my second pick is a business called Terra Nitrogen Company (NYSE:TNH).
Founded in 1991 in Deerfield, Illinois, it manufactures nitrogen fertilizers. It's also a subsidiary of CF Industries (NYSE:CF) that produces nitrogen and phosphate fertilizer products (both businesses listed on the market).
Despite the world population growing, the demand for food such as wheat and corn will continue to increase, but Terra is still a cyclical business, evident from the 60% drop in stock price since 2011 (from $250/share to $100/share).
However, a rising population demands more energy, and Terra Nitrogen's primary cost is the price of natural gas. Fortunately, the US market price for gas is near an all-time low (thanks to efficiency and overcapacity, along with global demand stagnating).
Before you read further Terra Nitrogen is a partnership company meaning it's not the same as owning stocks because taxes are different, see here for further details.
Table 1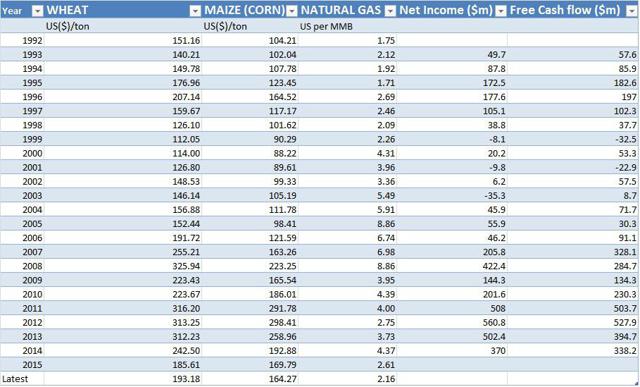 Click to enlarge
Source: Index Mundi.com (NYSEARCA:WEAT), Index Mundi.com (NYSEARCA:CORN) and Index Mundi.com (Natural gas).
Table 1 illustrates the changes in the price of wheat and corn and cost of natural gas, and how it affects Terra's net income and its free cash flow.
You can depict that higher corn and wheat prices are favorable and profitable for a business like Terra. Also, the 60% drop in its stock price is positively correlated with the fall in prices for wheat and corn (see 2011 wheat and corn price with today's prices).
Chart 2 displays the average stock price for a given year for Terra and its corresponding market value.
Given the business is cyclical and operates at one plant the historical average of its market capitalization is $1.23bn.
(N.B.: The current market capitalization for Terra is closer to $2bn.)
CHART 2: - Terra's stock price and market value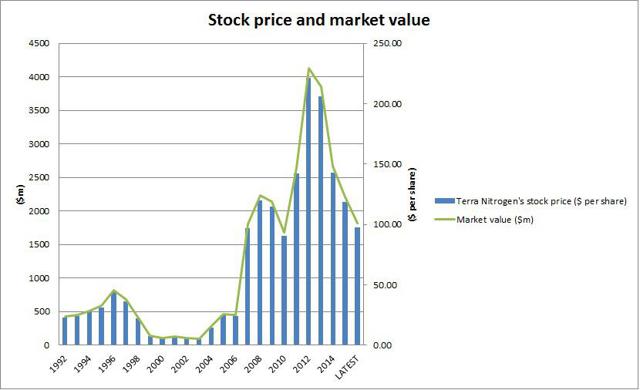 Click to enlarge
Source: Yahoo Finance and Advfn.com.
Finding a suitable 'point of entry' to buy Terra Nitrogen
Before investing into Terra, we need to understand the company's business cycle and below is its 22 years of operations. Therefore, by looking at changes to its revenue, assets and equity you can see the progress of Terra Nitrogen.
CHART 3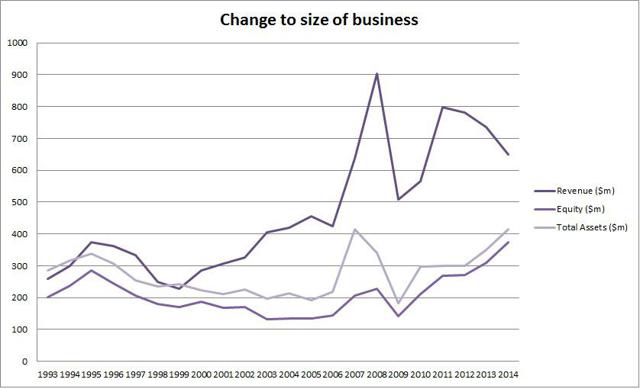 Click to enlarge
From Chart 3, the company looks like a mediocre business with equity 'barely' rising and they may have overstated its revenue. However, one of the key features of a partnership is nearly all its net income gets distributed back to its partners (or stockholders, if you prefer).
This is displayed in Chart 4.
CHART 4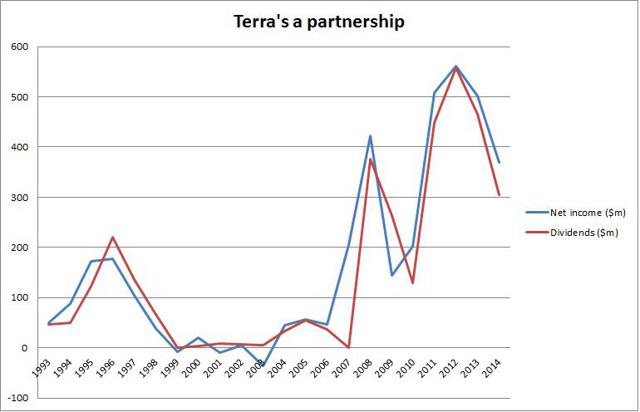 Click to enlarge
So, where are we now regarding buying into Terra Nitrogen?
According to its price to book and price to sales, valuation has come down from its 'dizzy heights' back in 2011.
CHART 5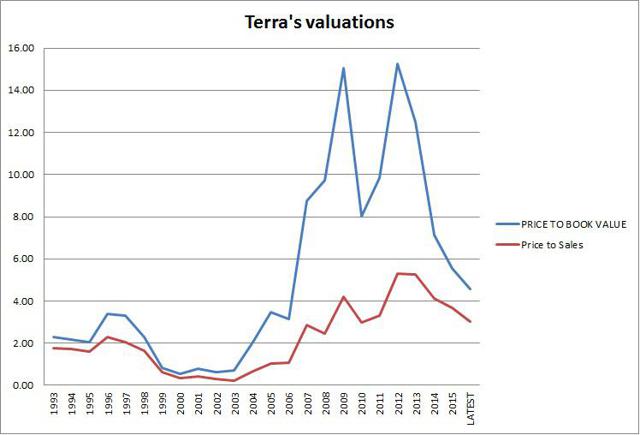 Click to enlarge
Historically, Terra has averaged P/B of 5.17 and P/S of 2.2. The company's latest data shows P/B slightly undervalued at 4.58, and P/B overvalued at 3.01.
On a book value basis, the company posts a historical average of 5.17, and currently, it looks undervalued at 4.61.
In a business cycle, nothing resides near its equilibrium level, it either undershoots or overshoots (if you don't believe in the efficient market hypothesis).
Without using Buffett's metrics, Terra Nitrogen is trading at fair value given its historical precedent.
How does Terra Nitrogen compare to its parent company, CF Industries?
CF Industries acquired Terra Nitrogen in 2010, and both listed in the stock market.
One analyst, the Center for Social and Economic Research (see its Seeking Alpha piece here) has argued that Terra's fundamentals are much stronger than CF Industries (see table below):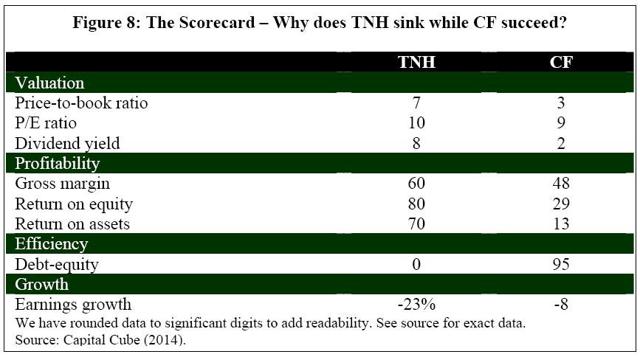 Click to enlarge
The reasons why investors put a higher valuation on CF Industries compared to Terra Nitrogen are CF Industries grow its equity value and its diluted EPS. (Below shows these comparisons)
CHART 6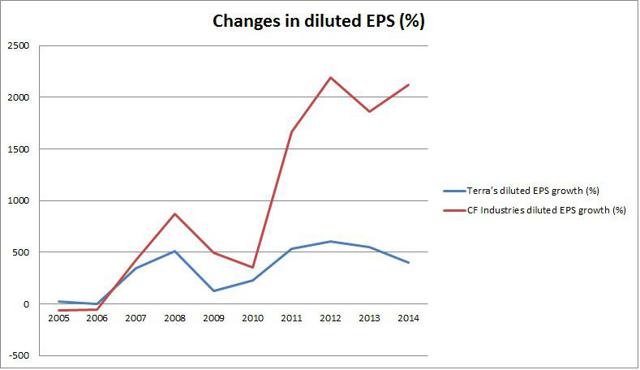 Click to enlarge
Chart 7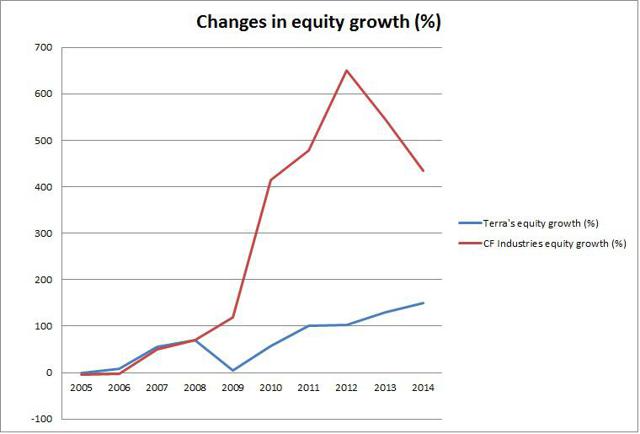 Click to enlarge
Also, Terra has one fertilizer manufacturing plant, if an accident was to occur this will hamper its business operations and extra costs can't be ruled out.
However, despite not growing its EPS or equity, Terra Nitrogen 'outscores' CF Industries in Buffett's most watched indicator 'cash flow generation.' (See Chart 9)
In Chart 8, a lower depreciation charge for Terra means the business is super competitive, which helps to boost its net margins.
CHART 8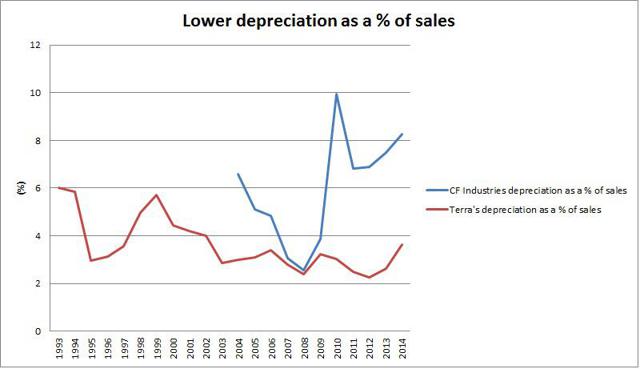 Click to enlarge
CHART 9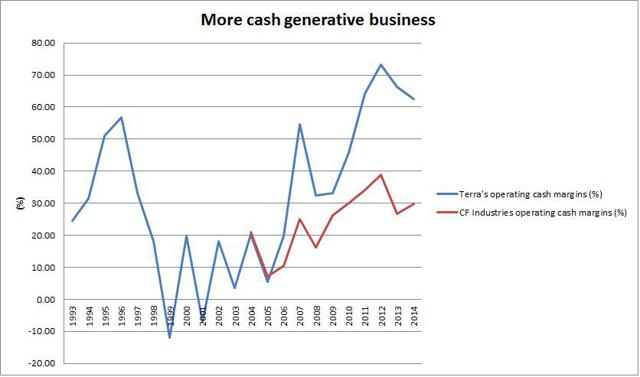 Click to enlarge
We can conclude, that both Chart 8 and Chart 9 tell us that Terra is operating near its optimal level from operating one plant.
Why invest in Terra?
Terra Nitrogen is not a gimmicky business that is always asking shareholders or financial institutions for finance to keep the company as a going concern. It is a real business that generates real income to its partners.
So, how much would you have made by investing in Terra Nitrogen?
Since 1992 (latest data available), if you were to invest $10,000 worth of units in the company for $22.71 each, you would have made $43,056, this equates annual compound capital gain return of 6.55%.
But, include distribution of dividends over the period it worked out to be $122.91/unit cumulatively. Therefore, $10,000 divided by $22.71 = 440.33 units, then multiply by $122.91/unit equals $54,121 in distribution income (excluding taxes).
So from your initial $10,000 you would have made a total of $87,177 in gross profits, giving you a compound annual return of 9.93% (despite stock price falling by 60%).
Does it pass the Buffett test today?
On the P/E and P/B ratio equaling 22.5 or less, Terra comes in at an expensive 49.25, but it passes the liquidity metric with no debt and record a highly liquid current ratio of 3.24.
Another measure Buffett looks at is 'owner's earnings.' And you can see the difference below:
TABLE 2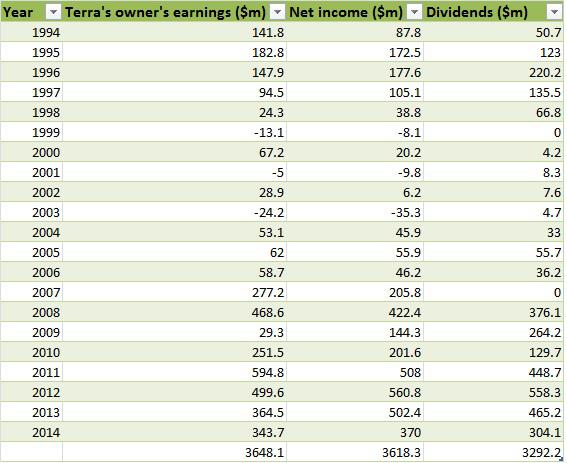 The quality of Terra's owner's earnings is higher than what they reported in net income by a total difference of $30m since 1994. Again the dividends payout speaks to the quality of its business because if a company borrows money to pay dividends, it won't last a long time without the help of cash earnings.
Terra's takeaway
Before you make an informed decision, here are some points to consider:
Pros
1. Terra has no debt and is a highly liquid business; therefore, the business is financially sound.
2. Its main natural gas price is at near record lows helping to improve the company's margins.
3. The demand for nitrogen fertilizer over potash is 2 to 1 in the U.S.
4. The US has to import 45% of its nitrogen-based fertilizers, therefore domestic demand is intact.
5. Population in the world and the U.S. are expected to continue their growth, therefore, demand for corn and wheat consumption will grow.
6. It has net cash of $113m.
7. A dividend of 10% plus is much better than 1% return from the bank (if you are lucky!). However, it depends entirely on how much net income earned.
Cons
1. The company is a partnership, therefore different taxes apply.
2. The strong USD is putting pressure on commodities prices.
3. Terra is a cyclical company so timing your buys crucial.
4. It operates one plant, so an incident would severely harm the business from carrying out its operations.
5. The company's distribution depends on the level of its net income, so don't pay too much attention to its current dividend yield.
Terra's conclusion
The business model of Terra has been highly successful. However, it is the entry point that matters. The company valued at $1.8bn with net earnings LIKELY to come in at $300m in 2015 (last year was $370m, and no analysts have given a forecast).
Based on wheat fetching $185.6 per ton and corn for $169.8 per ton. And in 2016, the wheat and corn market could face further downward pressure if emerging economies face severe economic constraints.
However, with the world population growing, food constraints will be a frequent topic in the media, and given Terra Nitrogen produces one of the cheapest form of fertilizer it has a competitive advantage.
This company is a buy over the long-term.
Disclosure: I/we have no positions in any stocks mentioned, and no plans to initiate any positions within the next 72 hours.
I wrote this article myself, and it expresses my own opinions. I am not receiving compensation for it (other than from Seeking Alpha). I have no business relationship with any company whose stock is mentioned in this article.