Energy Transfer Equity (NYSE:ETE) was massacred last Monday, going down by 41%. There are several reasons given, none of which makes much sense given the steep decline:
Concerns about departure of CFO Jamie Welsh: Energy Transfer Equity CFO Jamie Welch, who helped orchestrate the proposed merger with Williams Cos., will be replaced by Energy Transfer executive Thomas Long. The lack of clarity around Jamie Welch's departure seems to have initiated the fierce selling in ETE shares.
Fears from Chesapeake bankruptcy: Chesapeake Energy (NYSE:CHK), a Williams Cos. customer, has reportedly hired lawyers to help restructure a $9.8 billion debt load.
Concerns about possible payout reductions.
It seems that nervous investors are shooting before asking questions. Let us have a look at some facts:
Chesapeake Energy Corporation said it has "no plans" to file for bankruptcy, and it has hired the law firm Kirkland & Ellis to improve its balance sheet through restructuring. Despite this, CHK share also tumbled 33% on Monday. Energy Transfer Equity did not have a direct exposure to CHK until its recent plans to merge with Williams Companies (NYSE:WMB). Chesapeake represents about 20% of Williams' revenue, while the exposure for the merged entities will be much lower. If we make a rough calculation based on the revenues of ETE and WBM, the combined exposure to CHK comes out to around 3% of revenues. Assuming Chesapeake goes bankrupt, which is still farfetched, does this justify a 42% decline in ETE shares?
The management of ETE remains strong with its Chairman Kelcy Warren and its president John McReynolds who effectively run ETE. CEO and cofounder Kelcy Warren has always been regarded as a visionary in the field and initiated a string of high-profile acquisitions that has helped Energy Transfer regain momentum. His management skills also led to the Company broadly diversifying its cash flow.
The merger between Williams and Energy Transfer, if it goes through, will result in new revenue opportunities; achieve operational efficiencies and a rationalization of capital expenditure. The combined entities, as reported by Energy Transfer, will generate $2 billion in annual synergies per year through 2020, representing roughly 20% of pro-forma EBITDA.
The price decline in ETE seemes to have been fueled by nervous investors overreacting due to the current high volatility and the steep declines in the US and global markets (S&P down by 3% the past week). Fear of further declines in crude prices (NYSEARCA:USO) could be at play, which is still a possible scenario in the short term.
ETE Trades at Bargain
Taking aside the current headwinds -- resulting from lower oil prices -- we cannot deny that the stock of Energy Transfer Equity trades today at a bargain valuation, with a price of $4.30 per unit, a stunningly low forward PE of 2.7 and a projected dividend yield of 28%. The Company remains a solid one generating a 38% operating Earnings yield, and is not even facing a major distribution cut. ETE owns the general partner and the incentive distribution rights of Energy Transfer Partners (NYSE:ETP), which is considered to be a cash cow.
The Future of MLPs remains closely tied to Oil Prices
Ultimately, one should look at the fundamentals driving revenues and distributions of MLPs, being the price of oil and volumes transported, both of which closely tied to the price of crude oil (NYSEARCA:OIL).
Bottom line: Oil supply and demand are expected to reach a balance by the end of 2016, and crude inventories to face declines in 2017 as per the Chart below posted by the Energy Information and administration (EIA) in its January 2016 report: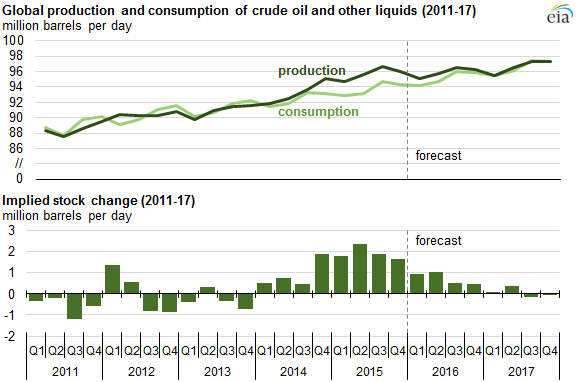 If we add to the above crude price at $50 per barrel a year from today (price consensus by both major banks and the EIA), the outlook is pretty good for the Midstream companies in the medium and long term.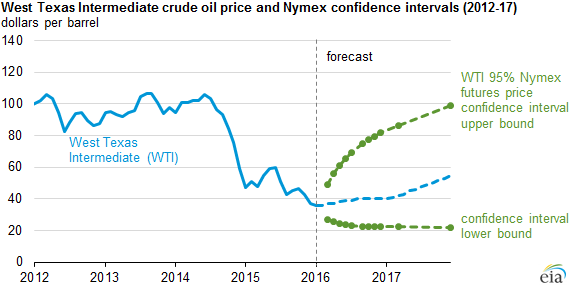 At $50 a barrel, midstream companies will get a huge bump in their revenues, while North American drillers will be able to stay afloat until new drilling is required to meet expanding demand -- expected to happen in 2017.
As for ETE, its current bargain price is unlikely to last for long. Its price was up 13% on Tuesday. Other MLPs prices that went down this week in sympathy and worth having a look at include: Spectra Energy Partners (NYSE:SEP), Enbridge (NYSE:ENB), and ONEOK Partners (NYSE:OKS).
This article was brought to you by Rida MORWA, editor of Retire with High Dividends.
Retire with High Dividends Portfolio:
A "Buy Alert" for ETE was issued yesterday to the subscribers of Retire with High Dividends. The stock at the time was trading at $4.38.
Retire with High Dividends is a newsletter dedicated to bring investors the most profitable and newest high-dividend ideas. For a free trial membership click here.
Disclosure: I am/we are long AMLP, ETE.
I wrote this article myself, and it expresses my own opinions. I am not receiving compensation for it. I have no business relationship with any company whose stock is mentioned in this article.