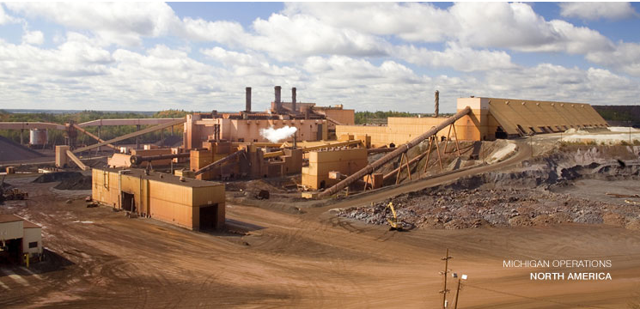 Click to enlarge
I've recently covered Cliffs Natural Resources (NYSE: CLF) quarterly earnings report and stated that it was bullish for the company's shares. Since then, Cliffs' stock enjoyed a bounced together with other commodity names but soon found itself under pressure as the original optimism faded. In this article, I will present my views on the longer-term viability of the company's business together with thoughts on the fate of its Australian segment.
Australian mines
During the quarterly earnings call, Cliffs' CEO Lourenco Goncalves stated that he will not allow the situation when the company's Australian mines will be a drag on EBITDA. This is a very important topic as the Australian segment is the last company's segment that depends on the health of the Chinese economy after the divestment of coal mines and Canadian assets.
The seaborne iron ore pricing is pitiful and, in my view, will remain challenged until Vale (NYSE: VALE), Rio Tinto (NYSE: RIO) and BHP Billiton (NYSE: BHP) recognize the defeat of their current strategy and change it.
So far, there were no signals that any of the big three iron ore producers was ready to admit that flooding the world with supply in hope for eternal Chinese growth was a big and extremely expensive mistake. In this light, the only factor that could provide short-term support for iron ore prices is the weakness of the U.S. dollar (NYSE: UUP).
The U.S. dollar was under pressure in recent days, but I won't draw long-term conclusions from the several days' trading action. I do not expect major weakness in the U.S. dollar due to the relative strength of the U.S. economy compared to peers, and thus I don't expect any significant support for iron ore prices from the U.S. dollar.
As the latest report showed, Cliffs' Australian segment became more sensitive to iron ore price downside and could become a drag on the company's cash flow if prices fall further. The amount of cost-cutting done at Australian mines was spectacular, but there is a limit to every process.
Judging by the CEO's comments, Cliffs will possibly try to shut down aging Australian mines in case of additional iron ore price downside. Will see whether it's a viable plan or not if iron ore prices drop further, but so far Cliffs' lived up to its promises.
The long-term view
Now let's turn to the long-term viability of Cliffs current business model. Ultimately, the Australian mines will be gone and Cliffs will have only its U.S. assets. These assets must provide enough cash flow to service the company's debt.
Lately, the company has announced a debt exchange offer, providing an opportunity to exchange existing bonds for newly issued 8.00% 1.5 lien senior secured notes due 2020. I think that the 8.00% interest rate is a good guide to what Cliffs could expect in the current market. Using this rate, we might calculate how much debt can the company afford in the current market environment.
Let's start with assumptions. I will not incorporate any demand growth assumptions in this calculation. The current pellet demand seems to be 17.5 million tons for Cliffs, so I will use this number. The company has a potential to produce and sell more than this, but I think that it's better to be conservative.
The company's cost guidance for 2016 implies cash costs of $50 - $55 per ton for its U.S. segment. I think that the midpoint of this guidance will do the job. Also, I'll use the lowest realized price assumption from the Cliffs 2016 guidance - $71 per ton of pellets.
At 17.5 million tons of production and sales, Cliffs' U.S. assets will be producing $342 million of cash. With this cash, the company will have to pay for capital expenditures, interest expenses, SG&A expenses, idle expenses and other costs.
Using the company's own expectations of capex, SG&A, idle expenses and adding a little for conservatism sake, I arrive to the conclusion that Cliffs' U.S. segment can sustainably support $150 million of annual interest expense. At an 8% interest rate, Cliffs' could support $1.875 billion of debt.
Is this number achievable? I think that the answer is yes. The company finished the fourth quarter with $2.7 billion of debt, which could be cut by almost $1 billion if the debt exchange offer is executed fully. If the debt exchange offer is not executed fully, I expect that the company will perform additional attempts at exchanging current debt for newly issued notes.
In my view, the resulting structure is rather stable and provides the opportunity to profit from any upside in the domestic steel market. While Cliffs' share price may stay depressed for a prolonged period of time, the business passed through the most dangerous time.
In a last moment effort, Cliffs cut its exposure to China and is on track to build a capital structure which could be sustained during the low part of the current steel market cycle. Importantly, this capital structure could be reached without the wipeout of current shareholders.
I believe that the company's shares will be very sensitive to any positive news this year, as Cliffs proved its ability to operate at rock-bottom prices. In my view, further downside may be fueled by the total collapse of the U.S. steel industry. If you believe that this will happen in reality, U.S. Steel (NYSE: X) has more room to fall under the worst-case scenario. However, I see no factors that point towards the doomsday scenario and I am bullish on Cliffs.
Disclosure: I am/we are long CLF.
I wrote this article myself, and it expresses my own opinions. I am not receiving compensation for it (other than from Seeking Alpha). I have no business relationship with any company whose stock is mentioned in this article.