During the 4th Quarter earnings call on Jan 28, Kevin Plank, CEO of Under Armour (NYSE:UA), said this:
"I want to wish you all a belated Happy New Year and wish those in China an early, Guonian Hao."
Not that there he meant to exclude all other countries, mind you, but it underscores the success that his company has had in China - and the forward focus of UA's international business.
The company earned nearly 86.7% of its revenue from United States in the most recent quarter and, if things go as per plan, it will reduce that dependency to 82% by 2018 - still a significant quantum of sales, but a healthier distribution nonetheless.
Under Armour's U.S. Footprint
Of note - to me - from the 4Q 2015 earnings call was Plank's comment about distribution points. Not one to drop names inappropriately, he referred to their "biggest competitor" having 23,000 distribution points in North America alone; he also noted that UA's own network consisted of 11,000 points.
To me that's an indication that two things are on Plank's mind at the moment:
What are UA's numbers with respect to Nike's (NYSE:NKE), like for like?
Where do the opportunities for growth in the U.S. lie?
On the first question, yes, Under Armour definitely needs to measure themselves against several yardsticks that Nike has created in the sportswear industry. But it's the second question that intrigues me to no end. What is the UA of the future going to look like? Will they be a copycat of the very company they strive to topple from pole position? Or will they position themselves differently while they are still small and nimble?
I believe it's a combination of both. On the one side, celebrity endorsements are a big part of UA's marketing arsenal just as it is with Nike. On the other, the former seems to be aggressively focusing on pushing its products directly to the public rather than via multi-brand or exclusive stores.
While both are showing signs of success, there's only one thing that can really tell us how big of an impact these initiatives have - and it's called numbers.
Read on to see where I think Under Armour has already earned an edge over Nike in key business areas...
Footwear
Under Armour looks like a kid trying to play a big man's game when you compare their athletic footwear market share against Nike's. In 2015, UA's entire footwear division brought in $677 million, accounting for 17.7% of their net sales, while Nike's North America Footwear division alone brought in $2.16 billion just during the second quarter that ended in November 2015. UA's global footwear sale for a year is less than a third of Nike's quarterly sales in North America.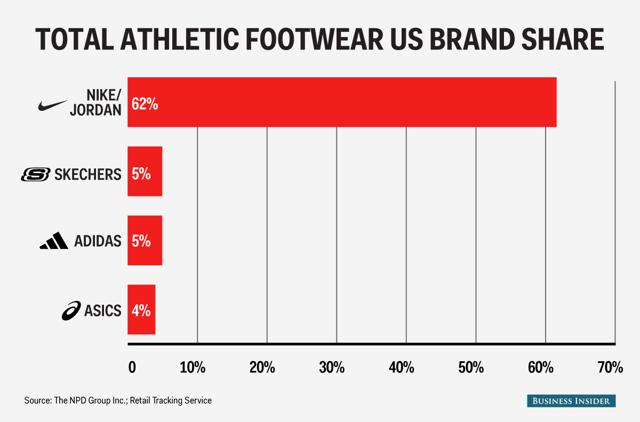 Click to enlarge
Source: Businessinsider, May 2015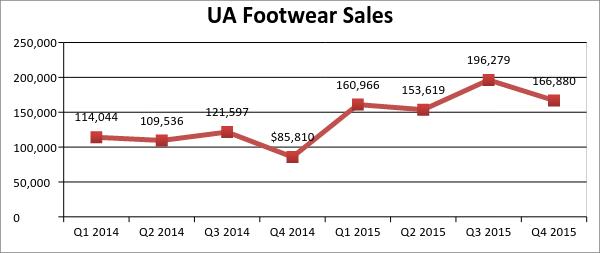 But, see, here's where I think UA has the edge: although Nike has this market in a stranglehold, its success hinges on two key personalities: Michael Jordan and his brand, and LeBron James - who may well have his own brand of basketball shoes in the near future. This is where UA deviates from the standard formula: to hedge its bets, it has signed up celebs from various sports - Stephen Curry for basketball, Andy Murray for tennis and Cam Newton for football, to showcase just three of them.
Even though Nike does support other sports, their focus on basketball overshadows everything else they do. In fact, they're doing it in China as well, highlighted by the basketball legend's visit last year.
From an industry segment perspective, footwear sales have been growing at a steady rate - an indication that there's still more than enough room for UA to get a foot in, in a manner of speaking. They're only scratching the surface here, and a lot depends on how they build their brand around the sports celebrities they're using to tackle each sports segment. The fact remains that this is not a market that can be saturated; though the players are many, the market keeps growing to accommodate nearly any new line thrown at it by sports footwear companies.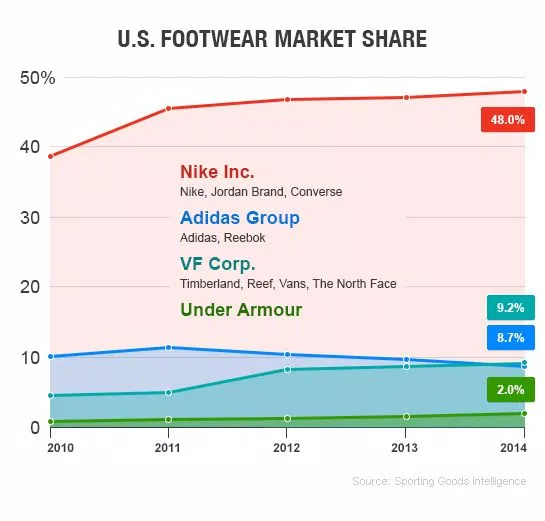 Source: Fortune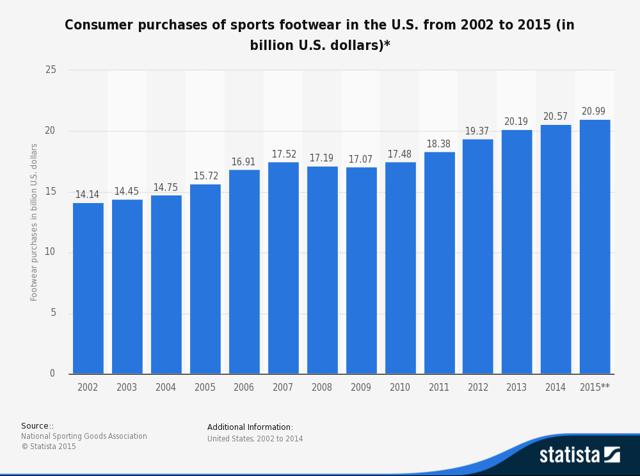 Click to enlarge
As you can see from the graph above, this is not a market that buckles under severe pressure - even one brought on by a major global recession. The dent made by the recession in terms of sales was a mere bump in the road as far as sports footwear goes.
Online Sales and Direct-to-Customer
Under Armour's strategy to make its products available easily to direct and online customers is something else that I find will give them an edge in their battle against Nike. The fact that they've been aggressive about it leads me to believe that they find it to be a viable long-term sales channel. A quick look at the graph below shows you how they've been faring in that area: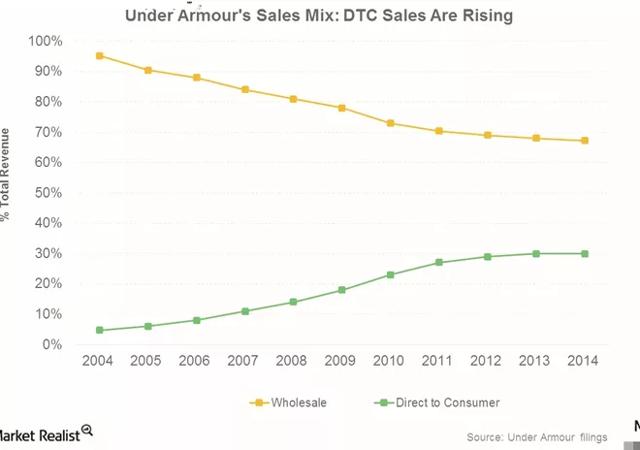 Click to enlarge
Ecommerce is a tricky business, but it gives new entrants to the market a considerable advantage over established players. The only things that matter here are the online ordering experience, product quality, shipping time and, of course, the brand value offered. UA has the last - albeit in a smaller measure than Nike.
To be fair, though, Nike is no slouch in this area either.
According to internetretailer.com, this is what Nike reported for last year:
Web sales increased 55.1% to $1.19 billion from an Internet Retailer estimated $767.0 million in fiscal 2014.
Direct-to-consumer sales, which include the web and stores, increased 25.1% to $6.63 billion from $5.30 billion.
The web accounted for 3.9% of sales compared with 2.8% in the prior year.
Compare this with online sales for Under Armour:
For 2015, direct-to-consumer revenue accounted for 30% of total revenue of $3.963 billion, or $1.19 billion, up 27.1% from $936.2 million last year.
Is it a coincidence that both companies hit a billion dollars in the same segment in the same year? Perhaps, but my point is this: UA is a tenth the size of Nike right now in terms of annual revenue, but their direct to consumer contribution to overall revenue is already 50% more than Nike's.
As of 2015, Nike made nearly six times more than UA from DTC sales ($6.6 billion against $1.2 billion.) When Nike hits their $50 billion target - assuming a steady growth rate in DTC - the DTC portion will be around $10 billion. UA's 30% will, by then, will have grown to something in excess of $2.5 billion (based on their $8 billion target by 2018), and Nike's earnings from DTC will only be four times that of UA's.
How long before Nike's DTC sales are only twice that of UA? Indeed, how long before UA matches Nike's online sales dollar for dollar?
As ecommerce blooms in the coming years, I believe this will be an additional edge that UA badly needs against its Number One competitor in the United States.
Investor Thesis
First off, Under Armour isn't going to be breaking Nike's stranglehold on the sports footwear business in the United States any time soon. Their celebrity-centric brand strategy is very similar to Nike's, but UA may not be as lucky to have all the stars aligned just right - the way Michael Jordan and Nike synergized back in 1984. Air Jordans are now into their 30th edition - to be officially launched this year.
UA has yet to make its mark in the celebrity-based sales arena, and I think they're going to need some magic with Stephen Curry and his co-celebs to make that happen. Nevertheless, I strongly hold that UA's breakthrough in the sporting shoes market is not going to come from one phenomenon such as Curry. I believe it will be an aggregate of gains they make in multiple sports in multiple markets. That's where the real edge is. Nike is way too dependent on the success of its Jordan brand to see beyond that. UA is, hopefully, not as "distracted by success" as Nike seems to be.
On the DTC front, we've already seen how quickly UA is catching up to Nike. International, online and direct sales, as I see it, are going to be the main sales drivers for UA in the long run. Watch those numbers carefully as Plank and his team negotiate their way around the lion's lair and make a path to a future dominated by Nike on one side and Under Armour on the other. Would you like a Pepsi, Mr. Coke?
Disclosure: I/we have no positions in any stocks mentioned, and no plans to initiate any positions within the next 72 hours.
I wrote this article myself, and it expresses my own opinions. I am not receiving compensation for it (other than from Seeking Alpha). I have no business relationship with any company whose stock is mentioned in this article.