Hopefully, this article will help you increase your wealth.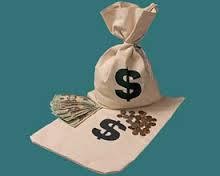 When you see some stocks take dramatic nosedives, you really have to wonder about their performance going forward. However, the recent nosedive of HubSpot (NYSE:HUBS) seems far overdone. I believe HUBS itself will put the lie to its current down move when it reports earnings after the market closes on February 10, 2015. The chart below gives investors/traders a good idea of how good a rebound opportunity this may be: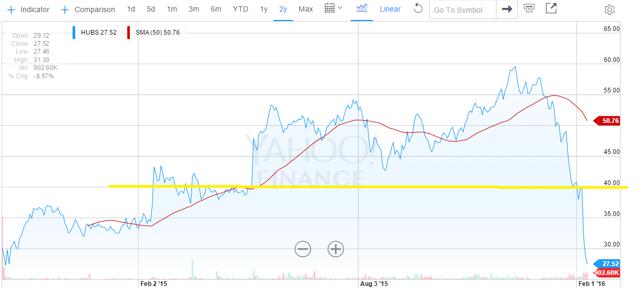 Click to enlarge
Before the beginning of 2016, HubSpot had been in a strong uptrend. The company fundamentals seemed to strongly support that uptrend. Fundamentally, there was no reason for the stock price to be cut in half within a month or two. Yet, it has been. The last part of the down move appears to have been strongly influenced by the earnings report of ServiceNow (NYSE:NOW).
ServiceNow reported earnings on January 27, 2016. It beat on both EPS and revenues. However, it reported a billings miss of about -$5 million; although at $365.7 million, NOW's billings were still a healthy +33% year over year for Q4 2015. In addition, FY2016 revenue guidance was weaker than consensus guidance of $1.37B at $1.34-$1.37B. Mizuho and MKM both responded by downgrading the stock to neutral. HUBS's last leg downward seems to have been at least partially mediated by NOW's miss and the technology rout in general. I don't believe HUBS deserved to be treated that way by the market. I am not even sure it deserved the first big leg down as the market fell.
The following is a brief description of what HubSpot does:
"HubSpot, Inc. provides a cloud-based inbound marketing and sales software platform for businesses in the United States, Ireland, and Australia. Its software platform consists of integrated applications, such as social media, search engine optimization, blogging, Website content management, marketing automation, email, and analytics and reporting that enable businesses to attract visitors to their Websites, convert visitors into leads, and close leads into customers. The company also provides professional and support services."
HUBS is headquartered in Cambridge, Mass., where it can easily attract talent from MIT, Harvard, and a plethora of other top local universities such as Tufts, Boston University, Boston College, Amherst, and Brandeis University to name just a few. Such talent doesn't ensure success, but it makes it a lot more likely. This probably doesn't give it a huge advantage over ServiceNow, which is headquartered in Santa Clara, CA, in the heart of the Silicon Valley (near both Stanford and UC Berkeley - the Ivy League of the West Coast).
HUBS does get the advantage on the product being supplied. NOW supplies a product that mainly deals with incident service such as incident management, change management, problem management, request management, cost management, etc. While these are all important services, they still pale in comparison to marketing/selling, which is the main thrust of HUBS's product(s). Even in a recession (or perhaps even more so in a recession) companies have to sell their products. If a company like HUBS can help a company increase its sales, it will have to spend on that product even in a recessionary environment. The phrase "do more with less" also comes to mind. Marketing organizations will want to become leaner in a recession. Companies will be much more likely to cut back or defer spending on the services NOW supplies - advantage HUBS.
HubSpot is more of a direct competitor with Salesforce.com (NYSE:CRM). It too has seen its stock fall dramatically (see chart below).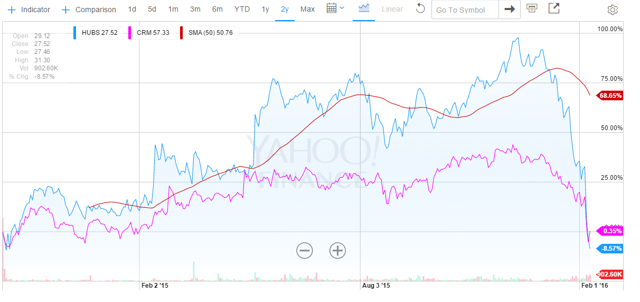 Click to enlarge
The purple line in the chart above is CRM. The teal (blue green) line is HUBS. CRM has fallen, but it has not fallen nearly as much as HUBS. This does not seem valid, except for the idea that CRM is a bigger, more stable company. Plus they are not completely at odds with each other. HUBS product allows for the use of CRM products. However, it does provide good services on its own, and many customers seem to think that the way these services fit relatively seamlessly together is highly preferable to the mishmash of products that CRM has put together largely by buying other companies.
HUBS seems to have learned from CRM's experience, and it has constructed a flexible, extendible product with great base functions. It has also had the advantage of designing and implementing it "in-house" with consistent tools, languages, operating systems, etc., and with top engineers from the excellent nearby colleges. Logic tells one that HUBS base product should be far superior to the many different companies' products that CRM has had to glue together somehow. The user interfaces have to be more consistent and easier to learn. That should translate into less training time. It should be easier to add new products onto a base that is well designed for that. Again the updates should be easier, and the learning curves for users should be much more rapid.
The following review of HUBS product is from an independent review company. It should give readers an idea of why HUBS should be able to continue its good growth. It may also be able to take customers away from Salesforce.com.
"HubSpot software gathers together the essential elements of digital marketing and puts them to work in a unified process called inbound marketing, which is much more powerful than using elements like social media, email marketing, analytics on their own. I have been in digital marketing since 2000 and HubSpot is my favorite tool.

In a nutshell, HubSpot has freed my time from getting tools to work and gathering data to easily seeing and sharing campaign results and improving strategy. Strategy is where the value in digital marketing lies. Other marketing software can be heavy on technological implementation, while HubSpot implementation is about learning how to start deploying campaigns that generate results."
Of course, Salesforce.com's products have their admirers too. However, there are myriad complaints about CRM that don't seem to be nearly as prevalent with HubSpot. CRM touts its ability to let customers customize the product to their own taste. It touts the huge number of available apps - many of which are free. However, users complain that they have to spend a huge amount of time redoing all customizations and custom data whenever a new version of a Salesforce product is released. HUBS doesn't have this problem (or perhaps it is just an order of magnitude less with HUBS). Marketing organizations have to consider that customization means more training time. Often it will mean training time without documentation. This is a significant expense. Marketing can be political; and marketers can burn out. Significant turnover every 2-3 years is not uncommon in a marketing organization.
Further some users complain that Salesforce.com disappears after they have made their sale. They do not think much of their customer service. Others note that CRM does not try to sell Service Level Agreements, which guarantee a specific amount of uptime. Apparently, a significant number of customers experience much more downtime of their CRM systems than they would like. Many complain CRM products are expensive.
HUBS has a base product that:
Is more seamless (more user friendly and easier to learn);
does most of the functions a lot of people want;
is less trouble when new updates come out; and
is cheaper than the equivalent CRM products.
HUBS may be able to take significant business away from CRM and other competitors. Thus, HubSpot can expand with new customers it develops. Plus it can take business away from other competing platforms with a better user experience (and lower cost than some).
Another significant point is that HUBS has an average analysts' five-year EPS growth estimate per annum of 42.10%. This is great growth. Further, the company has beaten earnings estimates for each of the last four quarters by an average of almost 17%. Another beat is most likely coming for Q4 2015. That should help the stock rise. The likely fantastic growth number should help too.
In Q3 2015, revenue rose 57% year over year; and margin rose +8% year over year. This last is a very healthy sign. Subscription revenues were up 59% year over year; and even the average subscription rate was up 16% year over year. This last seems to indicate that HUBS has a popular product. Professional Services revenues were up 37% year over year. CEO Brian Halligan said on CNBC when Q3 2015 earnings came out in early November that HUBS is not seeing any signs of a slowdown. Hopefully, this remains true. Even if it is not, it seems likely that HUBS will see only a small slowdown. After the NOW announcement, this should not engender any further selling. In fact, HUBS should still rise.
With a rebound in mind, the $40 per share level looks like a good technical point for HUBS to rally too (see chart above). It closed at $27.52 per share on February 9, 2016. CRM will likely rally too. However, HubSpot has a lot more room to the upside. It is a buy before earnings. I like it as a long-term investment. I believe in the company. Users like the product; and marketers (the users) can be very critical. Thus, HUBS is a very good product. I have not used it myself; but I have been a marketer. What I hear about it impresses me.
Remember also that the FPE will move from referencing FY2016 to referencing FY2017 with the Q4 2015 earnings report. It is possible that HUBS will guide for actual positive EPS results for FY2017. If that happens, the stock may move up a lot. If it doesn't, HUBS's management seems likely to hint that actual positive EPS will happen in FY2018. Even that should be a positive for the stock price.
The chart below tends to reaffirm that HUBS has been growing nicely: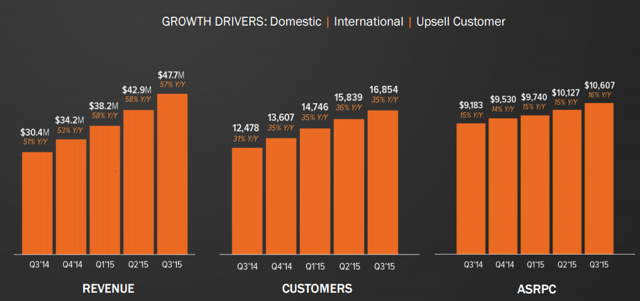 Click to enlarge
With this kind of revenue growth, customer growth, and average subscription revenue per customer growth, it is hard to see the company having significant problems in the near future. CEO Halligan was practically giddy when he talked about the Q3 2015 results and the outlook. I don't expect a change for Q4 2015. HUBS's total debt/total capital is only 0.49%. It does not have a debt problem. Therefore, it should be able to get loans for any money needs it encounters even in a recession. Likely, stock offerings will take care of this. With HUBS's growth outlook, even those should go well in a tough environment.
I am not sure if you want to make an options play on HUBS over earnings. However, I do view the company as a good long-term investment. The stock is far oversold. The RSI is at 17.18 (far below the 30 level usually used for oversold conditions). The Stochastic Oscillator shows it far oversold at 2.76. Bollinger Bands show it far oversold. Technically, HUBS almost has to go up.
Fundamentally, one expects a good to great earnings announcement from HUBS. I would not be surprised to see conservative guidance for FY2016. However, after the recent stock market fall, this is probably baked into the earnings report expectations. Any positive surprise seems likely to result in upside stock price movement. HUBS is a BUY before earnings. It should be a great long-term performer. There is a great call for SaaS marketing tools, especially well-liked ones. When you can get HUBS at half the price it was selling for in the late fall, it is a bargain. If you want to just "play earnings," it is probably a good stock to do that with too. As of January 15, 2016, HUBS was shorted by 8.55% of its float. That makes an upward pop on earnings just that much more likely. It makes a large pop upward more likely too.
Note: Some of the fundamental fiscal data above is from Yahoo Finance.
Good luck trading/investing.
Disclosure: I/we have no positions in any stocks mentioned, but may initiate a long position in HUBS over the next 72 hours.
I wrote this article myself, and it expresses my own opinions. I am not receiving compensation for it (other than from Seeking Alpha). I have no business relationship with any company whose stock is mentioned in this article.