Is the populous attack on Goldman Sachs (NYSE:GS) hurting the stock? In a word, for those with limited attention spans: yes. That said, Goldman Sachs Group, Inc. has been around for a long time, and it will continue to be around for a long time no matter who is in the White House, but will it continue to grow under all the increased public scrutiny? The answer may be no, at least for the upcoming election year.
Second, Goldman's reputation is damaged, there's no getting around that. Hank Paulson went from being Goldman's Chief Executive to becoming the Treasury Secretary in 2006. The man is credited with running the economy during Bush's infamous last year in office and orchestrating the big "bail out" of AIG, Goldman's most important counterparty at the time, rather than Lehman Brothers. Public perception is that Paulson had his own agenda and that agenda was connected to saving Goldman Sachs, not the United States. I'm not judging Paulson — the Treasury and Goldman have had an incestuous relationship for years — but his motives did seem self-serving, which has hurt Goldman's reputation.
Third, and this is important, America needs to see Goldman has its day in the court of public opinion. They want to see some sort of retribution for the bank's contribution to the Great Recession. Here's an excerpt from a recent New York Times article entitled "Goldman to Pay Up To $5 billion to Settle Claims of Faulty Mortgages":
More than seven years after the worst of the financial crisis, Goldman Sachs is again paying a price for the role it played. The Wall Street firm said on Thursday it had agreed to a civil settlement of up to $5 billion with federal prosecutors and regulators to resolve claims stemming from marketing and selling of faulty mortgage securities to investors.
Bank of America (NYSE:BAC) and JPMorgan Chase (NYSE:JPM) were fined $16.6 billion and $13 billion, respectively, in settlements related to their roles in the mortgage crisis. Goldman's $5 billion settlement sounds a pittance in comparison, but Goldman's role was somewhat smaller in scope (while not reach) because it dealt with mortgage backed securities rather than the origination of loans.
Supposedly, $2.3 billion will be paid out as civil penalties, $875 million in cash and $1.8 billion in relief to consumers. It remains unclear how exactly this will be distributed. The question is, will it be enough blood for the people?
The Politics
America needs to hear that Goldman Sachs has been punished. The bank has been turned into the evil big brother of Wall Street, by Presidential candidates no less. Bernie Sanders and the CEO of Goldman are having it out publicly after Sanders accused Hillary Clinton of consorting with the enemy by accepting speaking fees from Goldman Sachs. Here's an excerpt from a recent Fortune article describing the situation:
The main thrust of Bernie Sanders' insurgent campaign against Clinton has been that the former Secretary of State-and the rest of the Democratic establishment is too close to the finance industry. Her relationship with Goldman Sachs, the bogeyman of the anti-Wall Street crowd, has been particularly controversial.
In the most recent development, Elizabeth Warren has come to Sanders' aide in the International Business Times:
When Blankfein [Goldman's CEO] says that criticizing those who break the rules is dangerous to the economy, then he's just repeating another variation of 'too big to fail,' 'too big to jail,' 'too big even to prosecute,'

That tells you here we are, seven years after the crisis and these guys still don't get it. Seven years. That crisis cost an estimated $14 trillion, it cost jobs, it cost homes, it cost retirement funds.
What could have elicited this kind of response from Elizabeth Warren, one of Janet Yellen's weekly lunch buddies. Well, I'm building up to it because I was a little shocked to hear the interview myself. I don't generally mix politics with investing but Blankfein is making that difficult. Here's an excerpt from his first interview after disclosing his lymphoma diagnosis with CNBC's "Squawk Box" on February 3rd:
I DON'T TAKE IT PERSONALLY SINCE WE NEVER MET [referring to Bernie Sanders]. ANOTHER KID FROM BROOKLYN HOW ABOUT THAT. IT HAS POTENTIAL TO LOOK TO PERSONALIZE IT. IT HAS POTENTIAL TO BE A DANGEROUS MOMENT. NOT JUST FOR WALL STREET, NOT JUST FOR THE PEOPLE WHO ARE PARTICULARLY TARGETED BUT FOR ANYBODY WHO IS A LITTLE BIT OUT OF LINE. WE HAVE A MOMENT IN TIME WHERE PEOPLE ARE -- IT'S A LIABILITY TO SAY I'M WILLING TO COMPROMISE, I'M GOING TO GET ONE MILLIMETER OFF THE EXTREME POSITION I HAVE AND IF YOU DO YOU HAVE TO BACK TRACK AND SWEAR TO PEOPLE THAT YOU'LL NEVER COMPROMISE. IT'S JUST INCREDIBLE. IT'S A MOMENT IN HISTORY. EVENTUALLY PEOPLE, THE ELECTORATE WILL NOTICE NOTHING IS GETTING DONE AND SOMEBODY WILL COME UP WITH A NEW IDEA OF SAYING HEY SEND ME TO WASHINGTON AND I'LL COMPROMISE AND I'LL GET THINGS DONE AND THAT WILL BE THE NEW NEW THING AND EVERYBODY WILL RALLY TO THAT POINT. THERE'S A PENDULUM THAT SWINGS IN MARKETS AND ALSO IN THE POLITICAL ECONOMY AS WELL. BUT RIGHT NOW IT'S AN ODD MOMENT IN TIME. COULD YOU IMAGINE WE COULD EVER HAVE A COUNTRY IF THE JEFFERSONS AND THE HAMILTONS, JUST CAME IN THERE WITH A TOTAL PLEDGE AND COMMITMENT TO NEVER COMPROMISE WITH THE OTHER SIDE?

SORKIN: DO YOU THINK WALL STREET OR THE BUSINESS COMMUNITY SHOULD BE WORRIED ABOUT BERNIE SANDERS OR IS? WHEN YOU SEE THE COMMENTS. I'M JUST CURIOUS WHAT THE REACTION IS. I'M ASSUMING YOU'RE BACKING HILLARY CLINTON.

BLANKFEIN: YES, YOU'RE ASSUMING IT. I DON'T WANT TO HELP OR HURT ANYBODY BY GIVING THEM AN ENDORSEMENT.

KERNEN: I WOULD PHRASE IT DIFFERENT THE YOUNG PEOPLE IN THIS COUNTRY ARE SUPPORTING A SOCIALIST. SUDDENLY WE FORGOT SOCIALISM DOESN'T WORK. I'M READY TO FIRE ALL THE ACADEMICS AT ALL THE UNIVERSITIES AND SEND MY DAUGHTER TO BRIGHAM YOUNG OR LIBERTY OR SOMETHING.

QUICK: IT IS PROBABLY A REFLECTION OF THESE PEOPLE GROWING UP AFTER THE FINANCIAL CRISIS.

KERNEN: I DON'T KNOW WHAT IT IS A REFLECTION OF BUT SOCIALISM DOESN'T WORK REAL WELL. LIVES ARE NOT REALLY IMPROVED BY IT.

BLANKFEIN: YOU KNOW WHAT THE BEST REAL TIME CONTROLLED EXPERIMENT IS I WENT TO CUBA
Seriously?
First, let me say congratulations to Blankfein for fighting his diagnosis. Health is true wealth and we were all happy to see him well again after treatment. As I sat nodding my head in appreciation for what this brave man had endured and his ability to get back out there, I was blindsided by the politics of the conversation. Somehow it morphed into a discussion about the lack of compromise in government and the evils of socialism? It seems the CEO of Goldman has a lot on his mind, but this may not be the appropriate time to voice that opinion. I'm all for having an opinion, but not on CNBC Squawk Box and not after the country needs to see you on your knees for a bit. You are the CEO of Goldman Sachs, not Kanye West.
So, net/net, Goldman's reputation is a big fat "to be determined", and that will weigh on its brand for the general public. It could increase pressure from regulators and prompt additional lawsuits. In particular, it may impact engagements if clients feel the Goldman "stink" is sticky. JP Morgan Chase actually beat Goldman Sachs in investment banking growth in 2015.
So how is the company performing? Let's take a look at Q4.
Goldman's 2015 Performance
According to the Q4 press release, Goldman Sachs reported net revenues of $33 billion and net earnings of $6 billion for 2015. Diluted earnings per common share were $12.14 compared with $17.07 last year.
Taking a closer look at revenues, financial advisory, Goldman's claim to fame, was up 40% last year even though both equity and debt underwriting were down by 12% and 10%, respectively. Debt underwriting makes sense, but there's no reason Goldman Sachs should be down 12% in equity underwriting.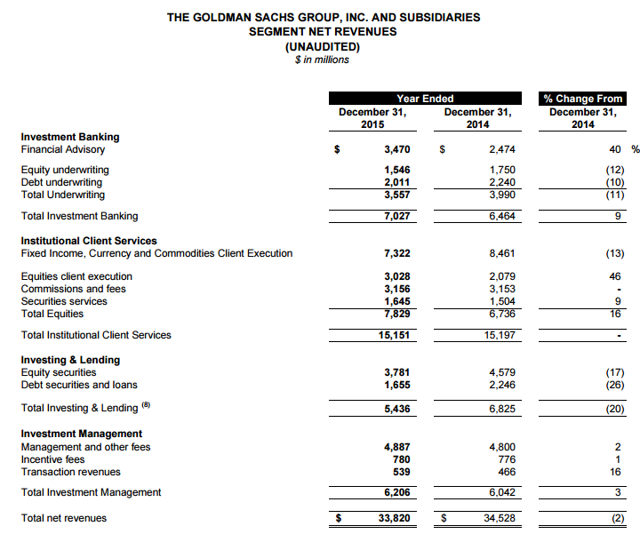 The larger concern is the Fixed Income, Currency and Commodities Client Execution Group within Institutional Client Services which declined by nearly $1 billion or 13%. This also represents the largest revenue group, making more than the entire investment banking group combined in 2015. The Equities Client Execution group made up for the slack by increasing $1 billion or 46%. Net/net the bank was still down almost $1 billion from last year or 2%. Can the CEO really afford to be making political statements right now?
When we look at the expense side of the equation it doesn't get much better. I'm speaking principally about other expenses or legal and regulatory expense. Like investment banking engagements, these are expenses that can increase due to pubic appetite (think Billions, the new show on Showtime about an attorney general that goes after a Goldman-esque company due to increased public outcry) and we don't need the CEO to add to the furor by making an enemy of either party.
I've highlighted the "other expenses" line item below--this is where legal expenses are housed. In total, net earnings were down 28% over last year and Q1 will look a lot like 2015 as the rest of the settlement is expensed.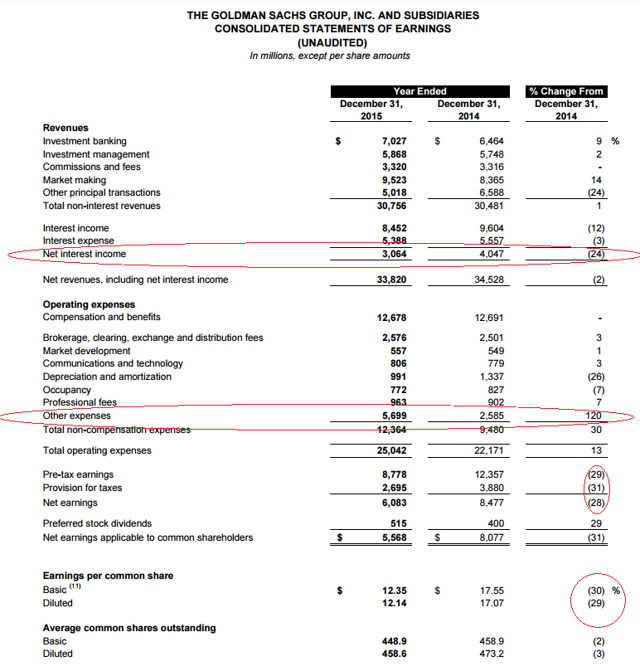 During 2015, GS expensed $3.37 billion ($2.99 billion after-tax) for the settlement with the RMBS Working Group, which reduced diluted earnings per common share. Without that settlement earnings would have been $17.23, barely a 1% increase over 2014. Still, that increase would not have come from revenue, but expense controls.
This trend has been getting worse over the last year as you can see from the Etrade earnings chart below.

As earnings have struggled, the stock price has followed suit. JPM, which is also mired in legal troubles, made half as much per share, but has 7x more shares outstanding.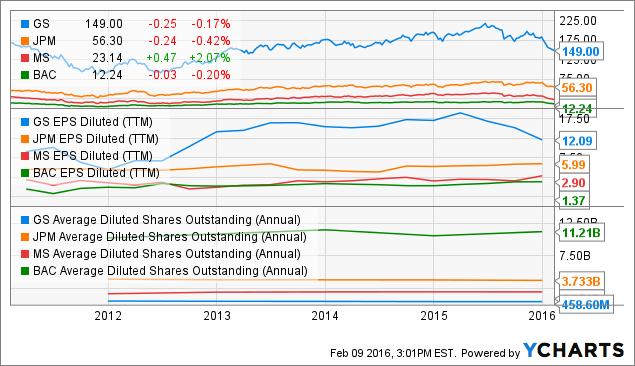 For context, if Goldman had the same number of shares outstanding as JPM its EPS would be $1.49 instead of $12.14, just slightly above BAC. This is one reason I like to use ROA and ROE to compare performance rather than PE. From this perspective GS is struggling.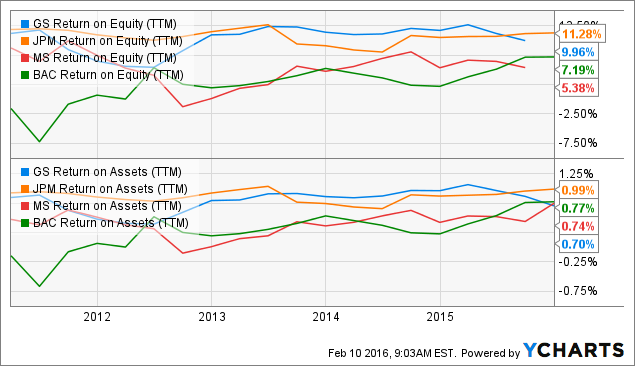 Conclusion
It is important to remember that while the bank's reputation is suffering now, it ranked first in M&A leaderboards last year, advising on deals valued at over $1 trillion. GS is also first on the leaderboard for equity and equity-related offerings and common stock offerings. Net revenues in Financial Advisory were the highest since 2007 and assets under supervision increased 6% from a year ago to a record $1.25 trillion. Clearly Goldman is still performing in some areas, but for how long? The data suggests the tide may be turning as the bank has become the poster child for all things evil and wrong with Wall Street. Presidential candidates are condemned for accepting speaking fees from them. Investors can only hope that the $5 billion settlement will be enough to satiate the masses.
Goldman Sachs may have lost some face, and this latest $5 billion fine hurts, but that's the goal. A little kowtowing is what the people want to see - dance for the people Blankfein don't wage a battle with a populous movement. Those of us that follow you know you have always had your hand in both cookie jars - you are a pragmatist; the undercover mayor of Wall Street. Now is not the time to stray from this. Stay neutral and well known; donate to all and keep your opinions to yourself.
We were long GS, but I think it's time to sell it and purchase JPM for the long term play.
Subscribers received an early and unedited version of this article.
Disclosure: I/we have no positions in any stocks mentioned, and no plans to initiate any positions within the next 72 hours.
I wrote this article myself, and it expresses my own opinions. I am not receiving compensation for it (other than from Seeking Alpha). I have no business relationship with any company whose stock is mentioned in this article.