By Scott Tzu
Heading into earnings tonight, everyone is going to be talking about Tesla (NASDAQ:TSLA). The stock, with several other momentum stocks, has gotten absolutely destroyed over the last few weeks, falling much further than the indices. This comes as names like Netflix (NASDAQ:NFLX), Amazon (NASDAQ:AMZN) and Alphabet (NASDAQ:GOOG) (NASDAQ:GOOGL) are all feeling the same type of selling pressure. In what we call a "stock pickers market," companies with high multiples and sky high valuations are going to have the toughest time convincing investors that they should move higher, solely on the basis of their multiple expanding. As a result of the seven-year bull market that we were just in, most of these valuations have been pushed hard and we continue to see Tesla, among this basket of stocks, fall further.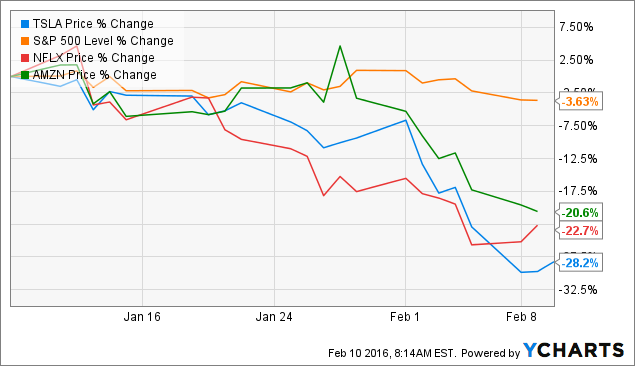 TSLA data by YCharts
Today, we want to write about three of the biggest threats that Tesla has that will affect it no matter how its earnings report plays out tonight. If you have read our work in the past, you know that we have been bearish on Tesla for the better part of the last year and that we thought the fundamentals would eventually catch up to the perception of the company on Wall Street.
We believe that heading into earnings tonight, Tesla has three problems that it is not going to be able to do anything about. Subsequently, we expect the stock to move lower in the coming weeks.
First, let's look at the problem of Wall Street's perception of the company.
Later on today, Tesla will be reporting earnings, where the main focus is primarily going to be the production of vehicles, the status of the Model X, and the status of the company's new "affordable" vehicle set to launch in about a year from now. In a bull market, it is OK to focus only on the top line or on production. People wanted to see a fast, rapidly growing disruptive company and they were willing to pay obscene multiples to own this company. Now, as the market moves more toward a focus on fundamentals, these production numbers will begin to mean less as the market focuses on what really matters during the recession: financial stability and fundamentals.
This shift in the way that Wall Street and retail look at the company is happening. It is a supplemental product of the economic landscape shifting and there is nothing anybody can do about it. We believe that tonight's earnings report will have Tesla under the most scrutiny it has ever been under from analysts. Not helping the problem is the fact that every sell side analyst seems to have trouble putting anything but a buy rating on the company. While some of the more popular analysts have lowered their price targets, shops like Morgan Stanley continue to hold their buy rating on the stock, even as it has dropped from $240-$150 in just a matter of weeks. We know that sell side analysts usually roll the ratings over after it's too late, so we're wondering if the downgrades will start after earnings. If this happens, retail will start to flee from the stock and we could see much lower prices.
So, the first question is: what will happen when perpetually bullish analysts downgrade the stock and Wall Street looks at this company even more critically?
The second major problem that the company has is that it is going to need cash relatively soon. Anybody who has looked at the company in depth understands that it is burning about $200 million from operations per quarter. With a little over $1 billion in the bank right now, that gives Tesla operating capital for just a few more quarters, depending on cash used in investing and financing. As the company doesn't seem to be gathering any operating leverage, an increase in production could actually exacerbate its cash flow problems and force it to raise cash even quicker.
With rates now incrementally higher, the question becomes how Tesla is going to fund its operations going forward? We believe that it is going to be a little bit more difficult this time around finding a counterparty to try and raise money from. A capital raise will likely involve dilution for existing shareholders, and if it is not taken care of and the stock winds up moving even lower over the next few weeks, the company could be forced to act at the worst moment possible.
We do give the company credit for raising a significant sum of money back when the stock was over $240 per share. This is exactly when you want to do an equity raise when the market has blown out your stock to ridiculous proportions. From a shareholder perspective, no one likes that type of dilution. From a management perspective, however, this was executed at the perfect time.
We outlined some of this argument in another article where we talked about the gap between the company's cash flow and its share price, and how it represented an air pocket of opportunity to the downside. So far, we have been dead on.
So, the second question is: how is Tesla going to fund its operation going forward and how quickly is the company burning cash as it operates today?
Expensive oil was always a selling point for electric vehicles. The environmental impact of electric vehicles and specifically Tesla's performance also are two great selling points to own their cars. However, as we all know, the almighty dollar usually does the real talking, and if it makes economic sense for someone to switch from a gas powered car to an electric car, they may be more inclined to do so.
Which leads us to our third problem for Tesla: oil prices do not show any signs of moving higher at any point in the near future.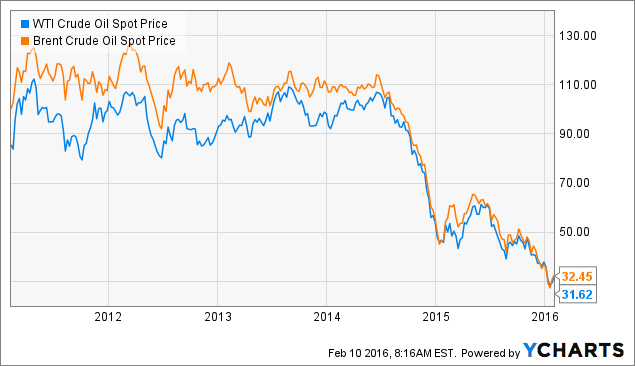 WTI Crude Oil Spot Price data by YCharts
We are in a global oil glut the likes of which we have not seen in many years. This glut started as a supply abundance, but it is now being talked about that demand also could be starting to slip. OPEC and the Saudis show absolutely no interest in curbing at the amount of oil that they are producing and there are widespread calls from many of the major banks that are gearing investors up for oil under $20 a barrel. Yes, there are many companies that are suffering from this, including many oil and gas companies. There also are many beneficiaries of this, as the money saved on gas usually winds up back in the economy at consumer discretionary companies.
Tesla, however, is not a beneficiary of this news. One of the largest-selling points of their vehicles is that you can get from point A to point B for much cheaper than it would cost in a gas powered vehicle. Today, that thesis simply does not hold up and that is simply not the case the way that it was a year or two ago. If this continuing global oil glut continues and negatively affects the amount of vehicles sold by Tesla, this early in the company's lifecycle, it could be disastrous. Since Wall Street's focus isn't even on the fundamentals yet, and still because it pays close attention to production and deliveries, this one metric falling off could be extremely bad news for the company.
So, the third problem is: oil prices are going to continue to head lower and that will detract potential customers.
These are three serious prongs of pressure on the company heading into tonight's report.
For the longest time, many have said Tesla is a "unicorn" that needs to have a perfect environment to survive while the business executes without any issues at all. If this foundation of the "right place at the right time" falls out from underneath the company, many predict that the impact would be devastating. As many have learned, this has already cost recent shareholders about 45% in their Tesla investment. There are then two schools of thought - one that believes the company will bounce and the other that believes the inevitable is just beginning. We are in the second camp, and we think the company faces major headwinds that it will not be able to counteract or address to the liking of the street in this evening's earnings report.
The thought of the stock moving lower is hardly an obscene one when you consider the company's market cap. We think a run up into this earnings report presents a great opportunity to sell or to put a short position on, and that is what we are considering.
Disclosure: I/we have no positions in any stocks mentioned, but may initiate a short position in TSLA over the next 72 hours.
I wrote this article myself, and it expresses my own opinions. I am not receiving compensation for it (other than from Seeking Alpha). I have no business relationship with any company whose stock is mentioned in this article.