Sell Dunkin' Brands (NASDAQ:DNKN) - Target $30
California overrated
California is a grossly overstated opportunity for Dunkin' Brands. In 2013 the company announced plans to enter the CA market and opened their first store in 2014. Dunkin' expects to open 250+ stores over the next few years, and over 1000 long-term. Based on company projections, Dunkin' is significantly behind schedule. To date, there are 21 stores across California and additional stores at Camp Pendleton and the Naval Base in San Diego. Eight of these stores opened in the last six months. At this rate it seems unlikely Dunkin' will fulfill its goal of 250+ stores in the next couple years. In fact, we would be surprised if they opened more than 50 locations in California this year.
Initial sales at new locations have been strong, but lapping these has proved challenging. In Q3 2015, Dunkin' switched to a 78-week reporting cycle vs the traditional 54-week cycle for comps. We spoke to a franchise manager who runs two stores in SoCal and he confirmed our thinking. According to him, the grand openings were very popular, but sales have dropped off from that level and are now slowly improving. He expected there to be 10-12 additional stores opened in 2016 in SoCal, suggesting the rollout has been slow. Based on our store checks, there were typically a couple customers in the store, and there was only one instance of someone doing work on their laptop suggesting a different atmosphere than a Starbucks (NASDAQ:SBUX).
California is one of the most competitive markets for companies to break into. Roughly 17% of the nation's coffee/breakfast/snack shops are located there. The state is saturated with Cambodian mom & pop donut shops, which keep overhead low by working longer hours and employing family members. Within a 10-mile radius of new Dunkin' Donut locations, there are on average 43 Starbucks, 21 McDonald's (NYSE:MCD), and 19 7-Elevens. As customers drive past countless alternatives, incremental traffic is going to be hard to come by.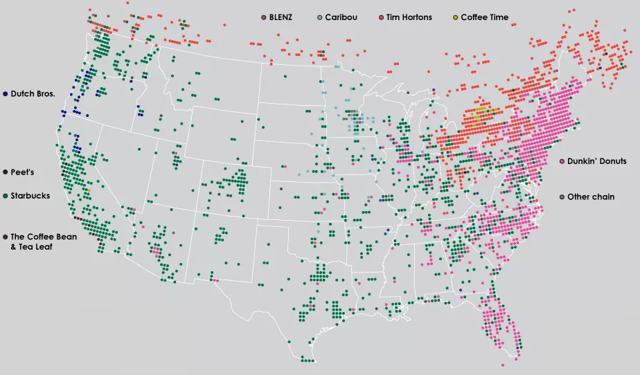 Due to their franchise model, Dunkin' Brands is heavily dependent on finding willing partners. From 2011 to 2014, cash-on-cash returns have declined from ~25%+ to ~20%+. Minimum wage increases will also eat into franchisee returns. Dunkin' will also be competing with other franchisors and chains in new locations. We estimated ~1,439 stores will be opening in 2016 between Starbucks, Dunkin' Donuts, McDonalds, Panera (NASDAQ:PNRA), Sonic, Tim Horton, 7-Eleven and Krispy Kreme (KKD).
Poor Comps
From 2011 to 2015, Dunkin' Donut's SSS declined from 5.1% to 1.4%. Management has quantified the effects of weather on 8 different occasions since 2011, compared to Starbucks which mentioned weather once as a passing comment. Clearly weather can't be the only factor as Starbucks has been posting SSS between 6-8% during the same time period.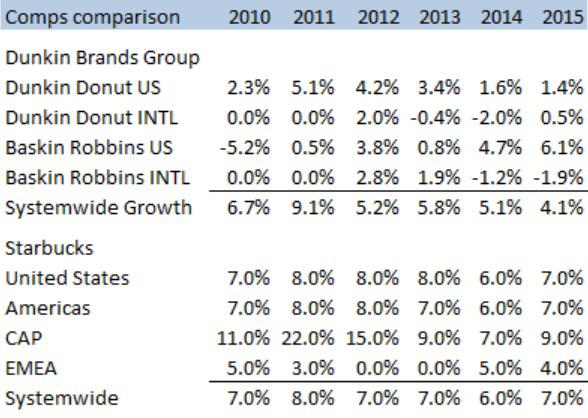 Bulls were expecting SSS ~2.5% but after a poor Q4 showing by Dunkin', management has guided towards 0-2% SSS. Looking back over the past 4 years, pricing has contributed 100bps towards comps, but in 2015 pricing was 300pbs from Q1-Q3 and 220bps in Q4. In order to defend this, bulls claim opportunities for better product mix, especially in new markets where they estimate only 35% of sales are beverages. According to the franchise manager we spoke with, beverages have been over 45%+ of sales and donuts are 40%+, while the remaining sales come from breakfast items and k-cups. The runway for product mix improvement may be shorter than bulls are expecting.
Based on our calculations, Dunkin' Donuts US has increased its initial franchise fee from ~$34k in 2010 to ~$63k in 2014. Management's strategy for increasing revenue seems to be more dependent on additional locations, instead of improving SSS. Our analysis suggests new stores contribute less to overall revenue on a per store basis compared to existing stores. New store revenue contributions have decreased from ~$58k in 2012 to ~$47k in 2015. Dunkin' has a two-part problem. The first is that sales at existing locations are growing at a slower rate. The second is that each new store they add provides less revenue per store than in the past. The company is experiencing diminishing returns and managements solution is to add more locations and increase its franchise fee.
The company is extremely excited about the potential of its DD Perks rewards program. The company first mentioned DD Perks in Q4 2013, with 500k members and 5.5M app downloads. In 2014, Dunkin' had added ~2M members off of 5.5M downloads for a conversion rate of 37.3%, but in 2015 only added 1.8M members off of 55M downloads, dropping their conversion rate to 3.3% for the year. Clearly the Perks program has not caught on with customers. Although the company loves to tout its rabid fan base, a quick look at popular social media platforms suggest something else. Between Facebook, Twitter, and Instagram, Dunkin' has 15.1M followers compared to Starbucks (54.9M) and McDonalds (66.2M)
Questionable Management
Dunkin' Brands management has also raised some red flags. In the last 12 months, insiders have sold -$35M worth of shares in the open market. Since 2010, share based compensation has increased from $1.5M to ~$12M in 2015. Finally, Dunkin' Brands Board has anti-takeover provisions and can issue preferred stock without shareholder approval, suggesting poor corporate governance.

The company has a history of over promising and under delivering. They have attempted to enter the California market in the past and have had to close down operations. In fact, many retailers are guilty of expanding too quickly, as this has happened to both Starbucks (2007) and Krispy Kreme (early 2000s). In Canada, Dunkin' was sued by a franchisee for failing to provide proper support and was sued for ~$20M (Bertico). In South Korea, Baskin Robbins suffered a loss of ~$20M due to impairment charges in their joint venture. Due to these one-time events/write-offs, Dunkin' had outstanding net income growth from 2012 and 2013 at 214% and 36% respectively, but adjusted net income in those years grew at 47% and 11%. Dunkin' won't have this benefit again and will be forced to lap more favorable earnings going forward.
Finally, bulls are expecting to increase to $2.24 in 2016, representing an increase in EPS of 17%. At the moment, DNKN has 6 Strong Buys, 0 Buy, 12 Hold, 0 Underperform, and 0 sell recommendations according to the NASDAQ. Dunkin' Brands refinanced their debt in 2015, by taking on an additional $680M, causing their interest expense to increase to $100M annually. Recent share repurchases will help Dunkin' Brands significantly, but not enough to meet street expectations. We expect revenue to increase 1.7% respectively in 2016, with EPS at $1.95. Due to Dunkin''s high debt ($2.5BN) and negative tangible book value (-$25/share), we think shares shouldn't be worth more than 15x 2016 EPS estimate, or ~$30/share.
Market Share
According to an IBISWorld report, Dunkin''s retail market is $41.2BN and expected to grow at a CAGR of 2.6% until 2019. We estimate Dunkin' would have to grow franchise level sales at 9% in order to increase market share by 1%.
Pricing
Dunkin' positions itself as a premium coffee brand with low prices, but that is a little misleading due to differences in cup sizes. They are in the middle of the pack compared to Starbucks, McDonald's and 7-Eleven, their largest competitors in terms of coffee sold in the US.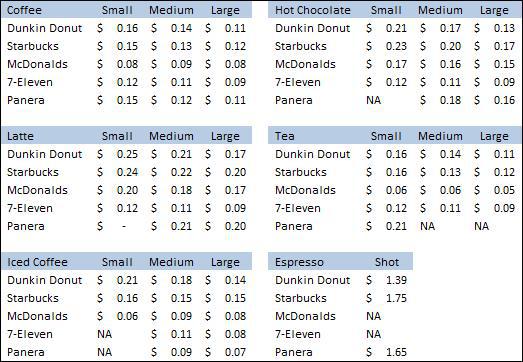 Survey
We conducted an informal survey with 100 participants and the overwhelming favorite for coffee was Starbucks.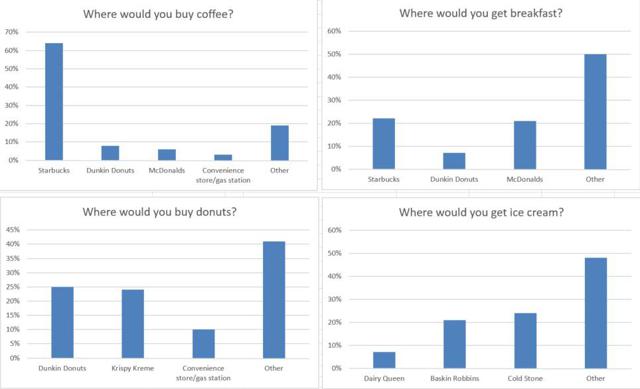 Other
McDonald's launched a rewards app in Q3 2015 with 7M downloads in 3 months
McDonald's began selling breakfast all day starting 10/6/15

Dunkin' is testing coffee delivery in select markets with plans for a 2016 rollout

Dunkin' is not nearly 100% franchised as they suggest. They have significant equity stakes through their joint ventures in South Korea and Japan.

Top shareholders are leaving

Dunkin'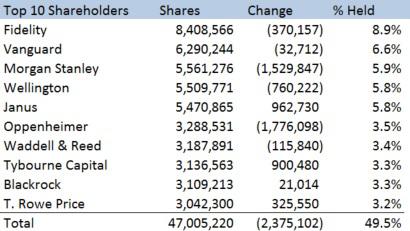 Key Financial Assumptions
Franchisee report overall sales growth 5.5% for 2016,

Dunkin' Brands

Blended royalty income from franchisee sales is 4.6% for 2016
685 in 2016, each location pays a franchisee fee of 70k in 2016
General and Administrative exp. are 30.7% in 2016
Interest expense is $99.1M in 2016
Tax rate is 32% in 2016
Investment Risks
Rapid store expansion, rapid grocery coffee bean sales (potential $15M annually)
Accelerated share repurchase
One-time gains from sales of real estate/joint venture/company owned stores
Inaccurate financial assumption
Inaccurate calculations/estimates
Disclosure: I/we have no positions in any stocks mentioned, and no plans to initiate any positions within the next 72 hours.
I wrote this article myself, and it expresses my own opinions. I am not receiving compensation for it (other than from Seeking Alpha). I have no business relationship with any company whose stock is mentioned in this article.
Additional disclosure: Thanks for reading. This is my first article and I welcome all feedback. Hope you enjoyed it. Please DM for full report/ if you would like to discuss the idea further.