Freeport-McMoRan (NYSE:FCX) experienced a painful 32% drop in January. Freeport is currently juggling a multitude of problems, some completely out of their control, but others like their long-term debt, are problems that need to be addressed immediately. There are some very interesting strategies surrounding FCX right now, not just limited to trades on the equity. While the company is severely over-leveraged and at a commodity price disadvantage, the downside risk is smaller than it has been and if the company plays its cards right, it can see a long-term recovery.

Click to enlarge
#1: You Remain On The Sidelines Or Even Short
Because you are fearful of the company's large debt creating further pessimism, causing the stock to drift lower, much like Chesapeake Energy (NYSE:CHK). While I'll discuss the debt below in the bond section of this article, I want to make myself clear that Freeport is not in the same situation as Chesapeake because of how their maturities are structured, as well as the fundamentals of the operations for the business have drastically different short-term drivers.
If you remain on the sidelines and perhaps allocate the capital that you were going to use for Freeport elsewhere, you could end up with a much more profitable and stable portfolio. That's a very safe strategy considering the carnage longs are experiencing so far in 2016. Perhaps buying some of the financial stocks on a dip for the LT or creating a short-term focus on current income become viable options.
If you're feeling much more ambitious, you can short the stock. The annualized cost of borrowing is high and while you have no dividend yield to short around, the risk/reward scenario is drastically against you considering the stock has fallen 26.14% YTD and 71% in 2015. Now, I've been a strong advocate of shorting Freeport since I started covering it back in June (when it was trading in the high teens), but every stock has an inflection point. Another headwind to a short is the unlimited downside risk, which not everyone wants in their portfolio.
#2: Buy The Stock, Hold For The Long Term
You buy in now if you're confident the company will spin off the oil and gas assets for a better than expected price or you believe that copper has hit its bottom. I would argue the latter has not yet occurred, and likely won't in the short-term (at least not in a meaningful way for shareholders). Thus, the headwinds in Indonesia, as well as the headwinds from a slowing China continue to weigh on copper prices. There is a reason this stock has a beta of 2.58 - it's because the rebound is so difficult to predict amid all this pessimism.
As a rebuttal to a slowing China, we have to understand that at some point expectations for commodities will change. Investors and analysts alike will realize that these companies are not capable . China will likely never again see growth rates of 8, 9, or 10% in its GDP and investors need to start factoring in reality. What Freeport needs to do is really not sell its prized copper assets to BHP Billition (NYSE:BHP) or Rio Tinto (NYSE:RIO), two commodity companies with far stronger balance sheets, and instead try and use the liquidity from the oil and gas assets to cover the next few years of maturities and bet on a cyclical uptrend.
That being said, if you think the company can effectively divest its copper assets, then you should buy in. With a positive note out earlier today, the company is considering selling core assets in order to provide much needed liquidity for the balance sheet. Now, my major concern with this potential action is that Freeport is selling its high-quality assets at the bottom of the market, a move which if the company is still around in a few years, is going to create a large amount of regret. I am not nearly as optimistic as Jefferies in that they say the near-term downside risk has "diminished," but I do believe it is far lower than what it has been. Below is the 1Y and YTD graphs of FCX versus the price of copper. The company continues to maintain that strong correlation, but the correlation could quickly change if Freeport makes smart, strategic moves.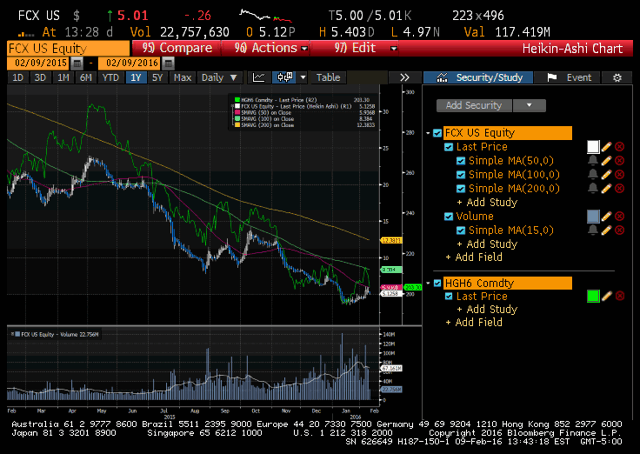 Click to enlarge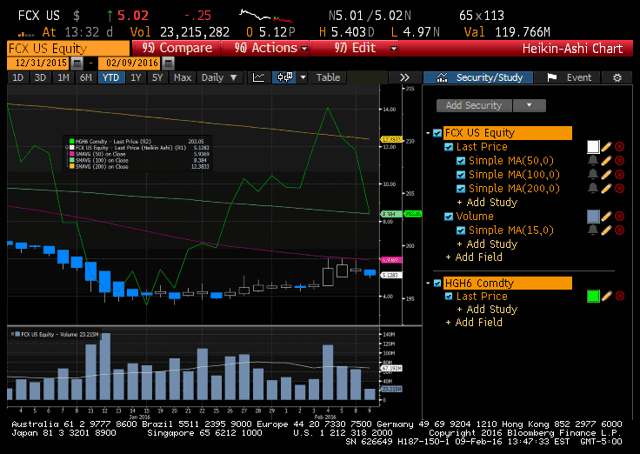 Click to enlargeSource: Bloomberg.
If you buy the stock, as a reminder, you'd be on the same side of the fence as Carl Icahn, the activist investor who currently holds a sizable stake in the company. All you have to do with Freeport by taking a long position today is bet that Freeport won't go bankrupt and I don't believe that statement is a hyperbole. It's trading so low relative to historical values, that a 3- to 5-year investing time horizon would be a near guarantee for the company to ride out the cyclicality of prices and trend up. The problem is that they could succumb to the weight of their debt before that, making this equity highly risky.
If you go long, you're going to be subject to a high amount of volatility considering where Freeport currently trades at. If you're going to go long in Freeport, I'd advise for you to wait until the equity dips significantly in a session before taking an initial position, but to not average down. Given the risk level associated with this stock, investors should not be allocating a large portion of their total holdings to this stock.
Buy The Bonds
The sharp difference in debt between Freeport and Chesapeake is the former's maturity lineup. While Chesapeake has maturities this year, Freeport doesn't have its first until March 2017. Now, don't get me wrong, the company is severely over-leveraged with $20.2 billion in LT debt and needs to get liquidity on their books to survive the maturity lineup that is encroaching on them. Recall that the company is shelling out $187 million in interest per quarter on operating cash flow of $612 million. If Freeport can get the oil and gas assets off its books, as well as sell some mining-related assets to clear the $5-$10 billion ideal amount out of LT debt that they've set, then they will be far better positioned for the long-term.
Below you can see their maturity lineup. What you should immediately notice is the shear volume of maturities that start occurring when next year begins, as well as when 2020 begins. While many investors are hoping that the commodity down cycle will be a thing of the past by the time those latter bonds mature, if Freeport is still over-leveraged at that point, they are going to have a difficult time coming up with the cash flows to support repayments.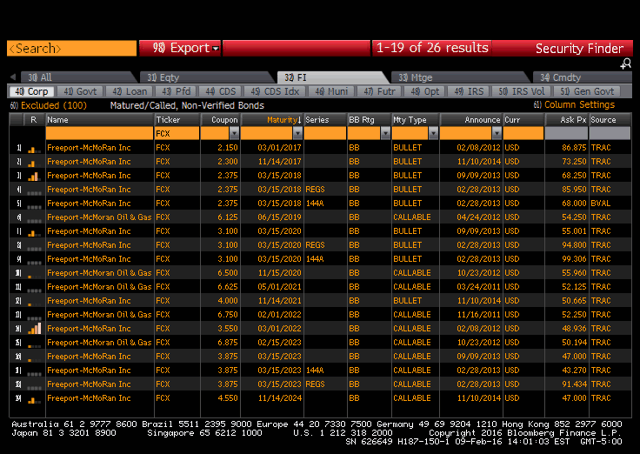 Click to enlargeSource: Bloomberg.
The advantage that you may have by looking at the bonds is that they're already junk status, per Moody's downgrade two weeks ago. The bonds are now rated Baa3, meaning they'll likely to trade at a significant discount. Now, the faster the company gets its toxic assets off its books and can make repayments on the bonds, the faster it can gain liquidity and improve its credit rating. Thus, if the assets divested effectively, these bonds present a significant amount of value.
Below is one of the March 2017 bonds trading around 86/87: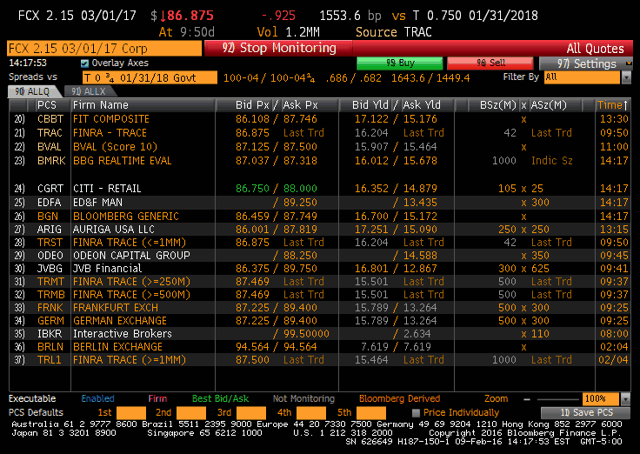 Click to enlarge Source: Bloomberg.
Here is one of the March 2020 bonds, trading around 53/55: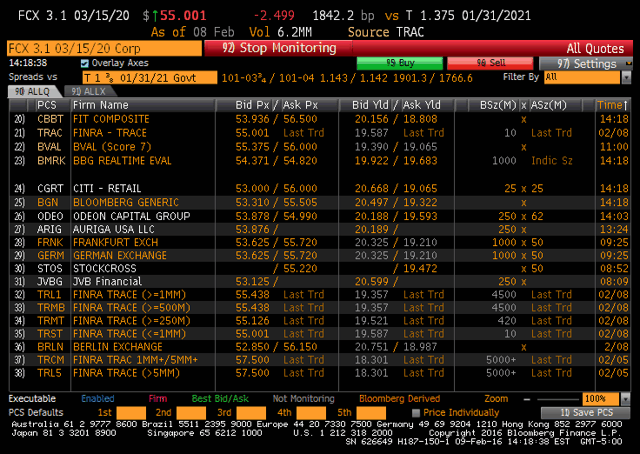 Click to enlargeSource: Bloomberg.
Notice that massive differential in the price these bonds trade at. While time certainly plays a huge factor in the differential, we have to notice how cheap they are trading. Yes, they're junk and that obviously justifies the low price, but if you're confident in the company to improve liquidity, the returns on these bonds present far more short-term upside than the equity.
Conclusion
Outside of stocks and bonds, of course there are strategies you can implement with options. While I would only recommend the use of options to experienced investors, given the leverage and timeliness associated with this derivative class, there are some spreads that currently look favorable and you're welcome to message me for my ideas on them. For now, I'd say focus on watching the state of Freeport's liquidity and which maturities it chooses to pay down once it gets the losing assets off its books to begin the recovery of its balance sheet.
Disclosure: I am/we are long BHP.
I wrote this article myself, and it expresses my own opinions. I am not receiving compensation for it (other than from Seeking Alpha). I have no business relationship with any company whose stock is mentioned in this article.