In 2002, I discussed in my book the new trend of ETFs and the importance of them in portfolio diversification. At the time, there were 15 or so available, and were an offshoot of previously traded WEBS (World Equity Benchmark Shares). ETFs were a new competitor to index and country-specific mutual funds. Recently, ETF offerings have exploded into more than 1400 ETFs in various flavors. One mutation of ETFs has been the movement from very passive portfolio construction to a very active and structured regular rebalancing. These are commonly known as "smart beta" ETFs as their overall goal is to eke out additional returns by focusing on a subset or different weighting of the same stock exposure.
For example, an equal weighted index ETF will hold equal amounts of stock in each of the components while a market weighted index holds various amounts of the components. In the current S&P 500 composition, an equal weighted holding represents 2% for each position. In a market weight S&P 500 index, the largest position holds 3.19% weighting while the smallest holds 0.04% of the index. Many smart beta portfolios are rebalanced either quarterly or semiannually, and it is important for investors to understand and to review these portfolio changes.
The size of the smart beta ETF market is substantial. According to Mr. Ben Johnson, Global ETF Research Director for Morningstar, there are 444 strategic/smart bets ETFs managing about $450 billion in assets. There is an underlying investment risk associated with smart beta regular rebalancing, and this risk is addressed with heightened attention by FINRA in an Investor Alert last fall titled, "Smart Beta-What You Need to Know". The bottom line of the alert is the old adage: Know what you are buying and what the strategy is of the specific ETF. It is imperative investors understand that any strategy that aims to beat the market carries its own risks. FINRA recaps the issue succinctly:
Recently, there has been significant growth in the number of financial products, primarily ETFs, which are linked to and seek to track the performance of alternatively weighted indices. These indices are commonly referred to as "smart beta" indices. They are constructed using methodologies that rely on, for example, equal weighting of underlying component stocks, or measures such as volatility or earnings, rather than market-cap weighting. Investors need to understand there is no free lunch here. Any time you are deviating from the market, you're taking some kind of tilt. Understand what is the fund doing that is different than the market. That is a risk.
FINRA strongly suggested investors ask themselves the following six questions before buying a "smart beta" ETF:
What is the "smart" product's strategy?
What are the costs?
What are the potential advantageous?
What are the potential risks?
How liquid is the ETF and its holdings?
Are the performance figures back-tested?
If you are unable to answer these basic questions, or if you feel uncomfortable with the answers, it is time to move on.
In addition, it is critical investors keep up with the semi-annual rebalancing as this can have a dramatic impact on the overall ETF portfolio, its risk, and its potential rewards as it relates to an individual's specific investment portfolio construction.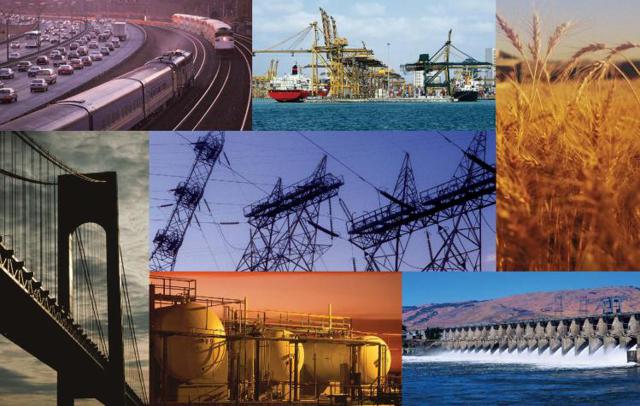 Click to enlarge
As an example, Guggenheim in Feb 2015 launched a new smart beta ETF, the S&P High Income Infrastructure ETF (NYSEARCA:GHII). The goal of the ETF is to replicate the underlying S&P High Income Infrastructure Index, a global infrastructure index. A description of the Index from S&P:
S&P High Income Infrastructure Index is designed to serve as a benchmark for yield-seeking equity investors looking for infrastructure exposure. This index is designed to provide enhanced yield as well as thematic exposure to the infrastructure industry. The index is composed of the 50 highest-dividend-paying companies within the S&P Global BMI (Broad Market Index) that operate in the energy, transportation, and utilities sectors.
The Index ticker is SPHIIUP. Using the 12-month-trailing dividend as the main inclusion criteria, it would seem this ETF structure could fill a few portfolio niches including: diversified international stock holdings, unhedged international income, and infrastructure operators.
When I wrote about GHII for SA last June and Feb 2015, I reviewed their top 10 holdings which comprised 44% of assets. The assets leaned towards toll roads in China, Europe and Australia, airports in Europe and Australia, and MLP-type assets of pipelines and midstream processing assets in the U.S. and Canada.
However, with the rebalancing of Feb 1 2016, gone in the top ten holdings are toll roads, gone are airports, and gone are port facilities. Gone as well is a higher exposure to China's infrastructure. Replacing these investments are more MLP-type positions with oil and gas pipelines, storage, and midstream processing coupled with LNG and oil ocean shipping. Below are the top 10 holdings as of June 2015 from the June SA article followed by the top 10 as of Feb 1, 2016, per Morningstar's holding list: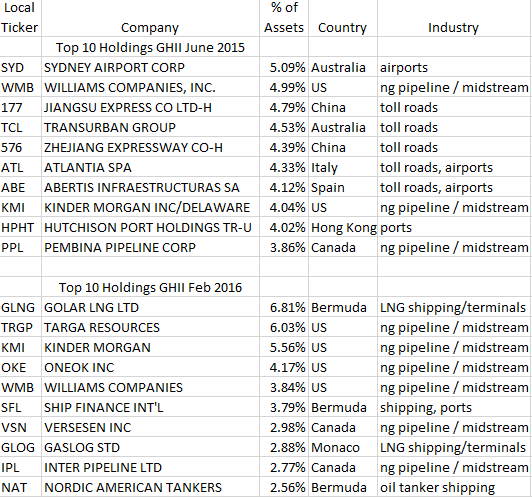 Natural gas pipelines and midstream exposure in the top 10 holdings increased from 3 companies representing 12% of assets to 6 of the top 10 stocks representing 25% of assets. Returning to the wisdom of FINRA'a advice, are GHII investors comfortable with the portfolio changes represented in the most recent rebalance? Are these changes to the portfolio within the risk profile and investment goals of the ETF holders?
Personally, I looked to GHII to fill a void in exposure to international toll roads, airports, port facilities, and the like. I have enough exposure to MLPs in the U.S. and was not looking to add to these positions through this ETF. I plan on reducing my exposure by selling a few shares and then sticking out the next rebalancing. This is unfortunate as I had such high hopes for gaining investment diversification from exposure to the old portfolio construction.
Author's Note: Please review disclosure in Author's profile.
Disclosure: I am/we are long GHII.
I wrote this article myself, and it expresses my own opinions. I am not receiving compensation for it (other than from Seeking Alpha). I have no business relationship with any company whose stock is mentioned in this article.