Uranium Energy Corporation (NYSEMKT:UEC) is my favorite uranium stock -- see my previous write up. Like the entire sector, the stock has gotten off to a very hot start in 2012, presumably driven in part by the supply/demand imbalance that is only growing in the uranium market, and the Federal Reserve's inflationary monetary policy that is pushing equities higher regardless of the unresolved debt crisis and the weak employment numbers it creates. Amir Adnani, the CEO of Uranium Energy Corporation, gave a great presentation on the fundamentals of uranium at the recent hard assets investment conference in Vancouver; I highly recommend watching that 20 minute video to understand the basic story in the uranium market.
UEC recently started showing some signs of technical correction, which I had been eagerly waiting for for some time; I'm looking to acquire more at a lower price. The $4.50 level is a particularly important resistance area, as it is where the stock initially fell to last March, in the wake of the Fukushima disaster. Markets do have a memory, and investors who got in at those levels may still be stuck and thus will be eager to sell at breakeven. At the same time, technicians who got in when UEC showed signs of bottoming below $3 will see the resistance here and may gladly take some profits. Here is a weekly chart of UEC that illustrates the basic story.
(Click charts to expand)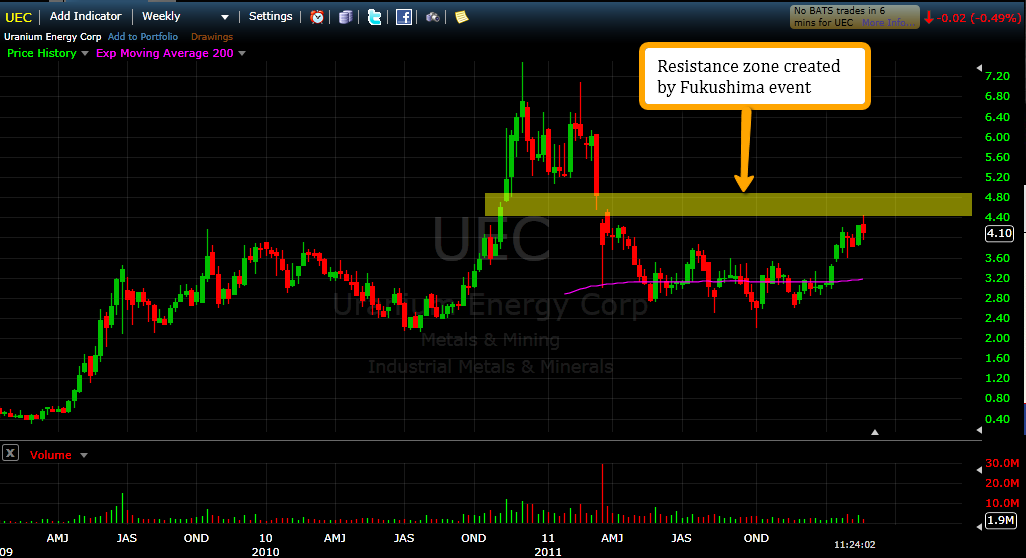 Click to enlarge
To get an idea of where the market may fall to -- and thus where might be a good price for long-term bulls to buy at -- we can zoom in to the daily chart. The daily chart shows clear signs of a reversal based on candlestick formations at resistance with a volume spike. There is also a gap at the $3.50 level, where the 200-daily exponential moving average also sits. For these reasons, $3.50 is a level I'd like to buy at, if price falls there.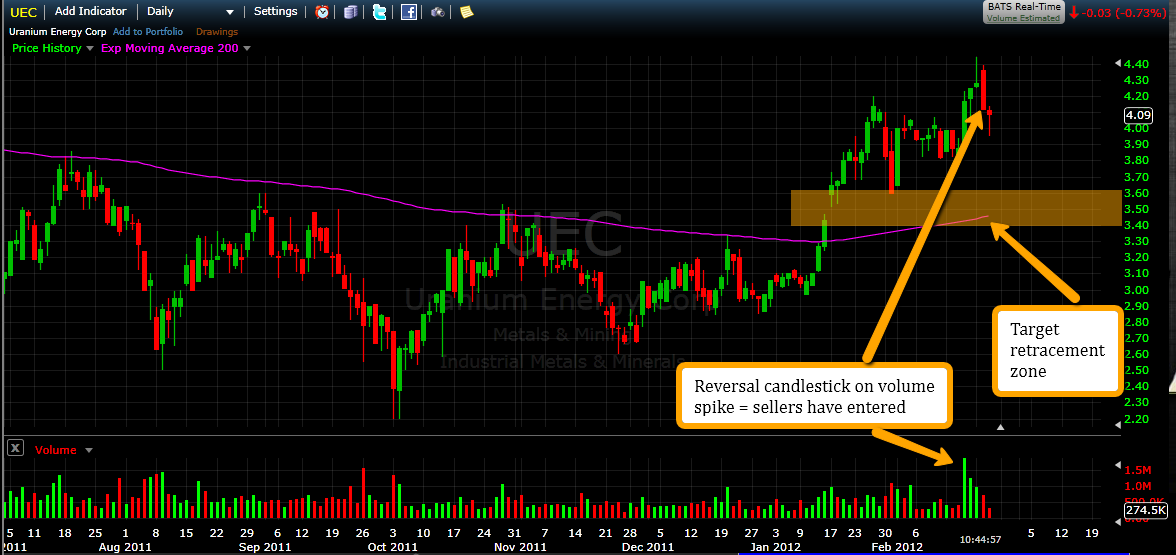 Personally, UEC is one of the companies I'm extra bullish on; it constitutes one of the largest positions in my stock portfolio. I won't be selling any of my shares until we re-test previous all-time highs above $7; then I'll remove my initial capital and let the rest ride for the duration of the bull market.
To recap, here are the main fundamental reasons why I'm bullish on UEC:
It's in the right market -- uranium. Uranium is up there with gold as one of the markets I'm most bullish on.
Investing in smaller companies is largely about investing in people, and I think UEC has one of the best teams of rock stars. Its CEO is a Casey NexTen alumnus, which is one of the credentials I'm most impressed by. Its entire technical team is also very impressive -- particularly Harry Anthony, the COO, who brings decades of experience with ISR operations. Team is everything for companies with small market capitalizations that are still ramping up to profitability, and in that regards I think UEC has an outstanding team worth investing in.
The balance sheet is healthy and leaves the company positioned to take advantage of the sharp drop in prices of publicly traded uranium companies, which it as been doing via some recent acquisitions (like the acqusition of Cue Resources).
Texas remains one of the most favorable jurisdictions for uranium mining, in my opinion, and the fact that UEC has its headquarters there and is employing a hub-and-spoke model for getting the most out of multiple mining operations in Texas is something I find especially favorable.
So, let's see if we can get that pullback to $3.50. If so, it will give us a nice opportunity to add to our positions and take half-off when the stock re-tests its previous highs above $7.
Disclosure: I am long UEC.