Skechers (NYSE:SKX) announces 4Q15 earnings Wednesday, 2/10, after market close. We are bullish heading into the report. We think the secular growth in athleisure remains intact and strong, international markets are just beginning to adopt this trend. The estimates are beatable, the valuation is attractive, and shares have room to run.
Under Armour (NYSE:UA) reported stellar results recently, affirming that the secular growth in athleisure remains intact and strong. Sales were up 31% Y/Y, driven by a 95% increase in footwear sales. While the footwear sales growth was driven primarily by NBA MVP Stephen Curry sales, we expect that SKX will report similar strong results in its footwear segment. We figure that SKX footwear sales were helped this quarter by the Star Wars Skechers line, as Disney (NYSE:DIS) reported consumer product sales were up 8% Y/Y MRQ driven by Star Wars branded product sales. Looking at the shoes, we also get a strong qualitative feel they were a popular Holiday gift for the 5-10 year old boy range. The LA Marathon is also right around the corner (Valentine's Day 2016), and we believe SKX sponsoring this event helped domestic running shoe sales this Christmas.
UA also reported stellar growth in international markets, with international revenue up 85% Y/Y. Nike (NYSE:NKE) also reported worldwide futures were up 20% ex-FX in its most recent quarterly report. SKX is a company that reported international sales growth of 53% last quarter, with double-digit gains in Europe and triple-digit gains in China and the Middle East. We expect SKX international sales this quarter to have surged, given UA and NKE results coupled with an already growing international story at SKX.
We are further bullish on an NPD data point which illustrated strong athletic footwear growth. NPD Group reports the US athletic footwear industry grew 8% last year, and that growth in the casual category accelerated. We have argued before that SKX has separated itself in the casual category, and this data point leads us to believe SKX sales should have been strong this past quarter.
In the most recent CC, management said that they were "comfortable" with current analyst estimates for the quarter. Since that time, estimates have come down and we are bullish on the company's ability to beat the depressed estimate. Over the past 90 days, the consensus EPS estimate for Q4 has trended from $0.22 to $0.20. Considering management was comfortable with the previously higher EPS estimate, we are confident in the company's ability to top the current lower EPS estimate, especially given secular tailwinds in athleisure adoption in international markets.
Looking to Q1, management also said that the 15-16% revenue growth estimate from analysts was a good benchmark, and that there was upside from there. The current Q1 revenue estimate calls for 17.1% growth, so we think it is very likely that SKX guides higher than that. We think we have a company here that will both beat estimates and guide higher.
This should lead to significant share price appreciation, similar to UA's run-up recently, because the valuation is depressed from historical levels. The current 19x earnings multiple is significantly below where the P/E has been historically, and is on fiscal YTD earnings growth of 70%.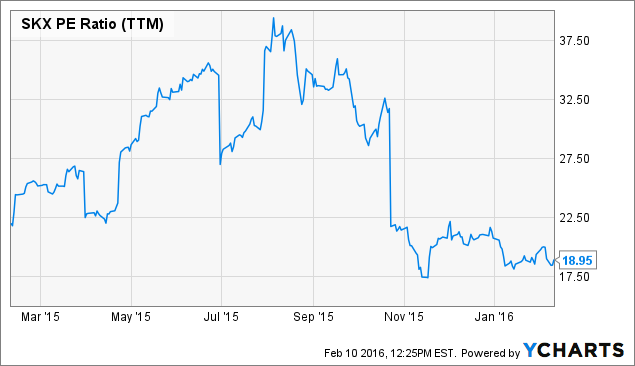 SKX PE Ratio (TTM) data by YCharts
SKX has also traded mostly in-line with NKE on a P/E basis over the past year, but a chasm between the NKE and SKX P/E multiple has developed recently. This does not make much sense to us, especially with UA trading around 72x earnings, as SKX is growing earnings at a 70% rate.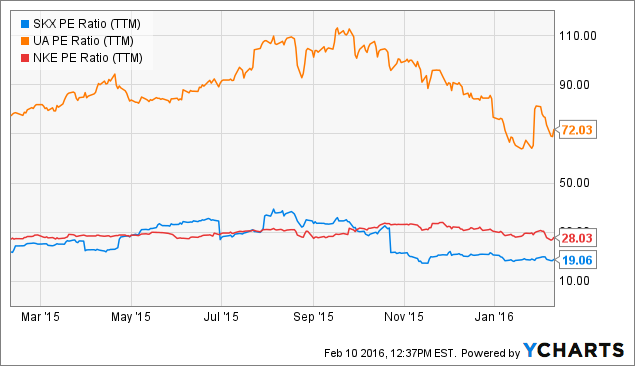 SKX PE Ratio (TTM) data by YCharts
Overall, we are bullish on SKX into the print and believe we could see a UA-type run-up after-hours and into trading tomorrow.
Disclosure: I am/we are long SKX.
I wrote this article myself, and it expresses my own opinions. I am not receiving compensation for it (other than from Seeking Alpha). I have no business relationship with any company whose stock is mentioned in this article.