As most investors know, timing is everything. This includes buying cheap when stock prices have experienced a sharp correction. However, this is easier said than done, especially since most investors have already seen mounting losses and their account balances drop. Losing money (or any type of resource) instills a primal fear in most human beings which drives you away from taking any more pain. This is why some investors run in fear and make emotional decisions to sell stock at or near market lows, even though this could be the worst time to do so. The S&P 500 Index (NYSEARCA:SPY) is down about 10% just in the first few weeks of 2016. Pullbacks like this have been what many investors have hoped for and each time there has been a sharp pullback in the market for the past few years, it has turned out to be an ideal buying opportunity.
I have losses in this recent market pullback and it makes me want to run for the hills at times, but I won't do this for a number of reasons. First of all, it rarely pays off to sell stocks after a sudden market pullback. Secondly, I don't believe the world is ending, or that we are in some never-ending death spiral for stocks, even though it is easy to find extremely pessimistic articles that suggest otherwise. At times like this, it is important to reflect on why we own stocks, and remember that over time, stocks have been one of the best ways to create long-term wealth. For these reasons, I am not caving into fear, and rather I am doing what I can to make the best of this market pullback. That means I am out looking for bargain stocks to buy now that could create solid gains for me in the coming months and years.
One thing I really dislike is that the media (like CNBC) tends to put a parade of bearish analysts and gloom and doom stories out whenever markets tumble. Right now it is easy to find stories and articles predicting a market crash, or for oil to go to $10 per barrel. This type of fear-mongering often causes weak-minded or inexperienced investors to panic and sell at times when they should be at least holding, or even buying more. Caving into fear and emotion is a great way to lose huge in the market, because there will always be pullbacks and if you don't stay on track with your conviction and your long-term goals, you will sell when things get tough and when stock prices are depressed.
There are a few indicators that make me very optimistic about buying stocks now. First of all, when you see indiscriminate selling of just about every sector in the market, it is very likely that the baby is getting thrown out with the bathwater. That means there are sure to be opportunities to buy certain sectors and stocks that don't deserve to be down. Another reason I am seeing opportunity is because of the significant amount of negativity. This is a half glass empty market whereby a company like Apple (NASDAQ:AAPL) or General Motors (NYSE:GM) can report record sales and huge profits and yet investors are so negative these stocks trade near 52-week lows. The rationale for these lows is that these companies are doing so well that it must be a "peak" as in "peak iPhone" and "peak auto". Peak seems to be so cool to believe in these days. That makes me think back to when many investors believed in "peak oil", whereby the supply of oil had certainly peaked and we would therefore be running out in the not too distant future. We all know how well that worked out.
If you buy stocks when investors are fearful, you are far more likely to be getting a bargain. The CNN Money "Fear & Greed" Index is based on a number of factors which include: stock price momentum, stock price strength, stock price breadth, put and call options, junk bond demand, volatility, and demand for Treasury Bonds. The index takes all this data which then produces a reading between 1 (fear) to 100 (greed). As shown below, the index has a current reading of less than 20 out of 100 which indicates "extreme fear".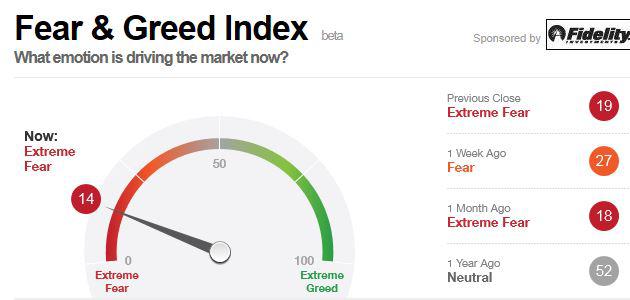 Source: CNN Money
Another indicator also suggests that extreme bearishness we see now could be a great contrarian signal to buy stocks. A recent CNBC article points out that one indicator is now at the lows seen at the depths of the Financial Crisis which was March, 2009; the article states:
"Investor optimism has continued to erode through the current correcting, with some gauges showing bearishness at multi-year highs.

One in particular - the Bank of America Merrill Lynch Sell Side Indicator - puts sentiment "close to where it was at the market lows of March 2009," the firm's strategists said in a report Monday. That date will be familiar to many investors as it marked the Great Recession low and preceded a 200 percent bull market surge."
In summary, the extreme negativity we see now is a sign that we should use this pullback as a buying opportunity. It appears that oil prices have stabilized around $30 per barrel, and with production cuts increasing, the supply imbalance should work itself out later this year. I believe oil prices are going to rebound and that is what will help pull this market out of the severely depressed state it is in right now. When oil rebounds (and it will), this market could surge higher and that is why buying this pullback will reward investors later in 2016. With this in mind, it makes sense to consider averaging into oil stocks now as well as other beaten down sectors, especially small cap stocks. If you want to read about one of my top picks to buy in this pullback, check out Supervalu (NYSE:SVU), which is a beaten down bargain at $4.50 per share. I wrote about Supervalu in this article. Please follow me for future updates and stock picks.
Data is sourced from Yahoo Finance. No guarantees or representations are made. Hawkinvest is not a registered investment advisor and does not provide specific investment advice. The information is for informational purposes only. You should always consult a financial advisor.
Disclosure: I am/we are long AAPL, GM, SVU.
I wrote this article myself, and it expresses my own opinions. I am not receiving compensation for it (other than from Seeking Alpha). I have no business relationship with any company whose stock is mentioned in this article.