A Closer Look
Investors entered 2016 with a lot on their minds - friends, family, New Year's resolutions… and selling. In January, global equity markets fell sharply before staging a partial late-month recovery. The S&P 500, for instance, closed the month with a loss of about 5% after being down more than 11% through January 20th. All of this happened in a climate where oil prices had sold off dramatically, and concerns continued to grow about China's ability to engineer a soft landing for its once red-hot economy.
In this month's commentary, we'll take a look at how these major themes affected individual market segments, while also offering guidance that may help investors weather the volatility.
All eyes on China: Chinese equity markets were so volatile early in the month that the Shanghai Stock Exchange was shut down by now-discontinued circuit breakers - twice. Selling was triggered by a range of factors, including a substantial devaluation of the yuan by the People's Bank of China, which resulted in speculation that the country's economy was weaker than previously thought. While China experienced growth of 6.8% in the fourth quarter, this was the lowest reading since the global financial crisis of 2009, and it fueled concerns about future growth in China amid high levels of past borrowing.
Oil tries to find a bottom: Stocks moved in tandem with the price of oil in January - which, for the most part, was down. Mid-month, a barrel of crude fell to its lowest price since 2003. Oil then rallied to close the month significantly off its lows, perhaps contributing to a corresponding month-end advance for U.S. equities.
Pace of rate increases may slow: The U.S. job market remained strong in December (the most recent month for which we have data), but gross domestic product grew below expectations, at 0.7% for the fourth quarter of 2015. Whether this is a temporary blip remains to be seen. Many analysts, however, believe that a soft number like this - in addition to concerns about global growth - could slow the hand of the U.S. Federal Reserve as it seeks to normalize interest rates. For its part, the Fed left rates unchanged at its January meeting, and stated that it was "closely monitoring" global developments.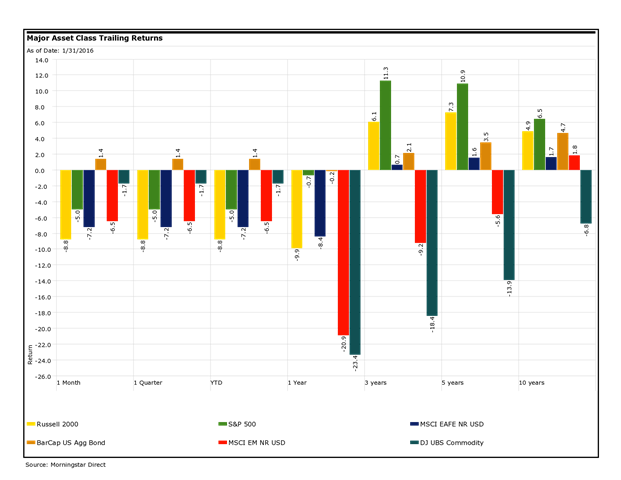 Domestic Equities
In the U.S., both large and small caps fell sharply in January, with small caps faring significantly worse.
The large-cap-oriented S&P 500 shed 4.96% for the month - a number that, as weak as it was, may have actually come as a relief to investors. Mid-month, the index had been down by over 11%.
U.S. small caps were even more volatile, as the category continued its selloff from 2016. The small-cap-oriented Russell 2000 fell 8.79% for the month, the weakest return of any major index we track.
As for the performance of individual sectors, there were a number of key drivers in January, including lowered expectations for Fed rate increases. According to the S&P 500 sector indexes, investors turned to more defensive, higher-yielding equity opportunities. The telecom sector was the best performer for the month, followed by utilities and consumer staples. (These were the only sectors to post a positive return.) On the other hand, materials and financials were the worst performers, with the latter being weighed down by the prospect of weaker-than-expected income generation from banks and other financial companies.
According to the Russell 3000 Growth and Value Indexes, both growth and value stocks were significantly lower in January, although value outperformed growth by three-quarters of a percentage point. This is in sharp contrast to 2015, when growth was by far the leader.
International Equities
There were significant losses overseas in January, as challenges in China and elsewhere rippled through international markets. At the end of the month, however, the Bank of Japan cheered investors by cutting a key interest rate to less than zero, effectively charging institutions to keep cash with the Bank-and therefore encouraging them to invest it elsewhere.
The MSCI EAFE Index, a widely followed measure of developed market performance, fell 7.23% for the month, as all component regions in the index finished in negative territory. Great Britain was one of the best performers, relatively speaking, while Pacific markets struggled the most.
Emerging markets followed a similar course, but with somewhat less of a drop. The MSCI Emerging Markets Index fell 6.49% for the month, as Asian economies weighed heavily on the average. Weakness in the region was caused by concerns about trade with China, as well as uncertainty over the effects of a weaker yuan.
Fixed Income
January was a strong month for U.S. bonds, with investors turning to fixed-income markets as a safe haven from international instability. The Barclays U.S. Aggregate Index jumped 1.38% for the month, the best performance of any major index we track.
In the U.S. Treasury arena, the yield on the benchmark 10-year note fell to 1.94% in January, a sharp decline of 33 basis points. (A basis point is one one-hundredth of a percent.) The yield curve flattened slightly, with ultra-short rates rising, and the most significant declines occurring at the intermediate to long end. A flattening yield curve - which generally indicates diminishing economic expectations - may serve as additional confirmation that investors have downgraded the likely path of near-term Fed rate increases.
Turning to the various U.S. fixed-income sectors, long-term U.S. Treasuries were the month's best performers, followed by their intermediate-term counterparts. The high-yield (also known as "junk") bond sector was the only one to decline for the month, as it continues to suffer from significant exposure to now-weakened energy companies.
The Bottom Line
During volatile periods like this, it can be tempting to try to time the markets. Doing so successfully, though, is much more difficult than it seems, and is likely to result in emotional decision-making that can diminish, not enhance, returns.
Instead, long-term investors should stick to the basics of long-term portfolio management - something that's not necessarily easy when emotions run high. Here are a few essential insights to help stay on track:
Volatility is a natural part of investing.
This principle is often the easiest to forget: markets and volatility go hand in hand. Keeping perspective is what's most important.
Look to the future.
Regardless of how the markets are moving, stay focused on longer-term goals. This usually involves sticking to a carefully constructed plan, choosing investments that are appropriate for one's risk tolerance and time horizon, and diversifying investments across asset classes. Plus, during volatile periods, short-term fluctuations can sometimes be viewed as opportunities to search for value.
Remember the benefits of rebalancing.
It's natural to want to "do something" when markets are in flux. Rebalancing one's investments periodically may help position a diversified portfolio for attractive risk-adjusted returns over the long term. This is especially true in a tax-advantaged account (such as a 401(k) or IRA), where selling part of an outperforming asset to buy an underperformer would not have near-term tax consequences.
Investors should consider their portfolio's risk level.
Finding the level of risk and return potential that's right for you is one of the keys to building a successful portfolio. While there are no guarantees, investors with aggressive portfolios (those heavily weighted toward equities) may experience greater volatility in the near term, but may have the potential for attractive long-term returns. On the other hand, investors with more conservative, bond-focused portfolios may enjoy lower volatility at the expense of future growth potential.
Disclosure: I/we have no positions in any stocks mentioned, and no plans to initiate any positions within the next 72 hours.
I wrote this article myself, and it expresses my own opinions. I am not receiving compensation for it. I have no business relationship with any company whose stock is mentioned in this article.