The iShares Nasdaq Biotechnology ETF (NASDAQ:IBB), which tracks the Nasdaq Biotechnology Index (NASDAQ:NBI), has been in free fall since the beginning of the year, despite that the fundamentals of the entire biotech sector still look strong. In this kind of volatile market, the healthcare and biotech sectors have turned out not to be safe places to hide, as remarks from U.S. Presidential candidates during their stump speeches and debates continue to rattle individual biotechnology and pharmaceutical companies.
From the technical viewpoint, the IBB has tried, but failed, to bounce off its support levels several times during the recent downturn. Nonetheless, investors may want to pay close attention for good entry points, as the campaign rhetoric will start to be priced in and the bottoming process begins.
Technical Overview - About 44.89% of the holdings in the IBB index are the five big cap biotech companies, Celgene (NASDAQ:CELG), Amgen (NASDAQ:AMGN), Biogen (NASDAQ:BIIB), Gilead Sciences (NASDAQ:GILD) and Regeneron Pharmaceuticals (NASDAQ:REGN), with a combined market cap of over $398 billion, as of February 9.
Barron's likes shares of Celgene and Gilead Sciences, as they see a 30% upside potential over the next year. "The tumble has created some buying opportunities, especially among biotechs that are already highly profitable and were inexpensive before the selling began", said Barron's. Another long-term winner could be Regeneron, with its diversified portfolio of drugs in the pipeline, including the potential blockbuster rheumatoid arthritis drug, sarilumab/REGN88, in collaboration with Sanofi (NYSE:SNY).
From a short-term prospective, the share price of IBB was trading in an uptrend channel until July 20 last year, when the index topped out at $400.75 per share and began to make a bearish reversal, as the overall U.S. financial market turned antsy. During that time period, on July 13, Democratic presidential hopeful Hillary Clinton gave a speech at the New School in New York City on "Growth and Fairness Economy", in which she laid out her economic vision and also touched on the subject of making prescription drugs more affordable, according to The Wall Street Journal.
Fed Chair Janet Yellen made comments on July 15, during her semiannual testimony in front of the U.S. House Financial Services Committee, that the Fed was going to raise interest rates between September and December 2015.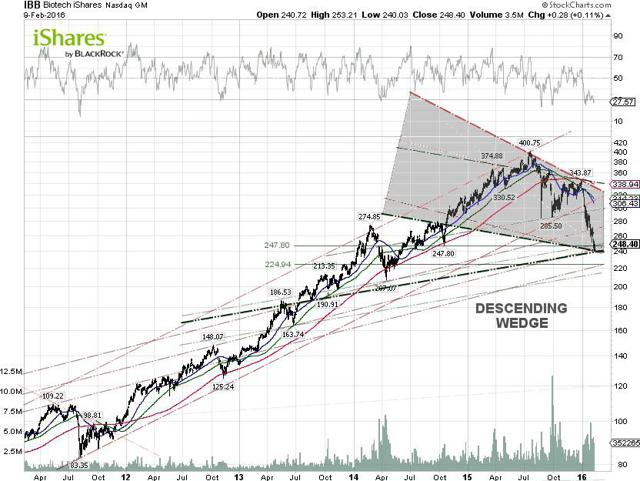 Click to enlarge
A descending wedge chart pattern has emerged as IBB bounced off a trendline support on February 9, at a 52-week low of $240.03 per share. The IBB also made a bullish trend reversal after weeks of steep declines, meaning the IBB opened near the low and rallied to a fairly high price during the day, before pulling back as it was unable to sustain the rally.
The bottom will be in for IBB, if the trend reversal is confirmed by bullish moves in the next few days. So far, the IBB has made a 40.10% price correction from the July high, compared to a 37.11% correction for IBB during the 2008 financial crisis. If the bearish sentiment continues, there is a trendline support at $224.94 per share, meaning a 43.87% price correction for IBB.
Despite that the fourth-quarter earnings results of the top five big cap companies in the IBB have been mixed, as Celgene and Regeneron recently reported disappointing results, all of them are expecting strong growth in 2016. Hence, a deep technical pullback, of 40% or more, may be unjustified based upon earnings fundamentals. As valuations are currently at a discount, we could see more M&A activity, which was a key driver for the IBB to reach its all-time high in 2015.
Celgene - As of February 9, Celgene has a weight of 9.78% in IBB. Investors were not quite impressed with Celgene's fourth-quarter 2015 earnings report, which came in below expectations, citing higher expenses than anticipated and the usual currency FX problem. Investors still like the company, as Celgene is expecting strong growth in 2016 but is still facing a currency headwind of approximately $120 million.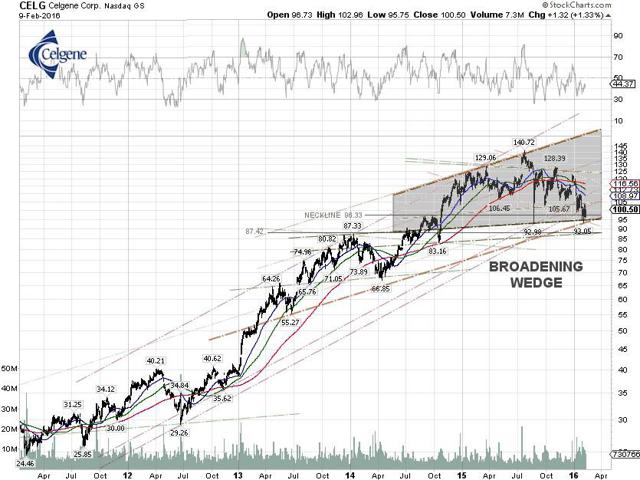 Click to enlarge
Technically, CELG has been trading in an ascending broadening wedge chart pattern with a base at around $87.42 per share. The stock hit an all-time high of $140.72 per share in the summer of 2015, and has since pulled back along with the IBB. CELG bounced off the trendline support and has made a 33.88% correction. Investors may want to be careful, as a potential bearish head and shoulders chart pattern has also emerged with the neckline at $96.33 per share. The stock could pull back further to the $87.42 per share level, if the trendline support of the broadening wedge doesn't hold.
Gilead Sciences - Gilead Sciences has a weight of 8.69% in IBB. Gilead recently released its fourth-quarter 2015 earnings report, which came in well above expectations, as the company continues to gain global market share with their hepatitis C drugs, Harvoni and Sovaldi. The decline in U.S. sales of Gilead's flagship hepatitis C drugs was offset by sales in Europe and abroad. The company also announced a $12 billion share buyback and a 10% increase in the quarterly dividend. Some investors were disappointed, as Gilead did not announce any new acquisition plans.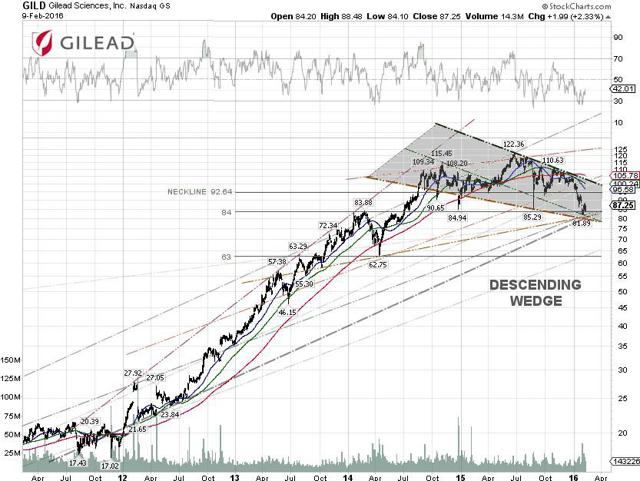 Click to enlarge
GILD has made a 33.07% price correction since the stock pulled back from its 52-week high, at $122.36 per share at the end of June 2015. Investors should be aware that the stock is trading in a potential head and shoulders chart pattern, with a neckline at $92.64 per share. Shares of Gilead bounced off a trendline support, on February 2 at $81.86 per share, in a heavy volume and is now trading above the $84 per share resistance level. The stock could drop to as low as $63.00 per share, or a 48.51% from its 52-week high, if the 5-year trendline support breaks.
Regeneron Pharmaceuticals - Regeneron has a weight of 7.4% in IBB. The company reported a disappointing fourth-quarter 2015 earnings report on February 9, which was below consensus expectations, as its collaboration revenue from their partner, Sanofi, came in lighter than expected. The company also blamed the slow start of the cholesterol-lowering drug Praluent. Regeneron said the U.S. Food and Drug Administration, FDA, accepted for review the Biologics License Application, BLA for sarilumab/REGN88, a potential blockbuster rheumatoid arthritis drug in collaboration with Sanofi, with a target action date later this year.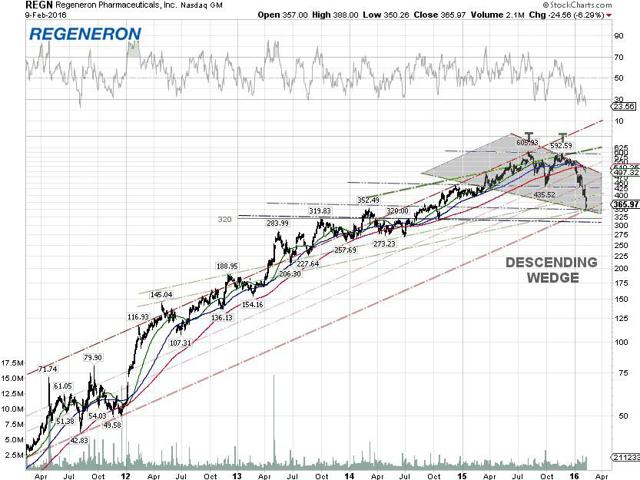 Click to enlarge
Technically, REGN made a bearish double top chart pattern in late November 2015, and has had a steep pullback to a new 52-week low of $350.25 per share after announcing it latest earnings report, a 42.19% price correction. The shares of Regeneron are now supported by the lower trendline support of the 5-year uptrend channel. The stock could be in a serious trouble if the trendline support can't hold, as REGN could pull back further to the $320 per share level, a 47.19% price correction from its 52-week high.
Conclusions - The iShares Nasdaq Biotechnology ETF is in deeply oversold territory and could be ready for a bounce. Individual biotech company stocks, such as Celgene, Gilead Sciences and Regeneron Pharmaceuticals, still look very challenging as a bearish dark cloud appears to hang over the sector. At a certain point, we believe that the campaign rhetoric will start to be priced in and a bottom will be established. Despite that political and other risks have increased, in our view, the risk reward is still in favor of the investors in the biotech sector.
Disclosure: I am/we are long BIIB, CELG, REGN.
I wrote this article myself, and it expresses my own opinions. I am not receiving compensation for it (other than from Seeking Alpha). I have no business relationship with any company whose stock is mentioned in this article.