After the bell on Wednesday, Cisco Systems (NASDAQ:CSCO) announced its fiscal second-quarter results. While the overall results and guidance were mostly as expected, the big news came in regards to the company's capital return program. The board approved a large increase to the dividend and buyback, further cementing Cisco as a capital return powerhouse.
For the Q2 headline numbers and beyond, see coverage from SA News.
But the heart of Wednesday's announcement goes to an issue I discussed a few weeks ago - strong capital returns. Cisco is not a tech company with high growth now, so the company needs to find a way to make its shares attractive. With shares underperforming the large-cap tech peers recently, I argued that a big dividend raise could do the trick. Cisco's board decided to raise the quarterly payout by 5 cents, the high end of my prediction range, to 26 cents per quarter. The impressive growth in the dividend since it was started in 2011 is shown below, with the quarter representing the calendar period of the payout.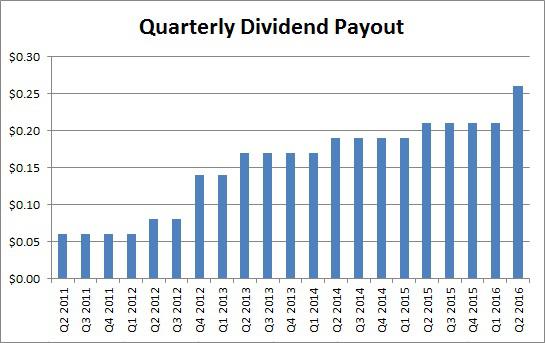 Source: NASDAQ
This dividend raise was very substantial, and it makes the stock worth a look for tech sector income investors. When I wrote my previous article, Cisco had an annual yield comparable to Intel (NASDAQ:INTC) around 3.50%. Even with shares rallying in the after-hours session on Wednesday to $24, Cisco's yield is now 4.33%. CSCO has gone from comparing itself to the Intel and Microsoft (NASDAQ:MSFT) group in terms of annual yield to the IBM (NYSE:IBM) and Qualcomm (NASDAQ:QCOM) group. With a 30-year US Treasury bond now yielding less than 2.50%, investors might want to look at Cisco instead of fixed income.
The company also announced a $15 billion increase to its buyback program. This probably isn't a shocker given the repurchase plan was down to less than $2 billion before the increase. Some companies like to increase their buybacks before they run out of approved repurchase funds, so Cisco did just that. Unfortunately, for investors, the company's buyback isn't as strong as some peers, given the amount of executive compensation. The company has been doing better with its buyback in recent quarters, but you're still only looking at year-over-year share declines in the fraction of one percent range. If you're looking for an Apple (NASDAQ:AAPL) like buyback, Cisco is not where you want to be.
While quarterly results and guidance were decent, the big news out of Cisco was really the massive dividend hike. With an annual yield now over 4.30%, it is definitely a name that tech-focused income investors should look at. While you're not getting a lot of growth, you're only paying about 10.5 times non-GAAP annual earnings. That's a fairly reasonable valuation for a low-growth company that has an okay buyback plan, but one of the highest dividend yields in the space. With fixed-income yields plunging around the globe, Wednesday's news from Cisco should make investors very happy.
Disclosure: I/we have no positions in any stocks mentioned, and no plans to initiate any positions within the next 72 hours.
I wrote this article myself, and it expresses my own opinions. I am not receiving compensation for it (other than from Seeking Alpha). I have no business relationship with any company whose stock is mentioned in this article.
Additional disclosure: Investors are always reminded that before making any investment, you should do your own proper due diligence on any name directly or indirectly mentioned in this article. Investors should also consider seeking advice from a broker or financial adviser before making any investment decisions. Any material in this article should be considered general information, and not relied on as a formal investment recommendation.