In a recent article, I had discussed why Royal Dutch Shell's (RDS.A, RDS.B) upstream business could have bottomed on the back of a potential improvement in oil prices due to an improving demand-supply balance in the industry. Additionally, Shell's focus on the liquefied natural gas segment is another reason why the company's upstream performance could gradually get better going forward.
A look at the downstream business
But in my opinion, Shell's downstream segment is going to play a key role in allowing the company to mitigate any weakness in the end-market that arises out of low oil prices. In fact, last year, earnings from Shell's downstream segment grew close to 54% year over year, primarily due to margin strength in refining and chemicals, along with its focus on cost savings. The following chart clearly indicates the strength in the downstream segment last year: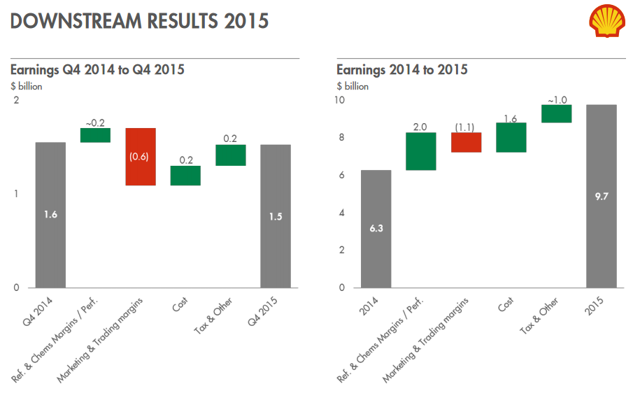 Click to enlarge
(Source: Royal Dutch Shell)
As shown above, Shell improved its downstream performance remarkably last year, driven by the decline in crude oil prices that led to a drop in feedstock costs. However, as can be seen above, its refining and chemical margins narrowed in the fourth quarter of 2015 as compared to the prior-year period, leading to a drop in downstream earnings. But I think that Shell will see a recovery in the downstream segment as the year progresses, which will aid the company's comeback. Let's see why.
Downstream margins will improve
The reason why Shell's earnings from the downstream segment narrowed in the previous quarter was a drop in refining margins. This was perpetrated by an increase in inventories due to low demand during the winter season. As the chart below shows, refining marker margins tailed off steeply in the final quarter of the year, with the weakness continuing well into 2016: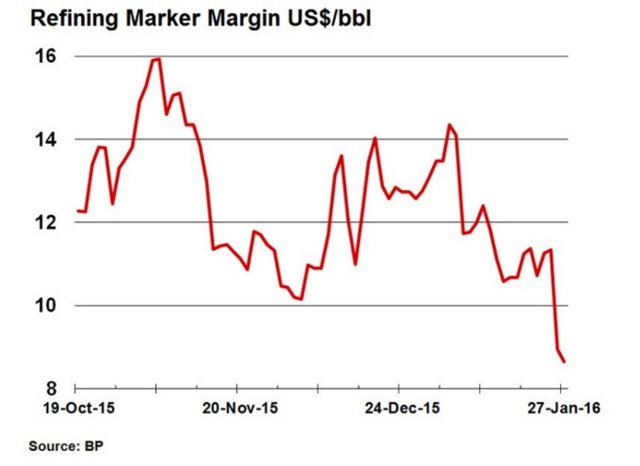 Click to enlarge
(Source: BP)
The reason behind the weakness in the refining margins is attributable to a rapid increase in gasoline inventories. For instance, during the first couple of weeks of January, gasoline inventory increased to the tune of 19 million barrels, marking the highest jump since 1980. This increase in inventory has led to a drop in gasoline prices, thereby creating pressure on the refining margins. However, this trend will not last long, as the demand for gasoline is anticipated to go up as the year progresses.
Better gasoline and chemical demand will power downstream growth
Though there is a glut in the gasoline market at present due to the oversupply, it is anticipated that the situation will improve along with the weather. For instance, an increase of 70,000 bpd in gasoline demand is expected in the U.S. in 2016, as a result of which demand will go up to almost 9.3 million bpd, a level last seen almost a decade ago.
This increase in gasoline demand will be powered by an increase in car ownership in the U.S. and other countries, such as China. For instance, auto sales in the U.S. have got off to a strong start in 2016, clocking a seasonally-adjusted rate of 17.58 million units in January - an increase from 17.34 million units in the preceding month. This exceeded analysts' expectations by some margin, and it is likely that sales will improve as the weather gets warmer.
Similarly, in Asia, it is expected that growing auto sales in India and China will provide the backdrop for an improvement in gasoline demand. In fact, this year, HSBC estimates that demand for refined products in Asia will grow by 1-1.2 million bpd, but refining capacity will increase at a far slower rate of 540,000 bpd. As a result of this gap, it is likely that gasoline prices in Asia will get better, providing a tailwind for Shell, which has refineries in Japan, Malaysia, the Philippines, and Singapore.
The company should also see an improvement in demand for other petrochemical products, such as ethane and jet fuel. For instance, the consumption of jet fuel is expected to increase by 20,000 bpd next year, while demand for distillate fuel will increase 60,000 bpd in the coming two years. Similarly, demand for hydrocarbon gas liquids in the U.S. will go up as ethane-powered petrochemical plants are brought on-line, leading to an increase in HGL exports to 1.3 million bpd next year as compared to 830,000 bpd last year.
As a result of the increase in demand for base chemicals, refineries will see a drop in idle capacity. Now, lower idle capacity indicates that utilization rates will be higher, as a result of which the refining margin will improve. Hence, Shell has made the right move by approving three of its four major investment decisions for 2015 in the downstream segment, as improved capacity in this area will allow the company to tap the end-market demand.
Conclusion
The slight weakness that was witnessed by Shell in the downstream segment last quarter looks like a temporary phenomenon caused by the oversupply in the gasoline market due to the winter season. But going forward, demand for gasoline and other petrochemical products will improve, which will lead to better refining utilization rates and margins. So, in my opinion, the improvement in the downstream segment, along with a recovery in the upstream makes Shell a good buy at current levels.
Disclosure: I/we have no positions in any stocks mentioned, and no plans to initiate any positions within the next 72 hours.
I wrote this article myself, and it expresses my own opinions. I am not receiving compensation for it (other than from Seeking Alpha). I have no business relationship with any company whose stock is mentioned in this article.