When is it prudent to recommend shares of a company that has nearly doubled in value over the past year? When the company's earnings and guidance prove that it is still firing on all cylinders and when even after such a huge rally, it still trades for barely 20 times earnings and less than 19 times forward earnings.
Herbalife (NYSE:HLF) is a "nutrition company" that sells a variety of health and nutrition products through a network of more than 2.3 million distributors, much like what Avon (NYSE:AVP) or Mary Kay do with cosmetics. Through its distribution network, Herbalife sells its products in over 75 countries around the world. And in the past year, the stock has soared, rising 73%, trouncing the S&P 500's (NYSEARCA:SPY) advance of just over 4%.
(Click chart to expand)

Click to enlarge
How can we recommend shares of Herbalife at all-time highs? We recommend the shares because we believe that the company's best days are still ahead of it.
On February 21, 2012, Herbalife reported its fourth-quarter and full-year 2011 earnings. The company posted GAAP EPS of 86 cents per share for the fourth quarter and GAAP EPS of $3.30 for all of 2011. Revenue came in at almost $3.5 billion for all of 2011 and nearly $900 million for the fourth quarter. This beat analyst estimates for the quarter by 14 cents per share. We think that 2011 was a great year for Herbalife, and the company's business metrics back up that claim.
See the Full HLF Earnings Call Transcript
2011 Overview
Herbalife set numerous records in 2011, including records for sales, earnings and cash flows. In addition, the company set records in the distribution division, with several key industry metrics reaching record levels in 2011, including distributor activity and retention rates.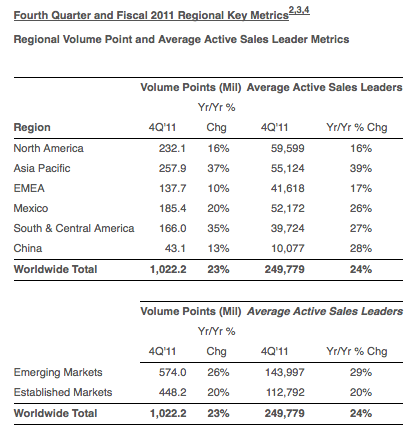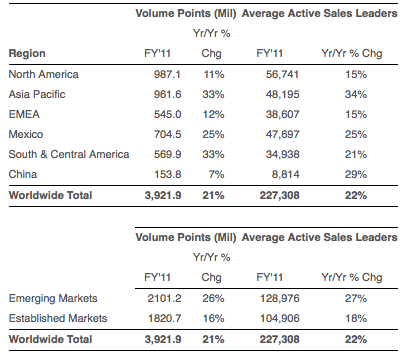 Volume points across all geographic regions grew in the fourth quarter, and fiscal 2011 as a whole, with emerging markets showing particular strength. Herbalife's sales metrics prove that the company is able to steadily increase its profits from the nexus of what it calls "health and wealth." As CEO and chairman Michael Johnson stated on the quarterly earnings call, "we offer solutions for three global macro trends, an ever-increasing obesity issue and aging population, and in these times of record unemployment and opportunity for people to earn full-time or supplemental part-time income. Herbalife is truly at the intersection of health and wealth." Herbalife has proven that by selling its products, customers, its salesforce, and shareholders can benefit.
As President Des Walsh noted on the call, the fourth quarter was the second quarter where Herbalife posted revenue of over a billion dollars. On the call, Walsh noted the company is continuing to revamp its distribution networks to make them more localized and tailored city by city. As we have seen with Macy's (NYSE:M), such localization, if done correctly, can produce tremendous benefits, for it allows Herbalife to play off each region's strengths and mitigate weaknesses. A sales and distribution approach that works in one region may not work in another, and a company as global as Herbalife cannot have a distribution network that operates under a "one size fits all" approach.
The participation in Herbalife's distributor conferences is soaring, a bullish sign for the retention of the salesforce. According to Herbalife President Des Walsh, attendance at the company's North American conferences grew 65% in 2011. Herbalife is firing on all cylinders, and this is showing up in its guidance for 2012.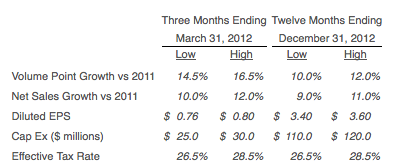 Herbalife used the conference call to reveal several important plans for 2012, which we highlight below.
2012 and Beyond
Given that people invest in stocks for their future earnings potential and growth, it is important to discern what Herbalife is doing to safeguard its momentum. Herbalife's distributor network, the lynchpin of the entire company, is growing by leaps and bounds. Yet, there are risks to such growth. Herbalife cannot simply grow the number of distributors alone. On the conference call, CFO John DeSimone alluded to that, and said that the company is making infrastructure investments in several of the fastest growing markets, such as India and South Korea, to ensure that new distributors are trained properly and have the skills necessary to benefit themselves, their customers, and Herbalife.
On the retention side of things, the Russian market offers a model that the entire company wants to replicate. On the call, it was noted that while the overall retention rate for Herbalife was 52%, the rate reaches between 60% and 70% in Russia. Analysts pointed this out, and asked management what can be done to make those kinds of retention levels appear on a company-wide basis. Des Walsh said that Herbalife is firmly committed to reaching those kinds of retention rates, and that in Russia, an extremely localized and city-by-city focus is what allows the company to post such high rates. Achieving such rates, or even retention rates in excess of 70%, is something the company plans to do as part of its Herbalife Decade Plan for continued growth.
One of the newest products Herbalife has is its Herbalife24 line, which is billed as "nutrition for the 24 hour athlete." On the conference call, CEO Michael Johnson said that Herbalife24 requires a slightly different sales model, saying that, "the creation in these business methods frankly has moved a little quicker than we had anticipated. And it's a fabulous thing to see a younger more fit group coming in, not just concerned with weight loss, but concerned with total nutrition and fitness nutrition. So these will become organic just like so many things have in our company, we will then take it upon ourselves to make sure that these good ideas spreads for globally as quickly as possible." Many of the best ideas for the Herbalife24 brand are coming not from Herbalife itself, but from its distributors, and the company is planning on taking the best ideas and applying them on a global level.
Herbalife also took time to address a growing level of inventory that is on the company's balance sheet, now at almost $248 million. CFO DeSimone indicated that there are several factors at work. He said that "there is [a] couple of things. So, first and foremost of course it is to support sales and 70% of the increase in the inventory is just tied to increase in sales. We have a couple of other things going on. One is, we stopped manufacturing that, right. So there are raw materials and [whip] that are now part of our inventory that we're sitting at a vendor in prior periods, all right. So that's about $7 million, which is not a big number, but that is a piece of it. And then we have some coursing strategies that as we take in more products into our facilities we are building buffer inventory from the current vendor to soften the transition." As 2012 goes on, Herbalife's inventory levels should return to historical norms, but it is a metric that we will be watching closely in the quarters to come.
Financials
Herbalife's commercial success has translated into financial success as well, and this shows up in a number of places, including the dividend. Herbalife boosted its dividend by 50% when it announced its fourth-quarter and full-year 2011 results, giving the stock a yield of around 1.8%. We see this as a sign of increased confidence in the company's future, for companies do not boost dividends if they plan on cutting them later.
Herbalife has a great balance sheet, with cash and cash equivalents exceeding debt by over $55 million.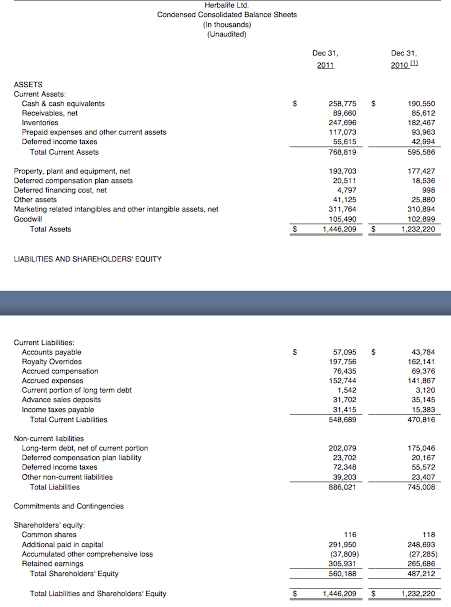 Click to enlarge
The company is unleveraged and has a balance sheet free of any controversy. The lack of leverage in the balance sheet was brought up on the conference call. Analysts were certainly impressed with the dividend, but as Linda Weiser of Caris noted, "your performances is great and your dividend increase is certainly impressive. But one can argue your balance sheet is actually under leverage given the consistency of your performance and growth et cetera. Would you consider sort of levering up a little bit more and being more aggressive on some sort of a share repurchase or something along those lines?" CFO DeSimone replied deftly, alluding to the company's credit line, saying that such share repurchases are an "option", but that for now, the company is focusing on using its cash flow to reinvest in the business and at times, boost the dividend. He said that while meaningful share buybacks are possible, the company will lever up for them only in special circumstances, and that currently there are no plans for such an event.
Herbalife's cash flows are growing quickly, with the company posting cash flows from operations of nearly $510 million in 2011, compared with $389 million in 2010, representing growth of 30.9%. Such growth will allow the company to invest in the long-term success of its business, products, and distributor network, all while strengthening the balance sheet and returning capital to shareholders.
Conclusions
Even after a truly impressive run over the past year, Herbalife shares still have ample room to rise. The valuation, at 20 times earnings, is reasonable. While the Reuters average price target currently sits at $70.17 (upside of 5.06%), analysts that have provided post-earnings updates have been impressed and have raised their price targets far above that level. As more analysts that follow Herbalife revise their estimates and price targets, that average should rise. Caris raised the price target on Herbalife to $83 following earnings, representing upside of over 24%. And DA Davidson is even more bullish, with an upgrade to $90 from $75. That new price target represents upside of nearly 35% from current levels.
We think that Herbalife's full potential has yet to be realized. The company is growing on all fronts, with innovative new products being offered in an increasing number of countries. The valuation is not stretched, the balance sheet is solid, and there is a clear path to continued growth and profitability. And we think that shareholders who add to or initiate positions in Herbalife will be rewarded in the long-term.
Disclosure: I have no positions in any stocks mentioned, but may initiate a long position in HLF over the next 72 hours.