Priceline (NASDAQ:PCLN) has lost almost a third of its value from October and 20% from the beginning of the year. What were the reasons? Recession fears, China's hard-landing threat, analysts' ratings cut and worries that travel environment is less favorable these days. Some of the points are clearly worrisome, yet I think the market exaggerated. Priceline's revenue grew (ex. FX) by almost 30% y/y during the first nine months of 2015, and the company continues to be the most prominent player in the rapidly growing online travel market. However, PCLN is traded only at a FWD P/E multiple of 15x, its lowest P/E multiple since the GFC, equal to the S&P 500 multiple. Additional support could be derived from the fact that EPS estimations were reduced by barely 1% for FY 2015 and 2016 during the market's rout. Taking into account all of the above, PCLN's current price could be a great entry point for investors.
Valuation
Before we get to the fundamental analysis and the business review, let's bear in mind PCLN's current valuation. Priceline's P/E multiples for 2015 and 2016 are now 17.5 and 15, respectively. That's the lowest FWD P/E for the company in a decade. The graph below presents the ratio between PCLN and the S&P 500 FWD P/E multiples for the last seven years - the chart says it all. PCLN's P/E multiple for 2016 is similar to the US main index projections. In my view, this is crazy. The EBITDA multiples have also crashed, implying 13 for 2015 and only 11 for 2016 (I've adjusted the cash and cash equivalents balance by adding the company's long-term investments such as corporate and sovereign bonds). Those are multiples of companies that are already at their mature stage and not of enterprises that grow at decent double-digit rates.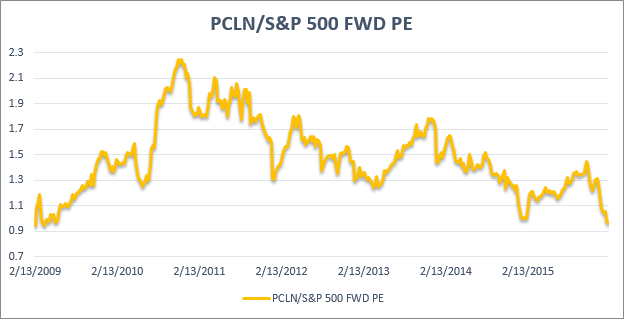 Financial Review
The core revenues of the online travel company are derived from Europe and Asia while only ~20% come from the US. In the current "currency war" environment, the USD strength heavily hurts PCLN. Yet, it is important to understand that the recent currency headwinds are probably transitional (unless you believe the greenback will continue to rally at the same pace), do not affect the company's business model and do not weaken its competitive position or operational environment. PCLN, which competes mainly with the US entities, loses money from currency translation, but its operations remain robust. I believe that the current quarter results will be harmed again by the strong dollar, but in 2016, the trend will ease.
So, once you exclude the FX impact, PCLN's growth rates are just amazing. In the last quarter, the gross profit (According to management, gross profit is an important measure to evaluate growth in the business, because, in contrast to revenues, it is not affected by the different methods of recording revenue and cost of revenue between the Name Your Own Price travel services and other services) jumped 29% on a constant-currency basis (but reported surged only 12%). The currency impact on PCLN's bottom line is generally similar to the top-line impact. Those excellent rates reflect the company's leadership position in the promising OTA business.
Investors are extremely concerned that PCLN's growth is slowing. The numbers prove they are far from being right. For 2010-2014, the company's CAGR was 28.6%. Ironically, the gross profit for the first three quarters of 2015 also rose by 28.7%. Hence, despite the fact that PCLN had acquisitions along the road, the figures are still outstanding. For the fourth quarter, PCLN, which is known for its conservative guidance, projected a y/y increase of 14-21% on a CC basis, which might be slower than the growth rates we were used to, but it's still very impressive, even compared to other growth companies.
But the great results are not just in terms of revenues. The company succeeded to improve its EBITDA margin by 250 bps in the last years. Its EBITDA grew by 40% annually in 2010-2014, and net income increased 45% on average in those years. The fantastic surge was driven by acquisitions (KAYAK, OpenTable), a shift toward agency business model and economies of scale, depressed by higher marketing expenses and entries to early-stage markets.
Opportunities
PCLN has many opportunities and capabilities to continue to scale up, many of them are a result of an excellent management team which constantly pursues new features, initiatives and partnerships, based on its broad knowledge and experience. Here are a few examples:
· Just at the beginning of the month, PCLN announced the roll out of a fresh strategy for Priceline.com, shifting from its negotiator to an innovative platform, overhauling user experience.
· Priceline is less dominant in the US market, lagging behind Expedia (NASDAQ:EXPE) or TripAdvisor (NASDAQ:TRIP). That's why PCLN and TRIP had formed a strategic partnership whereby Priceline's brands will participate in TRIP's instant booking platform and travelers will be able to see Booking.com branded hotel listings. Therefore, PCLN's weakness in the US could also be an opportunity to improve and gain possible market share.
· Mobile is another great growth driver example, albeit on account of desktop usage, with friendly-user experience that would accelerate bookings. According to a research from Phocuswright, mobile bookings were up 49% in 2015 with $25.5 billion (13% of the total online bookings) in bookings made on smartphones and tablets, and are expected to account for more than one quarter of online travel bookings by 2017. PCLN is well placed to capture a part of it.
· Priceline leverages its operations in China through its organic brands and partnership with Ctrip (NASDAQ:CTRP), in which the Priceline Group currently holds convertible bonds that may be converted to 15% of Ctrip's outstanding shares. The Chinese inbound and outbound tourism grows at decent rates, the Chinese travelers are now the primary inbound nationality to many destinations,0 and Priceline constantly expands its presence there. In Macro Investing's great article that was published recently, you can read more about China's tourism.
· Priceline works hard to improve and enhance its products for business travel, which comprises around 20% of the traveling market. Business bookings grow faster than leisure bookings, they smooth out seasonality, generate higher ADR than leisure bookings and they aren't canceled as much. Business travelers can also revisit the site later for their leisure purposes. Management is attentive to the current dynamics, and stated at the earnings call that it is on the right track.
Challenges
PCLN faces competition all over the world, from small offline agencies to huge global businesses. PCLN and its main peer EXPE have acquired many smaller rivals along the road in order to deal with the intensifying competition. However, the current major threat is Airbnb (Private:AIRB) that totally disrupts the online travel market. But I think the fears are exaggerated. Hotels will continue to control the vast majority of accommodation, as they are the most suitable solution for most tourists. Airbnb could successfully decrease the average daily rate for hotels and gain significant market share, but it is far from disrupting the PCLN's business model. Despite Airbnb's superior growth, hotels have hardly backed away. Moreover, the "unicorn" is valued at $25.5bn, half the market size of PCLN. Airbnb generated around $1bn in revenues in 2015 while PCLN's revenues were $9bn. Growth rates are different obviously, but if you believe Airbnb is fairly priced, PCLN deserves, from my point of view, substantial rerating to its market cap, based on its proven business model, operational efficiency, high profits and gigantic number of accommodation properties.
Additional aspect of competition could stem from an entrance of new players into the market, as the barriers are allegedly not that high. At its early stages, the online travel market consisted plenty of independent players. Since then, the industry has experienced many consolidations, led by PCLN and EXPE. Although the big firms have no economic moat, entry of new players (except for Google (NASDAQ:GOOG) (NASDAQ:GOOGL) that will be discussed later) is unlikely. Amazon (NASDAQ:AMZN) could be a good example, inferred by the company's decision to shut down its travel booking site that had been operated only half a year in 2015. Amazon didn't disclose the reason for its retreat, yet I guess the company understood it would be difficult to compete with the two giant leaders and to expand across several service categories. Priceline's focus in the travel services and amazing number of properties (which were up 38% y/y) on its platform have pushed out Amazon, one of the biggest potential contenders from penetrating the market. This is a good sign for a proven competitive advantage.
I also argue that investors are too cautious regarding the travel environment in particular and global economy in general. This of course was the main cause of market's plummet since the beginning of the year, and which has a severe impact on the valuation of cyclical-natured travel companies. Some of the industries are clearly facing complicated challenges, but the recent jobs report showed that the US economy is on track for another rate hike or at least still far from a recession. Moreover, travel's data was pretty decent lately. European hotel industry reported good numbers, with a yearly increase in occupancy rate and average daily rates that resulted in a 7% rise of revenue per available room. In North America, revenue per available room was higher by 6% in 2015 compared to 2014. In addition, data from the IATA showed that international passenger traffic rose 6.5% in 2015 compared to 2014. Overall, the travel industry was robust in 2015, supporting PCLN's investment thesis. Many investors might fear the industry has peaked, but I wouldn't describe it as the base case. If the results were softer, I guess we would have heard different explanations, but then it was more logic to be prudent.
Another point worth mentioning, which Priceline wouldn't be proud of, is the company's expected decline in the US market. PCLN projected a 5-10% decrease in gross travel bookings for 4Q15, as compared to 4Q14. A more matured market, combined with fierce competition and complicated business model (Name Your Own Price service), has eroded Priceline's market share. This trend is challenging for the company that has recently launched a new booking system and partnered with TRIP in order to accelerate growth. Investors should carefully eye future developments in the US market.
Google is indeed an actual threat for PCLN. Priceline knows that and even reminded Google as a competitor, but for now Google is still more a potential competitor than a current one. Google could gain additional market share within the online travel booking market. It had purchased an ITA software at 2011 and enables users to book hotels and flights directly through its search engine. Although Priceline and its rivals currently pay Google a substantial portion of their advertising expenses, Google could further leverage its online capabilities to get more exposure in the online travel space. Despite its immeasurable knowledge, possibilities and network, Google hasn't made any game-changer step in order to control the online travel market until now.
Conclusion
To sum up, Priceline is a great company that achieves amazing growth rates, holds many powerful brands, and is positioned to leverage its handful revenue streams. FX impacts, intensifying competition and mainly economic fears have recently weighed on PCLN's shares. As a result, Priceline is currently traded at its lowest P/E multiple since the GFC, similarly to the S&P 500. For long-term investors who can digest such a volatile period, PCLN is a huge opportunity.
Disclosure: I am/we are long PCLN.
I wrote this article myself, and it expresses my own opinions. I am not receiving compensation for it. I have no business relationship with any company whose stock is mentioned in this article.